Posted: March 7, 2019
Filed under: alphabet medley, Art Journal, Darkroom Door, mesh, Nature Walk, stone, tall flowers, Woodgrain
| Tags: Art Journal, Darkroom Door stamps, distress oxide inks, Ranger Distress inks
5 Comments
Are you a wee bit surprised to see a journal page here?  I'm surprised myself, surprised but pleased. I really enjoyed dreaming it up and making it. It didn't end up looking as I imagined but that is the way with journal pages is it not?
This art journal is a Fabriano journal; the paper is nice and thick but not watercolour paper so I painted over it with absorbent ground first. Then I grabbed a bunch of stamps from Darkroom Door along with three light coloured oxide inks and stamped mesh, stone and woodgrain texture stamps over the background. I spritzed it with water to soften the edges of the stamped images and dabbed some out too to make it subtler. Even after adding some water it was still bolder than I wanted so I painted another thin layer of absorbent ground over it.
I filled the bottom of the page with repeat stampings of flowers from the Darkroom Door 'tall flowers' set in distress inks then blended some of the big flowers with water. They don't blend as well as they do on watercolour paper but the effect is still nice.
I added grass and flowers from the DD ' nature walk' set, also in distress ink then a border with the mesh texture stamp in black soot oxide ink. It was a bit bolder than I wanted so I spritzed then dabbed with a paper towel ( as you can see I'm a fan of the 'spritz and dab' ). I splattered wild honey, forest moss and dusty concord diluted ink over the whole spread and it ended up looking like confetti. To boost a few of the flowers I outlined them with fine tipped black markers.
I wrote psalm 18:36 with a brush pen leaving a space to stamp the word 'steps' with the DD alphabet medley stamps.  I find choosing words for a journal page tricky, which words and how to add them. But the beauty of a journal page is the experimental nature of it. If I don't like something on this page, I'll try something different on another. Once the ink had dried I sealed the large flowers and the lettering with distress micro glaze.
Do you have any art journallers you would recommend for inspiration? I already follow Rachel Greig from Darkroom Door, Julie Fei-Fan Balzer, Vicky Papaioannou and Maremi SmallArt who all have different styles and inspiring journal pages.
I'm hoping to create in my journals more often and will share pages here if possible. Even if you are not an art journal person the designs can usually be converted to a card and sometimes start out as cards anyway!
Art Supplies (all Darkroom Door stamps are linked in description)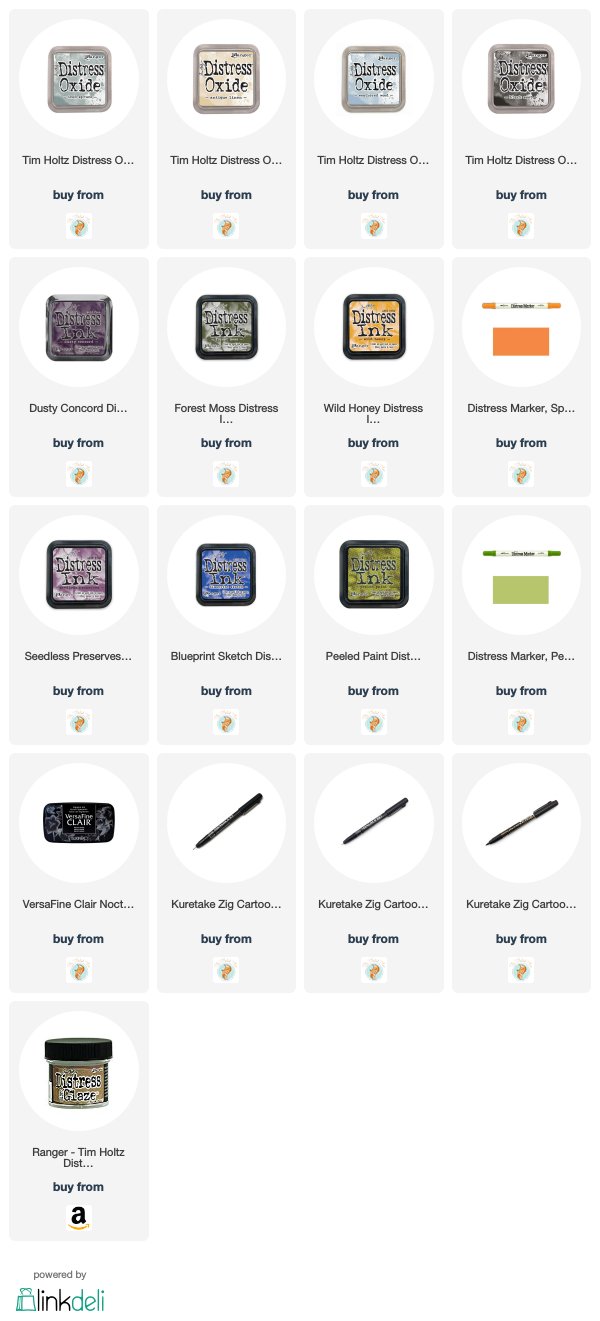 ---
Posted: July 6, 2016
Filed under: Art Journal, Butterfly trio, Muse, Script, Tutorial, Verdure
| Tags: Art Journal, color burst, Dr Ph Martin Hydrus watercolor paints, Faber-Castell Albrecht Durer Watercolour pencils, Penny Black stamps, Tsukineko Versafine inks, Tutorial, video
20 Comments
It is over a year ago since I completed a page in my art journal so it was a good thing when I was asked to create an art journal video for the Penny Black blog. The latest release from PB, Artistic Endeavors includes some beautiful stamps designed with journaling in mind. The page I created last year was a Narnia page so I decided to stick with the literary theme and make another book inspired page. My inspiration this time is 'A Girl of the Limberlost' by Gene Stratton-Porter. I read the book quite a few years ago but really enjoyed it and could see the butterfly and figure stamp working well on such a page.
The main character, Elnora, catches moths to sell to collectors in order to support herself through high school. She lives on the edge of the Limberlost, a forested and swampy region where she finds the moths she later sells. I know these stamps depict butterflies but I chose to exercise some artistic license.
Because I wanted to watercolour both the butterflies and the girl I stamped them on watercolour paper, painted them, then cut them out so I could attach them to the page.
To add texture to the background I glued torn strips of tissue paper all over it then did partial stamping with a script stamp and a leafy stamp.
Journal pages take me a long time so despite the fact that I sped up just about all the footage, it is still on the lengthy side. I hope you enjoy it and, maybe like me, get inspired to pull out a neglected art journal. Or perhaps you'll go and check the book out of the library…
Edited to add: In the video I mentioned learning a lot from Vicky Papaioannou; her videos are here:https://www.youtube.com/user/vickypgr
Supplies:
Stamps: Muse, Script, Verdure, Butterfly trio (PB)
Art Journal: Fabriano 24cm x 15.5cm
Art supplies: Faber-Castell gel medium , Tsukineko Versafine Onyx Black ink , clear embossing powder, Ken Oliver Colorburst powders (merlot, violet, ultramarine blue), Ken Oliver liquid metals (platinum, verdi gris, ultramarine blue), Faber-Castell Stampers big brush pen, lead pencil, Pigma 0.3 micron pen, Faber-Castell Albrecht Durer watercolour pencils (medium flesh, brown ochre, juniper green, ochre, burnt ochre, venetian red, delft blue, warm grey 3), tissue paper, Dr Ph Martin Hydrus liquid watercolours (Hansa yellow light, phthalo blue, phthalo green, carbon black) Art glitter designer dries clear adhesive, Ranger distress micro glaze.
---