Posted: March 8, 2021
Filed under: Coliro paints, Darkroom Door, diamonds, Dies, Finetec paints, French Script, Gazette, gerberas, gift card pocket, global postmarks, Penny Black, shall we dance, Stencils
| Tags: Coliro paints, Darkroom Door stamps, Darkroom Door stencils, Fabriano Watercolour Paper, Finetec artist mica watercolour paint, Penny Black creative dies, Penny Black stamps, Ranger Distress inks
4 Comments
A friend commissioned me to make a 'vintage' themed card recently and I happily pulled out a bunch of Darkroom Door stamps to do so. You can see the pocket watch stamp managed to feature three times but the French script, global postmarks, and gerberas also contributed. I stamped, blended and painted with two brown tones of distress ink, two blues and a black. (all the supplies are listed below)
To begin I smooshed some speckled egg and antique linen distress inks on a glass mat, added water swiped the panel through the diluted ink. After that the gerbera background stamp became part of the base layer in speckled egg distress ink. I layered the other stamps over the top in tea dye and antique linen inks and blended some speckled egg ink through the DD diamonds stencil. Of course there is splatter, watermarks and extra blending to darken the edges. To add a dimensional feature I die cut several stems of flowers with the Penny Black 'shall we dance' die, some are from watercolour paper, some from tan cardstock and a few from paper painted with salty ocean ink and stamped with the DD gazette stamp.
Almost finished, I added a strand of twine around the base and tied some tiny tags on with stamped PB sentiments on them and some little wooden stars I found. I was pretty happy with all this vintageness but decided to risk some gold paint. I splattered and added it to the tiny stars and heart, the flower centres. Where it worked best though was unevenly painted along the edges of the square panel. You probably can't even see it clearly but it ended up being one of my favourite parts of the card.
By the way there are yummy new stamps on the Darkroom Door website. You will see them here soon, a few are winging their way here as you read this! Have a great day.
(Compensated affiliate links used when possible)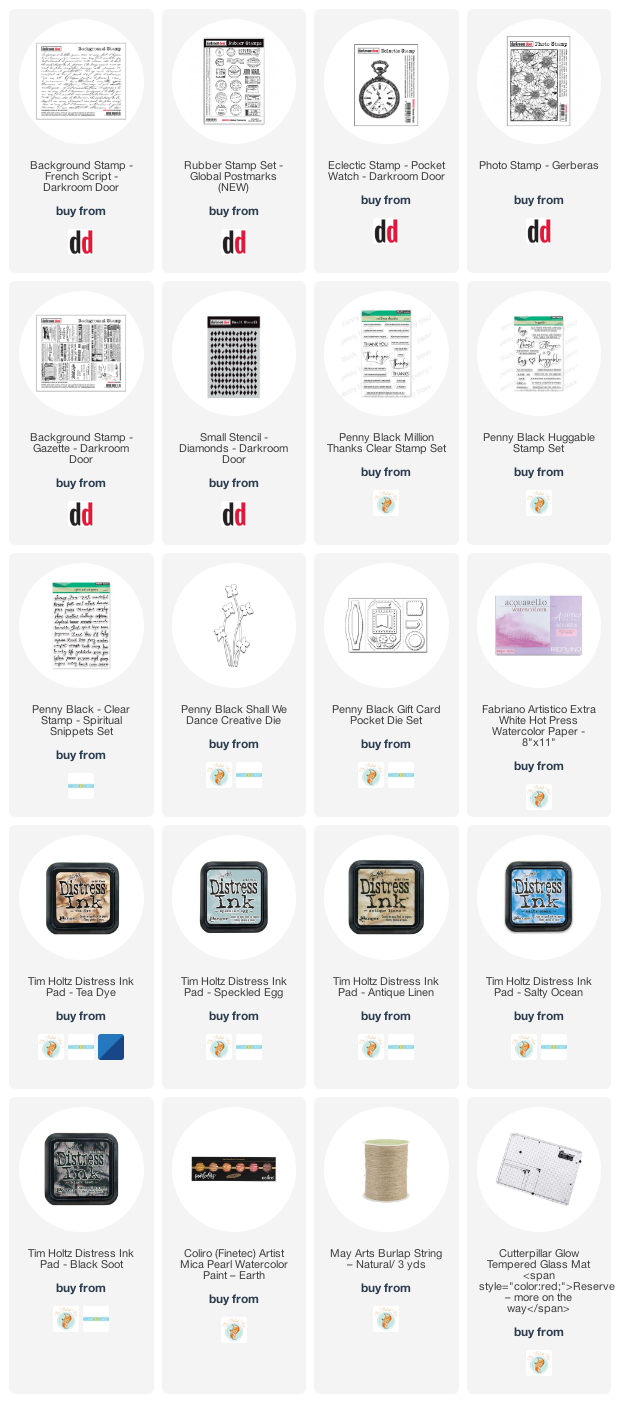 ---
Posted: December 4, 2017
Filed under: 1920s Chic, Gazette
| Tags: Darkroom Door stamps, Tsukineko Memento inks, Tsukineko Stazon inks
1 Comment
Today's post is a little different to my usual; it's more about a cause than a card. I have committed to wearing dresses everyday this month as part of the worldwide Dressember campaign to raise funds to end modern day slavery.  This is the second time I have taken this challenge. In 2014 I wore a dress everyday in December and raised $1240. This year I have teamed up with my daughter Alexandra and my friend Nan and our target is $2500.
I would love it if you would support me in raising funds for this cause. If you want to find out more about the cause please click on the links provided earlier in this post. If you would like to donate then click over to my fundraising page.
If you would like to check up and see if I am really wearing a dress everyday in December I am documenting them on my instagram and pinterest feeds. (I'd love to send anyone who donates to Dressember a handmade card so use my contact button to let get in touch if you do)
If you would like to know more about these stunning fashion related stamps you can find them at Darkroom Door.
---