Posted: April 20, 2021
Filed under: alphabet medley, crossword, Darkroom Door, Gazette, gel press, Nature Walk, torn text, you are everything
| Tags: Darkroom Door stamps, gel printing, Ranger Distress inks, Tsukineko Versafine inks
4 Comments
Darkroom Door added four new background stamps to their line up recently and I've shown you 'handwoven' and 'daisy delight' in previous posts. Today I have three very different cards featuring the 'crossword' background stamp.
On this first floral card I have used the crossword stamp as a background. I stamped it on scrap first with versafine clair morning mist ink then on a panel of watercolour paper to get a pale grey image adding interest behind the silhouette flowers stamped in different distress inks. I used the same grey ink to stamp words from the 'you are everything' set to pop up along the bottom of the panel.
In this second card the stamp functions as both a background and a crossword (of sorts). Although the stamped image is a solvable crossword which comes with printed clues in the packet I have populated it with coffee themed words to work on my coffee themed card. I feel like coffee and the crossword is not an uncommon past time. I stamped the background with fallen leaves versafine clair ink and stamped the sentiment and coffee cup in the same ink on a gel printed panel. I added some blending and ink splatter in both brown and gold before popping up the coffee and sentiment over some gold cord.
Although it took some time to stamp the background and foreground images the hardest part of the coffee card was definitely finding and arranging coffee themed words in the crossword!
My last card reminds me of the riddle, "what is black and white and red all over?" A newspaper!
Get it?
"Read all over!"
On both the second and third cards I used bristol cardstock for sharper stamped images as I wasn't adding any water or waterbased inks. I stamped a strip of three different DD background stamps, blended the edges and attached them to a red panel then used the 'alphabet medley' set to stamp the words in versafine satin red ink. I'm thinking I can use this card for any exciting occasion and stamp another sentiment inside which is more specific.
(Compensated affiliate links used when possible)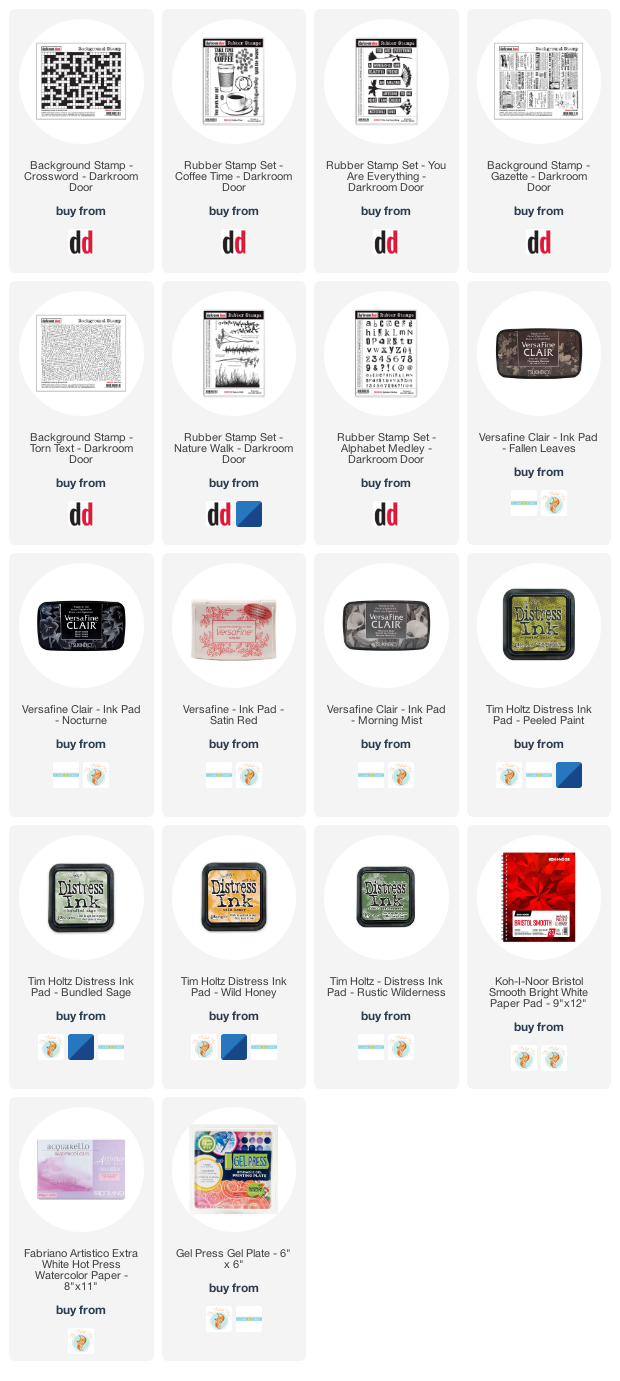 ---
Posted: October 26, 2020
Filed under: Art Journal, Christmas bush, Darkroom Door, sketched alphabet, torn text
| Tags: Art Journal, Darkroom Door stamps, Fabriano art journal
2 Comments
After making a Christmas card with the new Darkroom Door Christmas Bush stamp set I was keen to use the silhouette stamps for a different project. I decided to fill a journal page spread with them and chose a different colour scheme to do so. I think they look a bit like violets.
I taped the edges of the pages which frames the layout, keeps the pages flat and protects any pages underneath which are poking out. I painted absorbant ground over the whole area as a base before stamping and painting.
I wanted to have layers of flowers and so I tore a ripped edge on some masking paper and attached it across both pages. I used blending brushes to apply colour over the torn edge then did generational stamping in blueprint sketch, shaded lilac and peeled paint distress inks. Once the top section was completed I masked again, further down the page this time and repeated the process twice.
For highlights and details I used markers and gold paint to add details to the petals and centres to the flowers. I also used gold embossing to make a print border and title with the Darkroom Door 'torn text' and 'sketched alphabet' stamps. The Christmas Bush stamps proved to be very versatile as I thought they would when I first saw them.
Supplies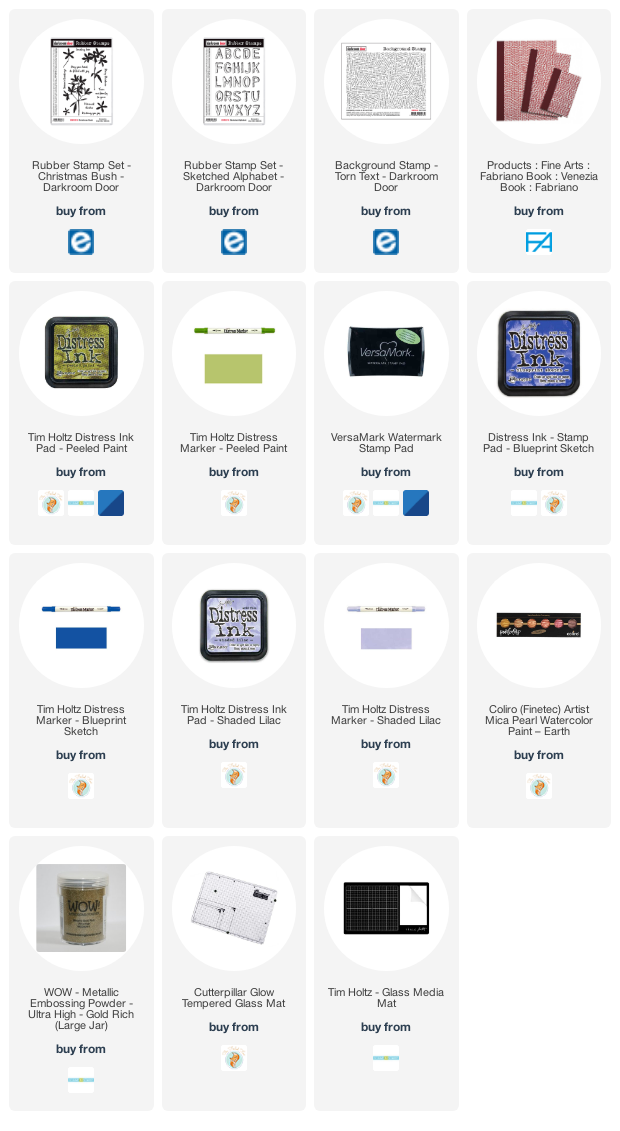 ---