Bloom Art Journal page
Posted: October 26, 2020
Filed under: Art Journal, Christmas bush, Darkroom Door, sketched alphabet, torn text
| Tags: Art Journal, Darkroom Door stamps, Fabriano art journal
2 Comments
After making a Christmas card with the new Darkroom Door Christmas Bush stamp set I was keen to use the silhouette stamps for a different project. I decided to fill a journal page spread with them and chose a different colour scheme to do so. I think they look a bit like violets.
I taped the edges of the pages which frames the layout, keeps the pages flat and protects any pages underneath which are poking out. I painted absorbant ground over the whole area as a base before stamping and painting.
I wanted to have layers of flowers and so I tore a ripped edge on some masking paper and attached it across both pages. I used blending brushes to apply colour over the torn edge then did generational stamping in blueprint sketch, shaded lilac and peeled paint distress inks. Once the top section was completed I masked again, further down the page this time and repeated the process twice.
For highlights and details I used markers and gold paint to add details to the petals and centres to the flowers. I also used gold embossing to make a print border and title with the Darkroom Door 'torn text' and 'sketched alphabet' stamps. The Christmas Bush stamps proved to be very versatile as I thought they would when I first saw them.
Supplies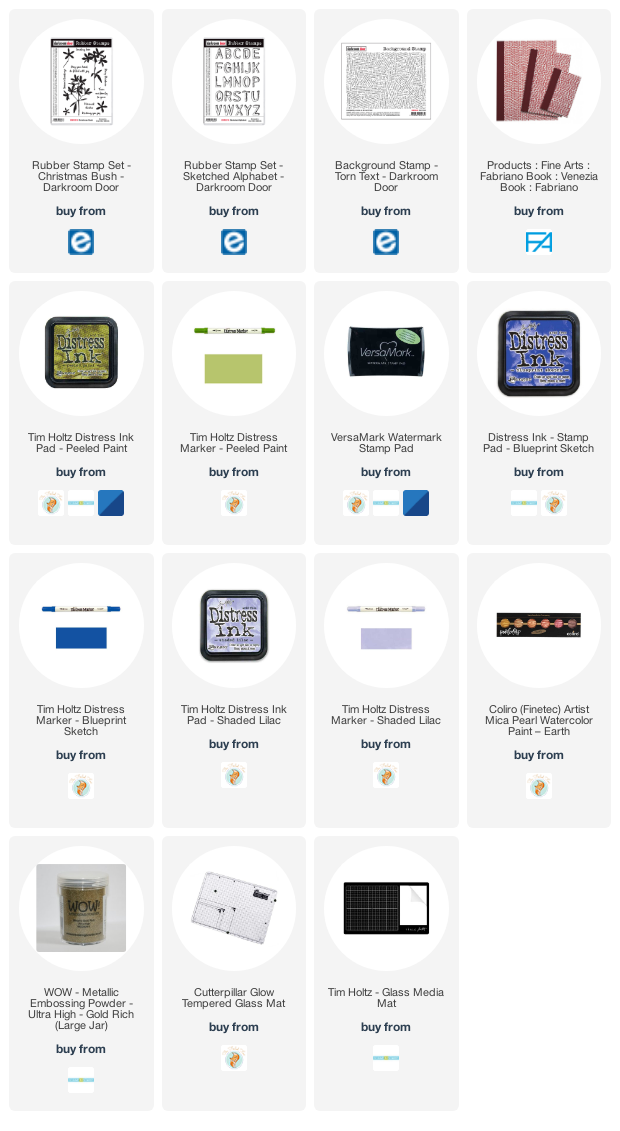 ---