Bell & Berries
Posted: October 28, 2020
Filed under: bell & berries, Coliro paints, Finetec paints, fragile branches, Penny Black
| Tags: Coliro paints, Fabriano Watercolour Paper, Papertrey ink, Penny Black stamps, Tsukineko Memento inks
13 Comments
Over the summer I kept reaching for the blues and greens; they were refreshing in the hot weather. It appears that my fascination with them is continuing into the winter! I created this wintry panel with the Penny Black 'bell & berries stamp and the versatile PB 'fragile beauty' set.
When I started this panel by stamping only the branch section of the stamp at the very top I chose only blue, grey and green inks. Choosing green over red for the berries helped to create a fresh frosty look. After stamping only the top branch I repositioned the stamp and stamped the whole image then finally a bit more branch on the right hand side. The extra twigs were added in dark blue.
I inked the leaves with papertrey 'enchanted evening', a dark blue and 'stormy sea', a grey blue. I used the olive toned 'prairie grass' for the berries. When I spritzed the stamp before stamping on the hot pressed watercolour paper the inks began to blend. I did further blending on the paper with a paint brush and water but didn't blend every part of the image, some leaves and berries I kept unblended to show the texture of the paper and stamp.
The paper had spots of masking fluid splattered over it before I began which caused the white dots you see in the finished panel.
I stamped the bell in a mix of stormy sea and true black ink and also added 'blue silver' pearlescent paint from the Coliro 'ocean' set so there is a shimmer to it in real life.
I used a piece of dark blue cardstock for a card base then stamped the 'bell & berries' on both an insert panel and the envelope.
I woke up to the frosty look of fresh snow on autumn leaves this morning; it's pretty but it can go now!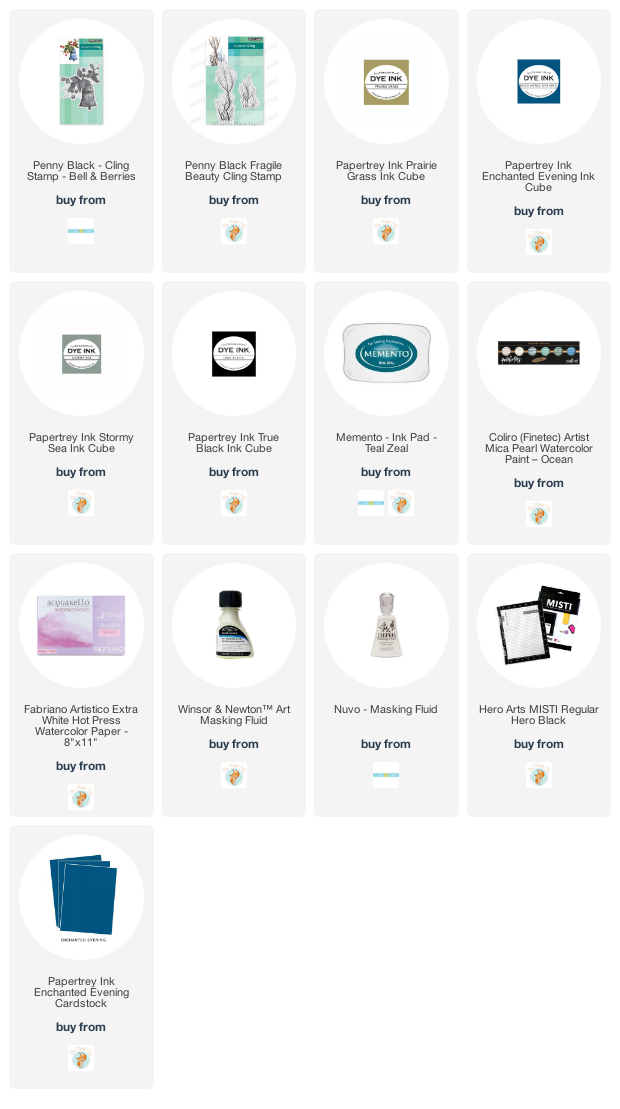 ---