Posted: February 8, 2022
Filed under: Bullet Journal, Dingbat notebooks, Hand lettered, Penny Black, Soft Grace, Spread Cheer
| Tags: Bullet Journal, Dingbats notebook, Hand lettering, Penny Black stamps, Tsukineko Memento inks
2 Comments
I am a week late with my February BuJo set up; we are already 25% of the way through the month! I went with the snowflake theme as we have plenty of snow now and I assume more to come. It is a pretty simple layout on account of the need to get it done so I could record and plan in the journal rather than on scraps of paper!
I lay a piece of post-it tape across the page then used brushes to blend memento inks above the tape. I used three blue inks (listed below) and used the same inks to stamp snowflakes to decorate the top half of the page. I've found post-it tape to be very safe on these pages. Washi tape and painter's tape (delicate) have both taken some surface off if I have not been careful. I wrote 'February' with the Bahama Blue memento marker but haven't linked it as I am not sure where to get them these days. I was delighted to find mine still worked and had plenty of ink in it.
I ruled up the calendar grid as I often do then used strips of post-it tape to mask as I blended ink around the edges. Once again I stamped snowflakes from Penny Black sets to decorate the spread. As we are already a week into the month I added the to do list to the calendar page. The important thing at this stage is to do the 'to-dos' not to decorate them!
If you are in the middle of winter right now what are you up to? Are you hunkered down inside or braving the outdoors? I am definitely doing both; we have enjoyed several cross country skis and a few walks but I have also been busy with journal projects, sorting and organizing supplies and planning future classes and lessons.
Supplies
(Compensated affiliate links used when possible)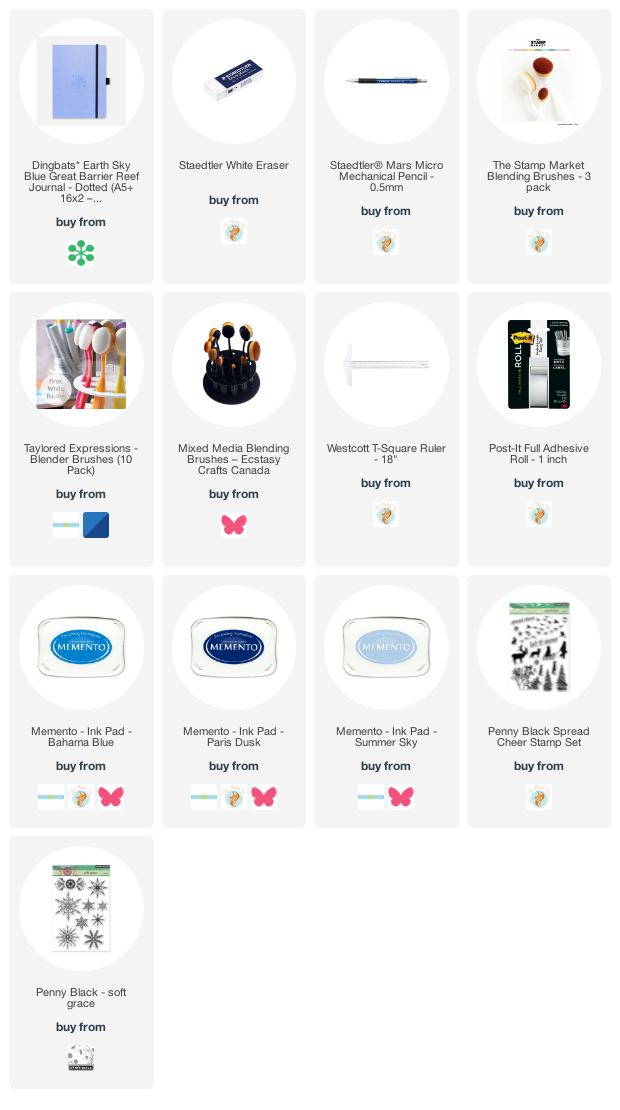 ---