2021 BuJo – June theme
Posted: June 4, 2021
Filed under: Bullet Journal, delight, Dingbat notebooks, Penny Black
| Tags: Bullet Journal, Dingbats notebook, Gina K inks, Penny Black stamps, Staedtler watercolour brush pens
3 Comments
New month, new bullet journal theme. I chose the PB delight stamp because it is just that, delightful. I also tried colouring with markers, just colouring no water blending! The journal pages are very smooth and a decent weight but nothing like watercolour paper so I've been hesitant to do much blending with water. I used Staedtler brush pens which are water-based ink and coloured the flowers and leaves as minimally as possible.
The red tended to go through the paper a bit but only where I had layered ink over ink. I stamped the image first in Gina K obsidian amalgam ink which doesn't bleed when water based ink touches it. Stamping without a stamp positioner is not something I do very often any more, it was a bit nerve wracking but it worked ok. I didn't put the stamp on an acrylic block, I just pressed it down with my hand, that way I could apply pressure to the whole stamp bit by bit.
For the wish & to do list I just stamped in Papertrey 'new leaf' ink and repeated the butterflies for list items. By the way for the first time this year I completed all items my wish & to do list in May! Of course the big item was launching the new online course but there were birthday cards made and sent on time which is rather surprising for me!
I used 'new leaf' ink again on the calendar page along with a pilot fineliner for the grid, a micron pen for the days of the week and staedtler brush pens for the shadows over the letters.
(Compensated affiliate links used when possible)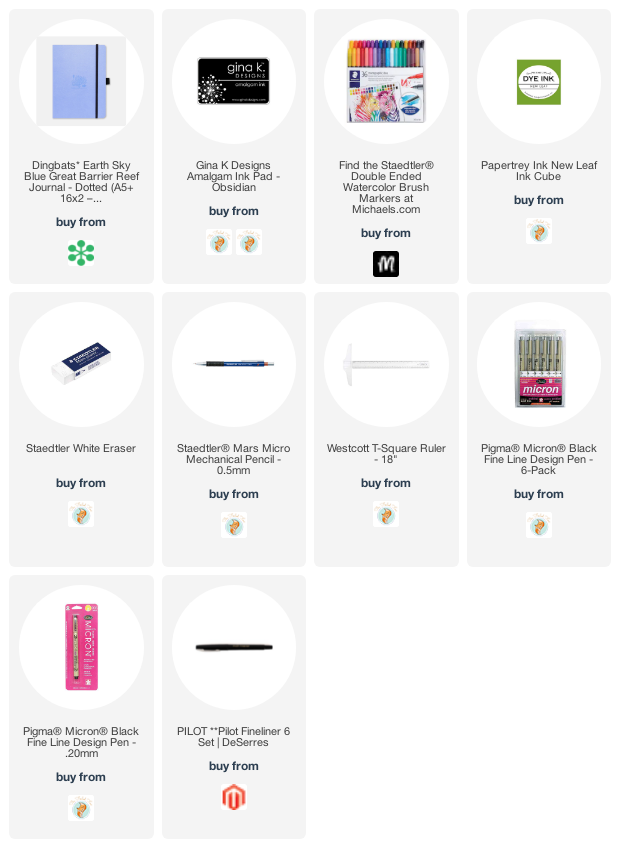 ---