Posted: June 4, 2021
Filed under: Bullet Journal, delight, Dingbat notebooks, Penny Black
| Tags: Bullet Journal, Dingbats notebook, Gina K inks, Penny Black stamps, Staedtler watercolour brush pens
3 Comments
New month, new bullet journal theme. I chose the PB delight stamp because it is just that, delightful. I also tried colouring with markers, just colouring no water blending! The journal pages are very smooth and a decent weight but nothing like watercolour paper so I've been hesitant to do much blending with water. I used Staedtler brush pens which are water-based ink and coloured the flowers and leaves as minimally as possible.
The red tended to go through the paper a bit but only where I had layered ink over ink. I stamped the image first in Gina K obsidian amalgam ink which doesn't bleed when water based ink touches it. Stamping without a stamp positioner is not something I do very often any more, it was a bit nerve wracking but it worked ok. I didn't put the stamp on an acrylic block, I just pressed it down with my hand, that way I could apply pressure to the whole stamp bit by bit.
For the wish & to do list I just stamped in Papertrey 'new leaf' ink and repeated the butterflies for list items. By the way for the first time this year I completed all items my wish & to do list in May! Of course the big item was launching the new online course but there were birthday cards made and sent on time which is rather surprising for me!
I used 'new leaf' ink again on the calendar page along with a pilot fineliner for the grid, a micron pen for the days of the week and staedtler brush pens for the shadows over the letters.
(Compensated affiliate links used when possible)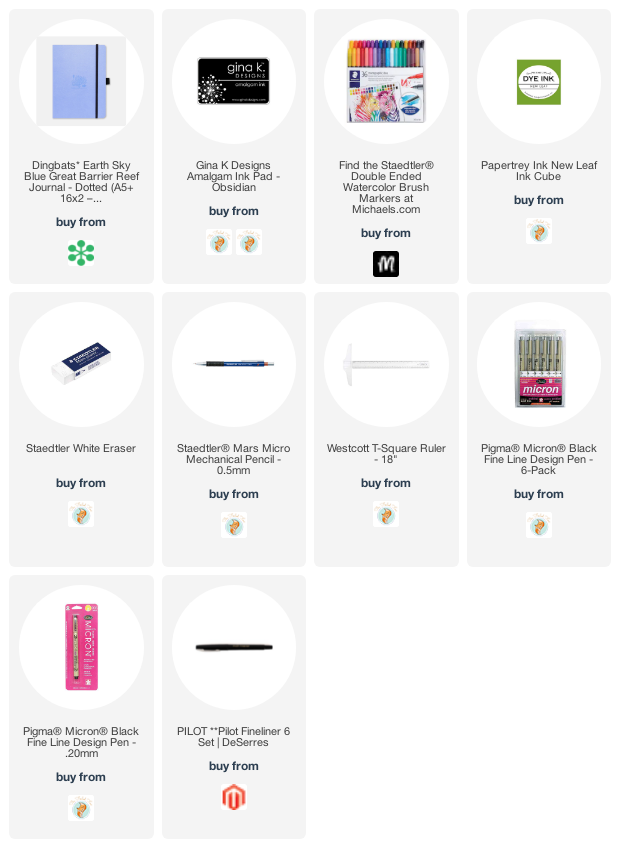 ---
Posted: May 5, 2021
Filed under: delight, Karin brushmarkers, Penny Black
| Tags: Fabriano Watercolour Paper, Karin brushmarkers, Penny Black stamps
7 Comments
The colour scheme you see above is one of my favourites; I love pinks and blues and combinations of pink and blue. I also like green way more than I used to especially when paired with blue. I am talking about more than art and cardmaking; the clothes in my closet are blue, pink, burgandy, navy, white and combinations of the above!
I used Karin brushmarkers to both stamp and colour this panel featuring the PB 'delight' stamp; it's a technique I often use and one that I teach in my new online class, Floral Faves. At the risk of boring you I am going to keep talking about my new class because I am very excited about it and very busy getting ready to launch it.
I used the following markers; magenta, lush green, henna, lilac, black, royal blue varying the greens with the help of the 'henna' marker to add more yellow tone. The stamp is a large one but I extended the edge of the ground even more with a few dots and dashes of green marker blended underneath with water. I kept this card design very clean with plenty of white space, the only added texture being the subtle border of the painted panel over a slightly larger card base in the same colour. I just felt the pretty colours were enough. To see a different look with the same stamp check out this card.
(Compensated affiliate links used when possible)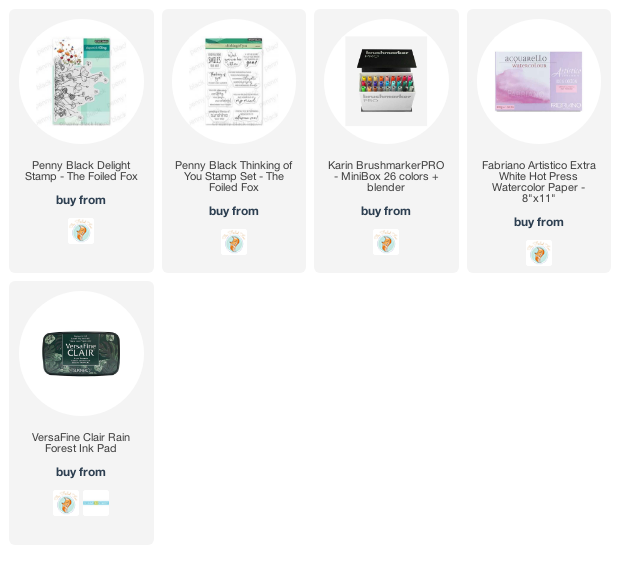 ---
Posted: April 14, 2021
Filed under: delight, Penny Black
| Tags: distress markers, Penny Black stamps, Ranger Distress inks, Tsukineko Versafine inks
30 Comments
It's a doubly exciting day today! Not only have a I teamed up with the Foiled Fox for a giveaway, I am also sharing the first of my posts featuring new Penny Black stamps.
The new release is called 'Delight' and the stamp on this card is called 'delight'! And I am delighted to tell you more about this garden card.
You can probably tell that I painted the background first; it's a smoosh, spritz, swipe background! I smooshed broken china, worn lipstick and wild honey distress inks on my glass mat, spritzed water on the inks and the hot pressed watercolour paper then swiped the paper through the inks. I tipped and tilted the panel to get the colours to mix and move then let it dry standing on its edge.
Once it was totally dry I put the panel in a stamp positioner to do all the stamping and painting. I stamped the base of the stamp with rustic wilderness, the larger flowers with worn lipstick and the rest of the stamp with antique linen. Using the glass mat as a palette I smooshed the distress inks already mentioned so I could add water and pick up ink with a paintbrush. To create white petals on the daisies I used a white gel pen then added little white dots here and there around the panel.
The 'delight' stamp is fairly large so this card ended up being 6¼"x4½". I finished the card with a sentiment from the new PB 'thinking of you' set stamped in twilight versafine clair ink. To enter the giveaway The Foiled Fox is hosting let me know in the comments what is on your crafty wishlist right now. I am wondering about trying some gouache paints so that is top of my list. What are you hoping and saving for?
Make sure you pop over to the Foiled Fox blog to see all the beautiful cards they have been sharing and browse around their lovely store; you might find your wish list growing while you're there.
(Compensated affiliate links used when possible)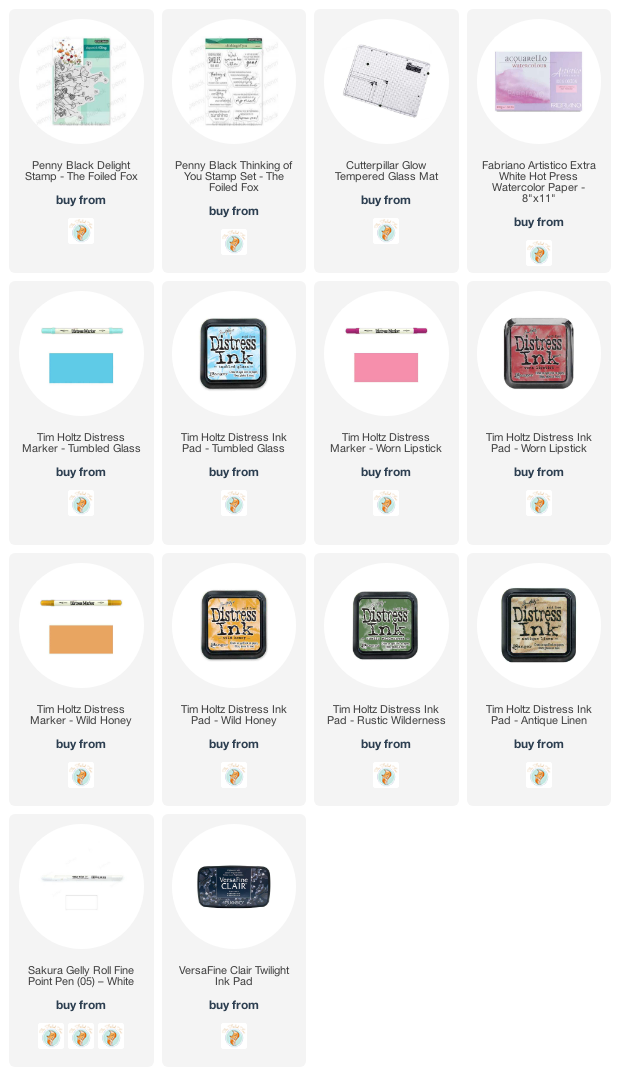 ---