Posted: March 15, 2021
Filed under: floral notes, Karin brushmarkers, lemon lush, Peerless watercolours, Pink Fresh studio
| Tags: Brutus Monroe, brutus monroe embossing powder, Karin brushmarkers, Peerless Transparent Watercolors, Pink Fresh studio, Tsukineko Memento inks, Tsukineko Versafine inks
3 Comments
It's a collaboration day with The Foiled Fox, so I am over on their blog and sharing here at home too. Make sure you pop over there to learn more about today's card process and products.
Isn't this a bright happy image? I know it's partly the colours I chose but I think it is also the mix of lemons, leaves and flowers. It's a glimpse of summer and that is definitely welcome! The stamp is called 'lemon lush' and it is a large 6″x6″ from Pinkfresh Studio. I've used two thirds of it for this rectangle card but I'll be showing you the whole square image on another card soon.
I stamped the rubber stamp on hot pressed watercolour paper in raven black ink and embossed in raven powder (both from Brutus Monroe). For the watercolouring I used Peerless watercolours. I watercolour with quite a few different products so sometimes the Peerless paints sit on the shelf feeling forgotten. Once I bring them out however, I remember just how beautifully they blend and what gorgeous colours are available. If you haven't heard of Peerless watercolours paints they are an old, old company and the paint is in pieces of thick paper. I use a wet brush to pick up paint to use on my project.
When painting the cut lemons I used a yellow and a light orange paint, for the whole lemons I used the same plus darker orange tones to get depth and shadow. I used two greens for the leaves, a blue for the tiny flowers and violet for the large flowers. To fill in the berries I switched to a purple Karin brushmarker. The sentiment is from Pinkfresh Studio's 'floral notes' set stamped in monarch versafine clair. I stamped the flap of my envelope too with memento dandelion ink. If you take a close look at the second photo you will see some clear dots glued to the lemon halves, those droplets of juice might just be my favourite part of the card! Thanks for joining me today and thank you Foiled Fox for sending me this stunning stamp to create with.
(Compensated affiliate links used when possible)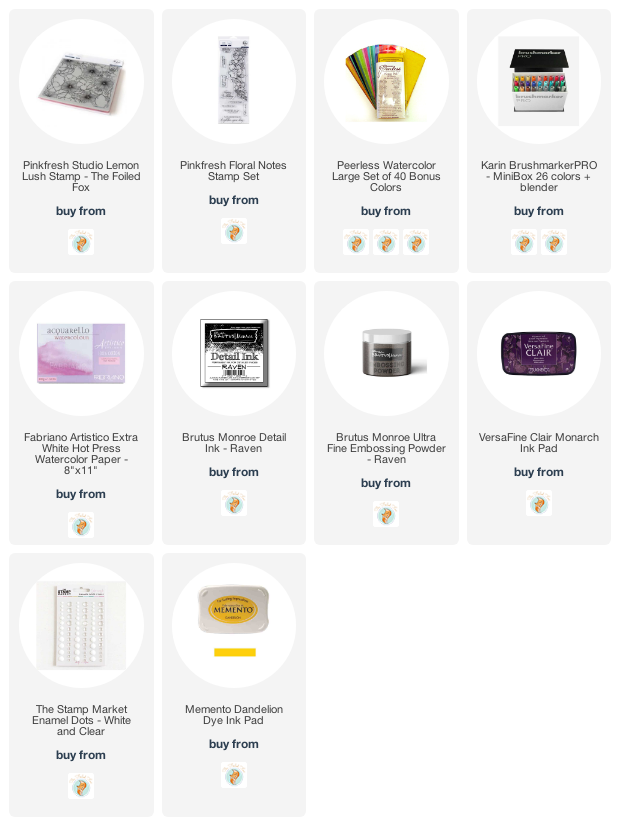 ---