Blushing blooms
Posted: September 16, 2019
Filed under: blushing, blushing cut out, Peerless watercolours, Penny Black
| Tags: Peerless Transparent Watercolors, Penny Black creative dies, Penny Black stamps
10 Comments
I have coloured this lovely flower a few times lately but I realised I hadn't posted it all on my blog. I did some no-line colouring with the stamp which took a while due to the number of petals, but still produced a nice result which I'll share at the end of this post. This weekend I decided to emboss the flower instead and paint it with peerless watercolours. I must say this technique was faster and less fiddly than the no-line petal by petal approach. I embossed two of them and painted them side by side with the same three paint colours. Peerless paint blends beautifully on the paper, in this case hot pressed watercolour paper, and I was able to add royal crimson over the top of flesh tint and vice versa until I was happy with the coverage and blending. The leaves were painted in olive green. I think I've mentioned before how much I love the quality, depth and blending of peerless watercolours.
I used the co-ordinating die to cut out both flowers then arranged them on top of a 'snowfall/speckles' embossing folder background. I snipped a few of the leaves off and rearranged them to balance the composition. I also glued some pieces directly to the background and popped other pieces up on dimensional foam. The sentiment is from the grateful sentiments set and is embossed and popped up also. Because my orange/pinkish combo is opposite green on the colour wheel this card is a match for the current CAS watercolour challenge, a challenge I love but rarely get my act together to enter!
Here is a similar design I completed as part of my no-line watercolour class. I stamped in antique linen distress ink and used a selection of distress inks as 'paint'. The sentiment is from a clever Taylored Expressions stamp and die combo.
Supplies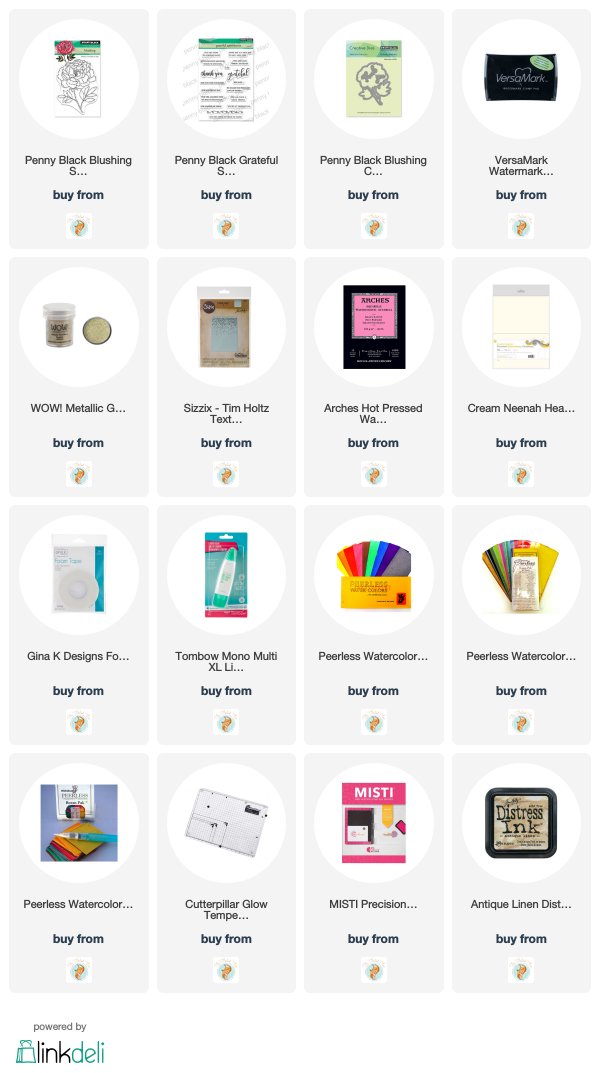 ---