Posted: June 26, 2020
Filed under: a little secret, Art Journal, Concord & 9th, dainty whispers, Penny Black, simple serif alphabet, Unfolding
| Tags: Art Journal, Concord & 9th, Penny Black stamps
8 Comments
I completed another page in my art journal a few days ago; not the one that inspired a recent card, that one is still to come. This one I started, stopped and restarted again.
You can see there are some shadowy flowers in the background. They are the first flowers I stamped and painted straight on the journal page. The journal isn't watercolour paper so diluting and painting with ink didn't work well. I tried to fix it by drawing black outlines and then white gel pen highlights but that didn't look good either. I like to think of the art journal as a place I can try techniques but sometimes those experiments don't end up looking pretty.
When I've wanted to paint on other pages I have prepped the pages with absorbent ground first; it makes the surface more conducive to ink and water blending. Adding one layer of absorbent ground covered the surface but not the images underneath. When it dried though, I liked the misty images in the background and decided not to do another layer. Instead I proceeded to stamp again with the same inks (listed below) and this time blending the inks with water was more successful. To stamp on the uneven book pages I used acrylic blocks and the Wendy Vecchi 'perfect stamp positioner'.
Once I finished stamping and painting the PB floral stamps 'unfolding' and 'dainty whispers' I stamped the delicate 'a little secret' stamp repeatedly in old paper distress ink to fill in some grass. I blended broken china ink directly onto the pages to fill the sky area and splattered water over it to break up the flat blue expanse.
Finally I chose the quote from a favourite author, C.S. Lewis and used the C&9 'simple serif' alphabet stamps and some tiny stamps I bought long ago at Hanji gifts in Toronto. I've since found out C.S. Lewis did not say this; I guess I should have done a fact check before stamping it all in my journal.
I do like the effect of coloured images under a layer of white. I might do it on purpose next time!
Supplies

---
Posted: September 6, 2019
Filed under: big thanks, filled in florals, fine line florals, simple serif alphabet, simple serif alphabet dies
| Tags: Concord & 9th, Ranger Distress inks
3 Comments
I've been playing with Concord & 9th's co-ordinating stamp sets 'filled in florals' and 'fine line florals'. For this first card I stamped the large 'fine line floral' stamp twice in versamark then embossed in gold powder. To fill in the flowers I switched to the 'filled in florals' stamps. I inked the large flower in wild honey ink then added abandoned coral ink around the centre. I spritzed the stamp then pressed it over the matching embossed flower. Because I had spritzed before stamping I got a nice blend of colours which loosely filled the outline. I repeated this step with the blue flowers (blueprint sketch) and burgandy flowers (aged mahogany) I diluted some aged mahogany to paint inside the remaining flowers.
I stamped black soot ink in the centres and bundled sage for the little leafy bit below the petals. I stuck with the gold highlights when adding the sentiment, embossed 'miss you' in gold then popped the shimmer gold 'simple serif' die-cut letters with white foam. I thought it need just a little something more so added three gold half pearls. Usually I would add splatter but I guess I was feeling fancier!
The inspiration for the second card came as I was stamping off the 'filled in floral' stamps after I'd stamped the embossed areas. I grabbed another piece of watercolour paper then inked the flower stamps with the same colours used on the first card, spritzed the stamp then stamped one flower, spritzed again, a second flower, spritzed again and got a third paler flower. Once the panel was fairly full I switched to the leaf stamp, bundled sage and peeled paint ink and added some leaves. I used acrylic blocks for the stamping; there was no need for a stamp positioner with such a loose watery technique.
The watery technique did mean I lost much of the definition of the stamp so I drew some veins on the petals with a spiced marmalade marker once the ink dried. I used the simple serif stamps this time (they match the dies used on the other card) to stamp 'thanks' along with one of the sentiments from the C&9 'big thanks' stamp set. This time I did want some black splatter but not all over the place so I chose the safe option of stamping black dots using two stamps from the fine line florals set then drew extra dots with a black marker. A black mat finished it off.
Are you a 'stay inside the lines' kind of painter or are you happy to be a bit loose and messy like I was with these cards?
Supplies

---
Posted: June 12, 2019
Filed under: City stacks, Concord & 9th, Peerless watercolours, simple serif alphabet
| Tags: Concord & 9th, Peerless Transparent Watercolors
4 Comments
This wonderful new C&9 alphabet stamp set arrived a few days ago and, oh the possibilities! I had only a little time to play with it today so I pulled out the delightful 'city stacks' stamps, also from Concord & 9th. I stamped in versafine onyx black ink and watercoloured with my peerless watercolour paints. Versafine is a pigment ink so it won't react with water when I start painting over it.
The sky and the road I blended onto the panel with makeup brushes which was quite a bit quicker than painting it. I used broken china, scattered straw and wild honey distress inks for a sunrise look.
When I laid out the letters in my stamp positioner I wondered how long it would take me to get them lined up. I got them right on the second attempt! I slipped in a piece of acetate to do a trial stamping, realigned the few that needed it and then the next attempt was just right. The serifs at the top and bottom of the letters make it easy to line them up on the grid of my stamp positioner lid. Yay! I used part of a stamp from the 'city stacks' set to finish the sentiment at the bottom of the panel.
You'll be seeing these letters again, and again. Count on it. And there are dies too, I didn't use them on this card but it won't be long.
Supplies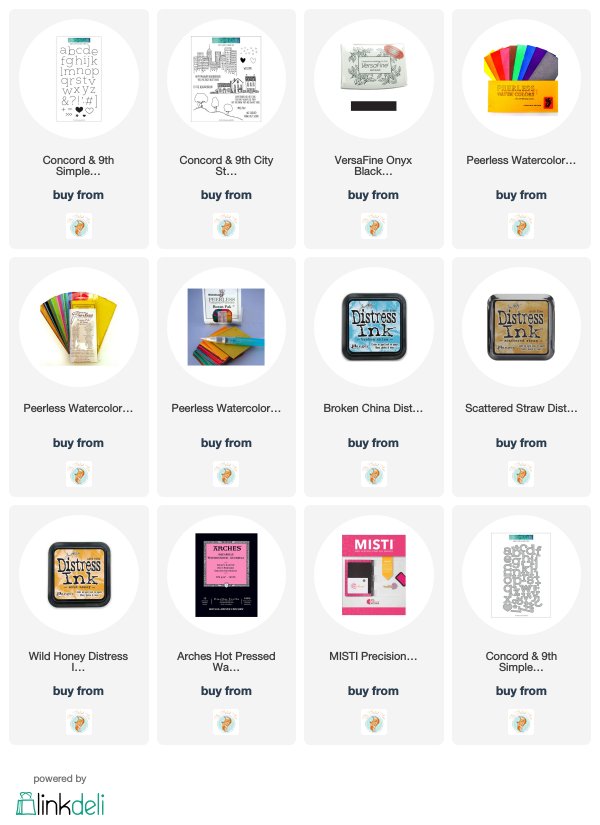 ---