You & Me
Posted: June 12, 2019
Filed under: City stacks, Concord & 9th, Peerless watercolours, simple serif alphabet
| Tags: Concord & 9th, Peerless Transparent Watercolors
4 Comments
This wonderful new C&9 alphabet stamp set arrived a few days ago and, oh the possibilities! I had only a little time to play with it today so I pulled out the delightful 'city stacks' stamps, also from Concord & 9th. I stamped in versafine onyx black ink and watercoloured with my peerless watercolour paints. Versafine is a pigment ink so it won't react with water when I start painting over it.
The sky and the road I blended onto the panel with makeup brushes which was quite a bit quicker than painting it. I used broken china, scattered straw and wild honey distress inks for a sunrise look.
When I laid out the letters in my stamp positioner I wondered how long it would take me to get them lined up. I got them right on the second attempt! I slipped in a piece of acetate to do a trial stamping, realigned the few that needed it and then the next attempt was just right. The serifs at the top and bottom of the letters make it easy to line them up on the grid of my stamp positioner lid. Yay! I used part of a stamp from the 'city stacks' set to finish the sentiment at the bottom of the panel.
You'll be seeing these letters again, and again. Count on it. And there are dies too, I didn't use them on this card but it won't be long.
Supplies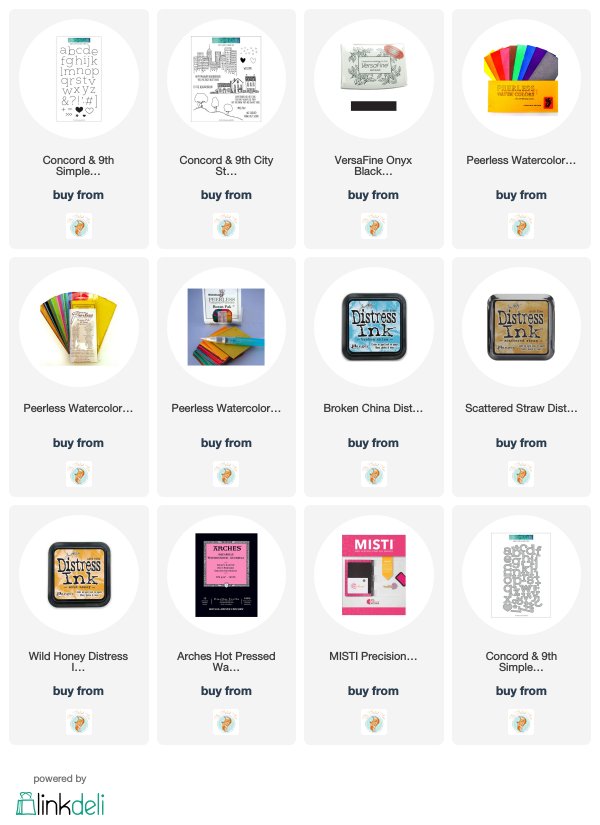 ---