Posted: June 26, 2020
Filed under: a little secret, Art Journal, Concord & 9th, dainty whispers, Penny Black, simple serif alphabet, Unfolding
| Tags: Art Journal, Concord & 9th, Penny Black stamps
8 Comments
I completed another page in my art journal a few days ago; not the one that inspired a recent card, that one is still to come. This one I started, stopped and restarted again.
You can see there are some shadowy flowers in the background. They are the first flowers I stamped and painted straight on the journal page. The journal isn't watercolour paper so diluting and painting with ink didn't work well. I tried to fix it by drawing black outlines and then white gel pen highlights but that didn't look good either. I like to think of the art journal as a place I can try techniques but sometimes those experiments don't end up looking pretty.
When I've wanted to paint on other pages I have prepped the pages with absorbent ground first; it makes the surface more conducive to ink and water blending. Adding one layer of absorbent ground covered the surface but not the images underneath. When it dried though, I liked the misty images in the background and decided not to do another layer. Instead I proceeded to stamp again with the same inks (listed below) and this time blending the inks with water was more successful. To stamp on the uneven book pages I used acrylic blocks and the Wendy Vecchi 'perfect stamp positioner'.
Once I finished stamping and painting the PB floral stamps 'unfolding' and 'dainty whispers' I stamped the delicate 'a little secret' stamp repeatedly in old paper distress ink to fill in some grass. I blended broken china ink directly onto the pages to fill the sky area and splattered water over it to break up the flat blue expanse.
Finally I chose the quote from a favourite author, C.S. Lewis and used the C&9 'simple serif' alphabet stamps and some tiny stamps I bought long ago at Hanji gifts in Toronto. I've since found out C.S. Lewis did not say this; I guess I should have done a fact check before stamping it all in my journal.
I do like the effect of coloured images under a layer of white. I might do it on purpose next time!
Supplies

---
Posted: April 22, 2019
Filed under: trees in bud, Unfolding
| Tags: Penny Black stamps, Ranger Distress inks, Tsukineko Versafine inks
15 Comments
Like many card makers I have numerous boards on Pinterest filled with inspiration for future art and cards. I opened one such board yesterday looking for inspiration and decided to have all my flowers and foliage along the top of the card hanging down, then empty space below. I did all the painting with the flowers upside down but when I had finished it didn't make sense to have the flowers upside down at all so here they are right side up.
Working on cold pressed watercolour paper I stamped the PB 'unfolding' stamp twice which involved masking a flower head in the middle of the panel so I could overlap the flowers. I inked the flowers with wilted violet and seedless preserves distress inks and the stems in bundled sage then blended all the stamping with a little water and a small paintbrush. I wanted extra colour in the petals so I pressed all three stamp pads on my glass mat so I could pick up ink for painting.
Once I had painted all the flowers I realised I would need a mask for each one so I could stamp background foliage. It didn't take too much time to stamp and cut masks of the flower heads, I didn't worry about masking the leaves. The foliage is PB 'trees in bud' stamped in iced spruce distress ink and the splatter is bundled sage. To finish the card I add a sentiment from the handy PB set, 'banner sentiments' in versafine clair morning mist and popped up the whole panel on foam over a hot pressed watercolour paper card base. Sometimes I want a frame around a panel but nothing as bold as a coloured mat would be so I pop the panel up creating what I call a 'shadow frame' simply because the small distance between panel and card base casts a subtle shadow.
Supplies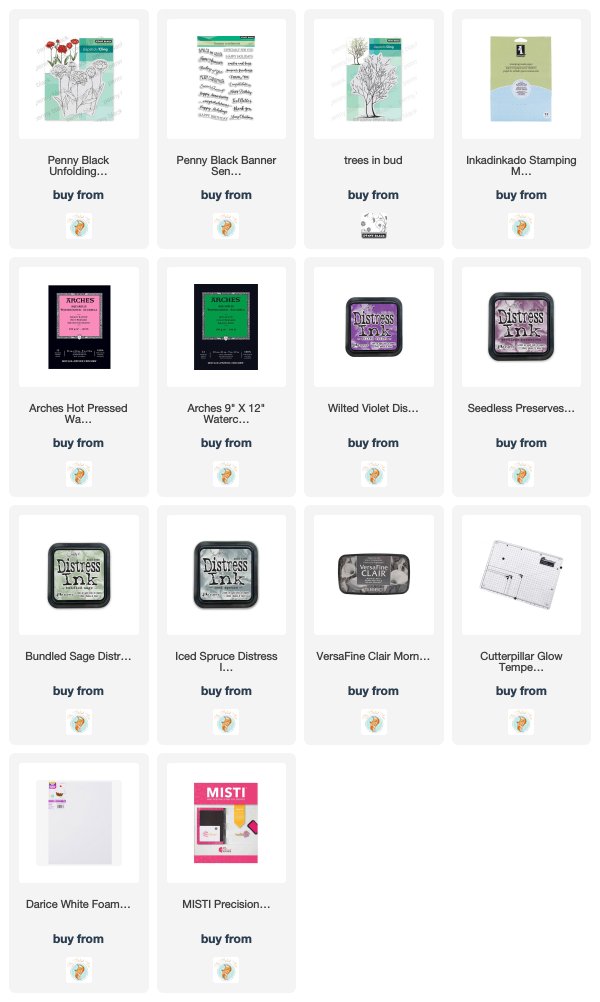 https://linkdeli.com/widget.js?1552642647875
---
Posted: March 1, 2019
Filed under: Penny Black, square frames, Unfolding
| Tags: Penny Black creative dies, Penny Black stamps, Ranger Distress stains
5 Comments
I have yet another distress stain no-line watercolour card for you today. I have received a few questions about my recent distress stain outline cards. Readers have asked if I stamped with ink of some kind first then painted the stain. Not for this card or the previous two. I ink the stamp with stain which is much more 'liquidy' than ink and stamp with a stamp positioning tool on watercolour paper. The stain soaks in a little but also sits on top of the paper for a short time. I try to blend straight away so I can take advantage of the wetness of the stain.
For this panel I inked the flowers with ripe persimmon and fired brick distress stain. You can paint both onto the stamp then print or you can do one colour then the other, allowing the stains to overlap a bit for some nice blending.  I inked the leaves and stems with forest moss and mowed lawn then blended the leaves after stamping. If you have stains but haven't tried inking your stamps with them it does create some pretty blends and the only outline colours are the ones you are blending into the petals and leaves.
As with my other recent cards I added a sentiment in black ink and a simple frame cut with the square frames dies. The sentiment set is called 'sending thanks' and is a little set with lots of possibilities!
Thanks for dropping by this week; I'll be back on Monday for a blog hop and other exciting news!
Supplies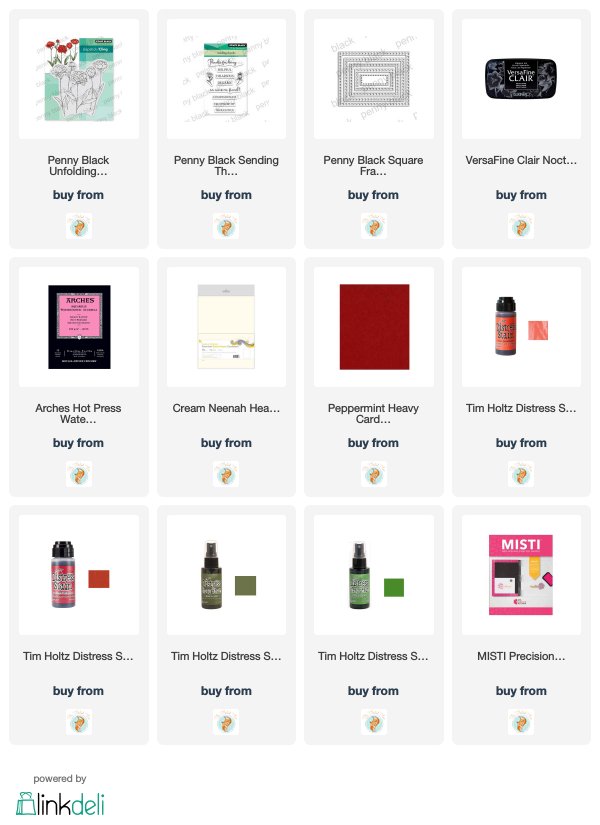 ---