To give you a hug
Posted: February 28, 2019
Filed under: flutterby, Penny Black, square frames
| Tags: Penny Black creative dies, Penny Black stamps, Ranger Distress stains
10 Comments
'Tis the season for new floral stamps, even if it is not the season yet for new florals! I used my tried and true distress stain watercolour method for this little bunch of tulips. I inked the petals with dusty concord and festive berries distress stain. I often use a brush now and paint stain onto the stamp. That way I don't contaminate the dauber top of my distress stains with other colours and if I'm using the spray stain I can just dip my paintbrush into the stain I have sprayed into a palette.
I try to paint straight after stamping so the stain is still wet on the watercolour paper and can be blended very easily to fill the petals and leaves.
I added some splatter around the panel as my image was confined to one corner leaving a lot of empty space elsewhere. I used the 'negative frame' which is a bonus when I cut the whole set of 'square frames' from cardstock. I have kept my new square dies joined together in pairs so I can get these 'negative frames' easily. I didn't want to cover my corner flowers so I snipped off some of the frame to wrap around the image instead.
Isn't this a sweet sentiment?
Supplies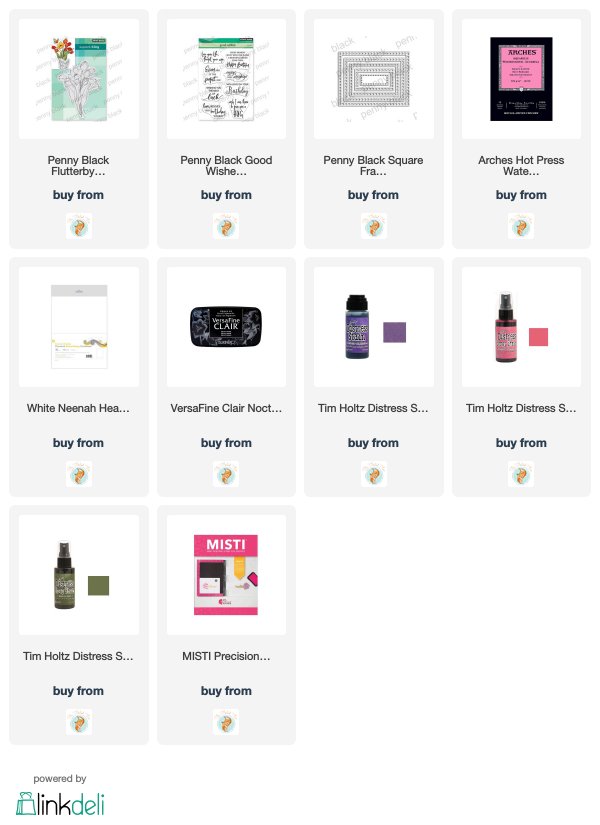 ---