Thanks for being thoughtful
Posted: March 1, 2019
Filed under: Penny Black, square frames, Unfolding
| Tags: Penny Black creative dies, Penny Black stamps, Ranger Distress stains
5 Comments
I have yet another distress stain no-line watercolour card for you today. I have received a few questions about my recent distress stain outline cards. Readers have asked if I stamped with ink of some kind first then painted the stain. Not for this card or the previous two. I ink the stamp with stain which is much more 'liquidy' than ink and stamp with a stamp positioning tool on watercolour paper. The stain soaks in a little but also sits on top of the paper for a short time. I try to blend straight away so I can take advantage of the wetness of the stain.
For this panel I inked the flowers with ripe persimmon and fired brick distress stain. You can paint both onto the stamp then print or you can do one colour then the other, allowing the stains to overlap a bit for some nice blending.  I inked the leaves and stems with forest moss and mowed lawn then blended the leaves after stamping. If you have stains but haven't tried inking your stamps with them it does create some pretty blends and the only outline colours are the ones you are blending into the petals and leaves.
As with my other recent cards I added a sentiment in black ink and a simple frame cut with the square frames dies. The sentiment set is called 'sending thanks' and is a little set with lots of possibilities!
Thanks for dropping by this week; I'll be back on Monday for a blog hop and other exciting news!
Supplies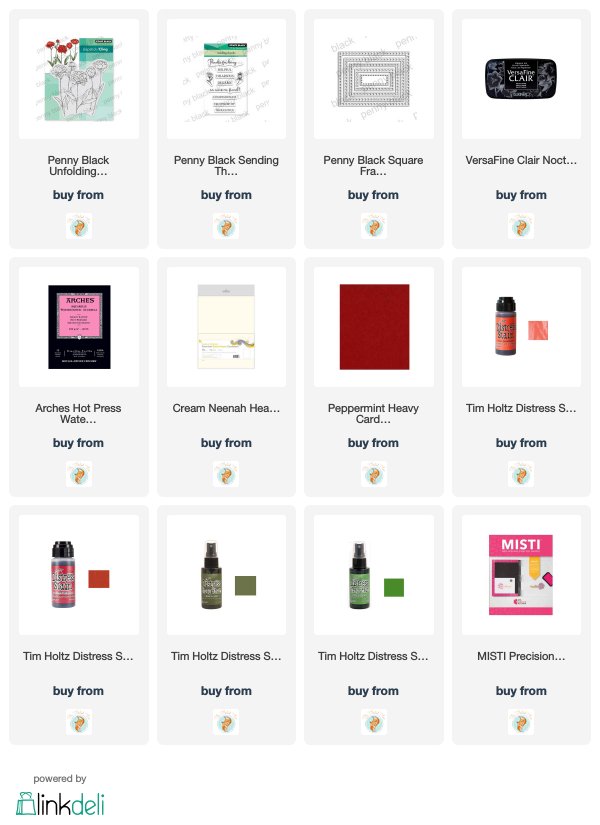 ---