Timeless
Posted: February 27, 2019
Filed under: square frames, timeless
| Tags: Penny Black creative dies, Penny Black stamps, Ranger Distress stains
9 Comments
Today's card features the 'title stamp' (like title track) from the new Penny Black release.This big bold rose stamp, 'Timeless', is such a versatile one. I used blended distress stain for my card but it will be great for embossing, no-line colouring and pencil colouring as well.
I used my stamp positioner so I could work with a few colours at a time but it would work without a positioner. I inked the top petals in festive berries distress stain, stamped on cold pressed watercolour paper then inked the lower petals with dusty concord stain and stamped again. If you still have the daubers you can ink direct to stamp but if you have the sprays you need to paint some stain on your stamp for this technique. You could use inks or markers but I like how wet the stamped image is when I use stain. I am able to use a brush and water immediately to blend the stain to fill the petals. You can see on some of the petals I added extra stain for shadow and depth
I stamped the leaves in two green stains and blended them also. I finished the panel off with a cool new sentiment then added a frame cut with the new 'square frames' dies. I have kept my dies joined together so I will get both the decorative frames and the plain frames when I run it through the machine. It does mean that I get several frames each time I use it but that's ok; I'm keeping them in reserve.
Supplies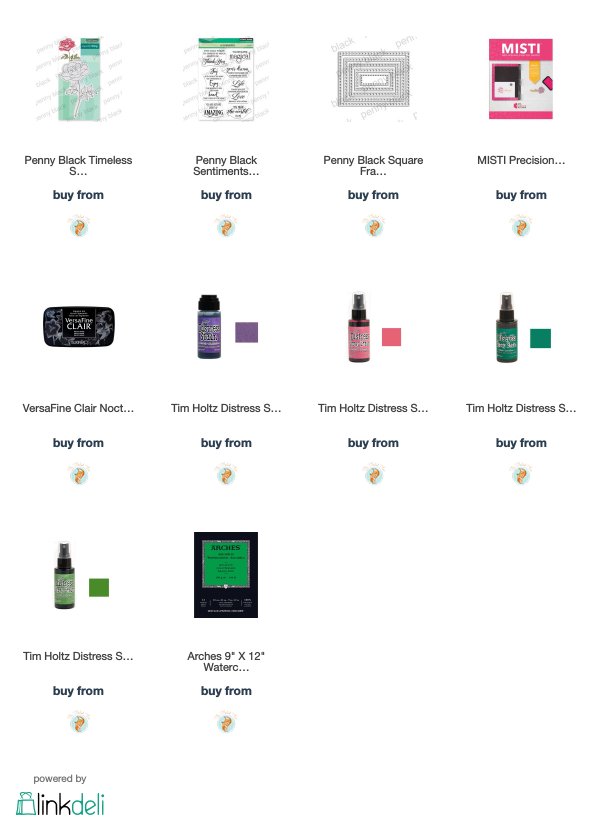 ---