Posted: February 21, 2020
Filed under: Brutus Monroe, Coliro paints, floral medley, Penny Black, square frames
| Tags: brutus monroe embossing powder, Coliro paints, Finetec artist mica watercolour paint, Penny Black creative dies, Penny Black stamps
8 Comments
The fun continues around here with pearlescent paints and black watercolour paper. I just wish the photos would show better how pretty the shimmery paints are.  The Foiled Fox sent me some yummy new paints from Coliro, I used the 'ocean' and the 'vintage' sets for this card. I also tried out the 'penny' embossing powder from Brutus Monroe. It is a copper colour which worked nicely with the paints I chose. I embossed part of the Penny Black 'floral medley' stamp in one corner of my black watercolour paper panel then flipped the panel and moved the stamp around a little before stamping more flowers on the other corner. I paired up a couple of stamps from the PB 'strength' sentiment set to emboss a sentiment in between the florals.
Coliro (or Finetec) paints are full of shimmer and look amazing on dark paper but can also be used on light or white paper for more subtle effects. I have painted them on neenah black cardstock before, the colours looked great but I like the way watercolour paper gives me more flexibility with blending from dark to light. When attempting light and dark areas on black paper I have to think about the direction of my blending. On white watercolour paper I paint strong colour then blend it with water to decrease the intensity and so end up with a lighter area. On dark paper I paint an area in bright pearlescent paint and then dilute it with water to get a darker or shadow area. Shading isn't really necessary of course, the colours look great painted as solid sections without shading.
To finish off the card I die-cut a frame from copper coloured shimmer paper. I have two frame dies from the PB 'square frames' set still linked together so I get a plain frame when I run the two decorative dies through the machine together.
I am teaching a 'Watercolour on Black' workshop in Ottawa at the end of March where we will be playing with these lovely shimmer paints and creating stamped and painted panels that really shine. Click over to my upcoming classes page for more details.
Supplies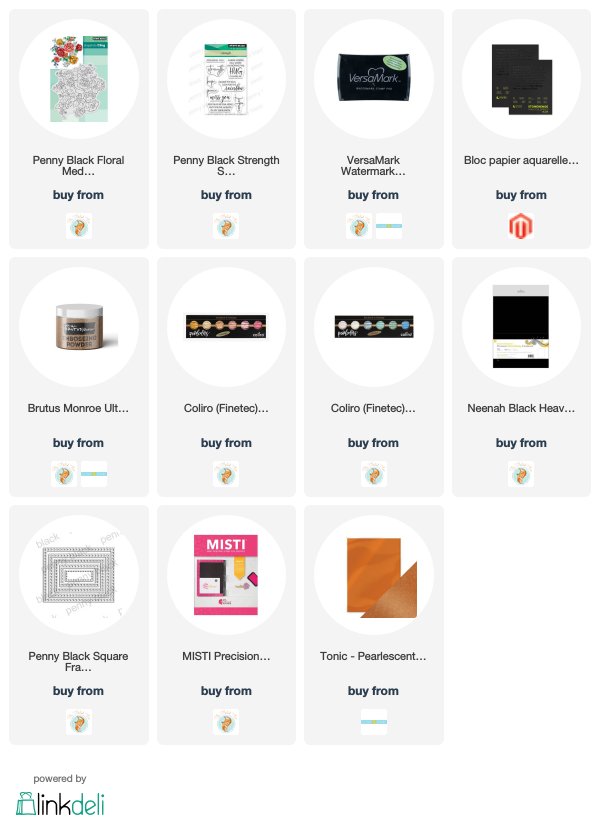 ---