Posted: January 15, 2020
Filed under: Avery Elle, Brusho, fluttering friends, My Favorite Things, Penny Black, Poppy Time, simple sentiments
| Tags: Brusho, My Favorite Things, Penny Black creative dies, Penny Black stamps
8 Comments
This is the last of the three colour panels I did with sandstone, lemon and ost blue brusho.  I think this one might be my favourite because of the sky behind the poppy. Of course I was not really responsible for that pretty sky, it was the magic of brusho! I embossed the PB 'poppy time' stamp in gold powder on hot pressed watercolour paper first. Next I sprinkled the three colours of brusho on craft mat and spritzed it with water. I didn't sprinkle too much powder; it is easier to add more colour than to take it away. I swiped the panel through the wet activated brusho and set it flat to dry. I can't remember if I dabbed colour away or moved some with a paintbrush (I made this card a while ago)
With the background taken care of I mixed some green from the sandstone & ost blue and painted the bud, stems and seed pod. I the petals with sandstone and lemon from a palette then sprinkled salt on top to get some texture.
Once again I used a sentiment from MFT 'fluttering friends'; I really like the clean lines of the font and the size too. The sentiments fit perfectly in strips cut with the Avery Elle simple sentiment strips.
Thanks for joining me in this mini series on using a limited palette. I have enjoyed reading your comments and hope you are trying it yourself. Please let me know if you do.  If you just joined me today here are the other two cards made with this simple colour scheme.
Supplies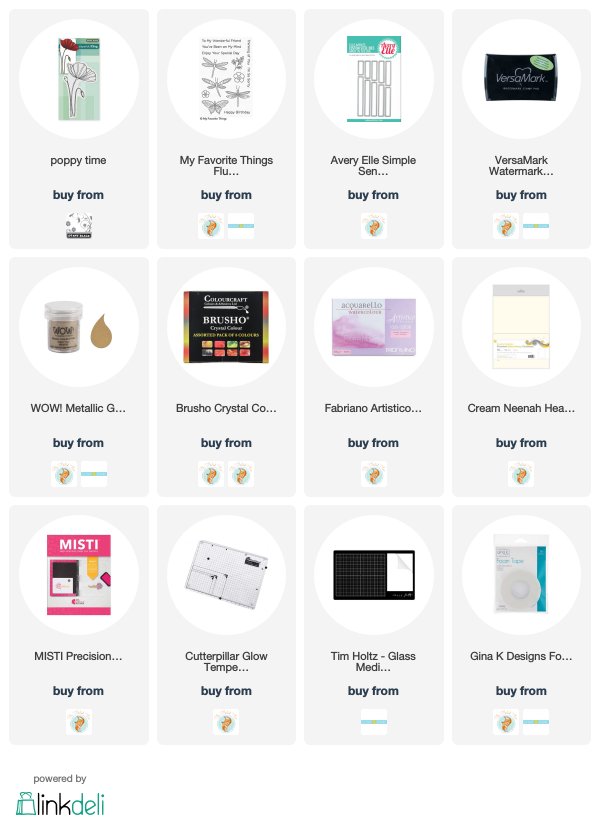 ---
Posted: January 13, 2020
Filed under: bouquet ballet, Brusho, fluttering friends, My Favorite Things, Penny Black, square frames
| Tags: Brusho, Fabriano Watercolour Paper, My Favorite Things, Penny Black creative dies, Penny Black stamps
12 Comments
Above is the second of my three colour cards painted with only ost blue, sandstone and lemon brusho. The first card displayed some of the texture and blending which is easily achieved with brusho, in this card it is easier to see the three basic colours plus a couple of the colours I mixed myself. As with the first card I mixed the brusho powders with water in a palette but for this card didn't sprinkle any brusho directly on the watercolour panel.
The PB bouquet ballet stamp is stamped in black ink on cold pressed watercolour paper; I used a stamp positioner as cold pressed watercolour paper has texture which prevents me from getting a perfect impression first go. The small poppy is painted in lemon brusho, the large flower with sandstone and the multi-headed flower in ost blue. On each one I dropped in more colour for extra depth. The small trumpet shaped flowers to the right are also painted in ost blue but a diluted coat. The stems and leaves are painted in a mix of blue and lemon. The centre of the flowers I painted in brown which was a mix of blue and sandstone brusho. I did use a black marker to colour the little flower centre thingies, but we are not going to count black as a fourth colour!
Happily I found a blue cardstock in my stash to create a sentiment strip and a frame. I embossed the sentiment from MFT fluttering friends in gold powder and popped it up over the panel. The frame is cut using PB square frames and glued on using on point glue because of the tiny tip on the glue bottle. I have one more card to show you in this miniseries and I think it might be my favourite. Check back soon.
Supplies


---
Posted: September 26, 2018
Filed under:
fluttering friends
| Tags: My Favorite Things, Peerless Transparent Watercolors, WOW embossing powders
33 Comments
You absolutely made my day on Monday by sharing what you are thankful for. I was so encouraged reading your comments. I hope you are still counting your blessings because the Foiled Fox and I are continuing our gratitude week and giveaways with a couple more cards today. You can enter on each of the posts this week for more chances to win; just tell us something different that you are thankful for on each day. The Foiled Fox is giving away a $25 gift certificate to three of our readers who leave a comment here on my blog and/or on the Foiled Fox blog telling us something they are grateful for. It does not have to be related to art and craft at all.  You have until the end of Friday, October 5th to add a comment to any of this week's gratitude posts. We will randomly choose a winner from each gratitude post and announce them on Tuesday, October 9th.
These sweet dragonflies and butterfly are from My Favorite Things; it's a set called Fluttering Friends. I like the fact that there are more dragonflies than butterflies in this collection; often it is the other way round. For this first card I embossed the dragonflies on vellum in platinum embossing powder then cut them out using the co-ordinating die set. I painted a rough square on hot pressed watercolour paper with Peerless transparent watercolours. I love these watercolours; the colours are vibrant and the blending is beautiful. I then die-cut a square from the panel and from some adhesive backed foam and popped up my square as a platform for the dragonflies. I even remembered my nuvo drops and made some clear droplets beside the dragon flies, then finished the card with a sentiment from the MFT 'all about you' set.
I kept my colours similar for the second card but featured painted dragonflies and butterfly instead of a painted background. Once again I used peerless paints, blending oranges, yellows and pinks.
The embossing is all in platinum powder and the sentiment this time is from 'brushstroke expressions' popped up over a 'typewriter text' background.
I'll wrap up this post by telling you another thing I am thankful for, and it is something many of you mentioned on Monday, my dear family both near and far. I have a wonderful family, four of them here in Canada and all the rest on the other side of the world in Australia.
Thanks for dropping in today; I hope you are having a delightful day!
Supplies
Stamps: fluttering friends, typewriter text, brushstroke expressions, all about you (MFT)


Dies: fluttering friends (MFT)


Inks: versamark, versafine clair tulip red


Paint: Peerless Transparent watercolours


Paper: hot pressed watercolour, light weight vellum, neenah cream


Also: platinum embossing powder, nuvo morning dew drops, white adhesive backed foam

---