Posted: January 15, 2020
Filed under: Avery Elle, Brusho, fluttering friends, My Favorite Things, Penny Black, Poppy Time, simple sentiments
| Tags: Brusho, My Favorite Things, Penny Black creative dies, Penny Black stamps
8 Comments
This is the last of the three colour panels I did with sandstone, lemon and ost blue brusho.  I think this one might be my favourite because of the sky behind the poppy. Of course I was not really responsible for that pretty sky, it was the magic of brusho! I embossed the PB 'poppy time' stamp in gold powder on hot pressed watercolour paper first. Next I sprinkled the three colours of brusho on craft mat and spritzed it with water. I didn't sprinkle too much powder; it is easier to add more colour than to take it away. I swiped the panel through the wet activated brusho and set it flat to dry. I can't remember if I dabbed colour away or moved some with a paintbrush (I made this card a while ago)
With the background taken care of I mixed some green from the sandstone & ost blue and painted the bud, stems and seed pod. I the petals with sandstone and lemon from a palette then sprinkled salt on top to get some texture.
Once again I used a sentiment from MFT 'fluttering friends'; I really like the clean lines of the font and the size too. The sentiments fit perfectly in strips cut with the Avery Elle simple sentiment strips.
Thanks for joining me in this mini series on using a limited palette. I have enjoyed reading your comments and hope you are trying it yourself. Please let me know if you do.  If you just joined me today here are the other two cards made with this simple colour scheme.
Supplies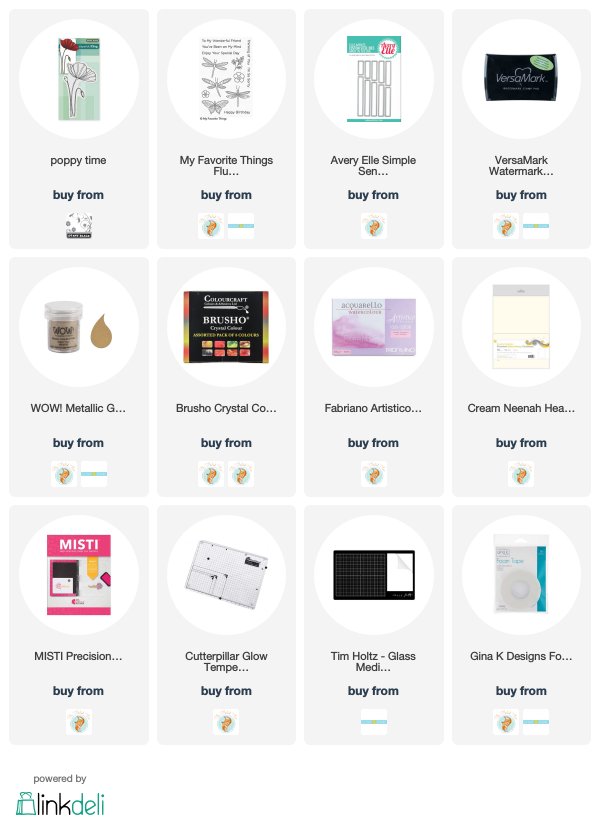 ---