Posted: January 15, 2020
Filed under: Avery Elle, Brusho, fluttering friends, My Favorite Things, Penny Black, Poppy Time, simple sentiments
| Tags: Brusho, My Favorite Things, Penny Black creative dies, Penny Black stamps
8 Comments
This is the last of the three colour panels I did with sandstone, lemon and ost blue brusho.  I think this one might be my favourite because of the sky behind the poppy. Of course I was not really responsible for that pretty sky, it was the magic of brusho! I embossed the PB 'poppy time' stamp in gold powder on hot pressed watercolour paper first. Next I sprinkled the three colours of brusho on craft mat and spritzed it with water. I didn't sprinkle too much powder; it is easier to add more colour than to take it away. I swiped the panel through the wet activated brusho and set it flat to dry. I can't remember if I dabbed colour away or moved some with a paintbrush (I made this card a while ago)
With the background taken care of I mixed some green from the sandstone & ost blue and painted the bud, stems and seed pod. I the petals with sandstone and lemon from a palette then sprinkled salt on top to get some texture.
Once again I used a sentiment from MFT 'fluttering friends'; I really like the clean lines of the font and the size too. The sentiments fit perfectly in strips cut with the Avery Elle simple sentiment strips.
Thanks for joining me in this mini series on using a limited palette. I have enjoyed reading your comments and hope you are trying it yourself. Please let me know if you do.  If you just joined me today here are the other two cards made with this simple colour scheme.
Supplies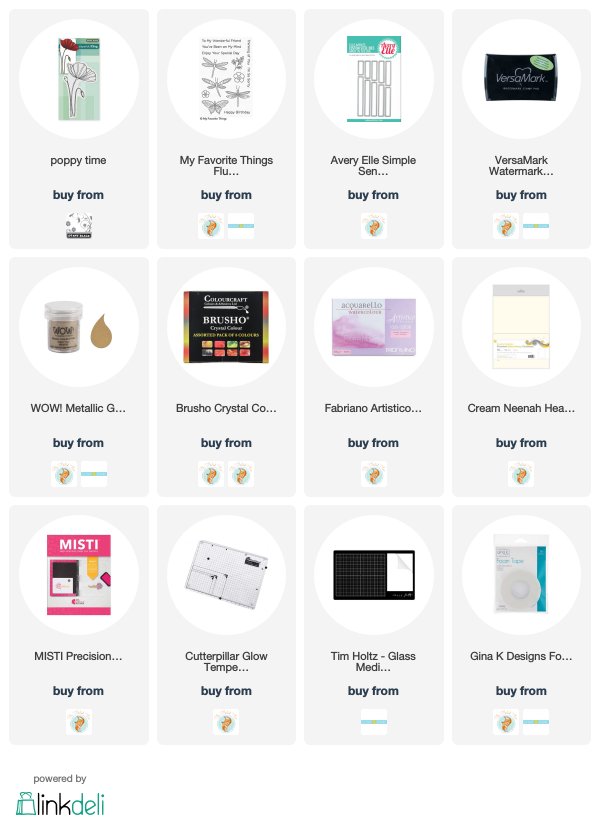 ---
Posted: April 26, 2019
Filed under: Coloured pencil, simple sentiments, Uncategorized, Wonderland
| Tags: Altenew, distress oxide inks, Faber-Castell Polychromos Colour Pencil, Tsukineko Versafine inks
10 Comments
I've been enjoying some pencil colouring lately, especially on 'Stardream' shimmer paper. (this background is stardream lapis lazuli) Working on a  dark background requires a different approach but the results can be quite eye catching. I stamped a few of the 'wonderland' poppies from Altenew on blue shimmer cardstock with antique linen distress oxide ink. The oxide ink ends up looking almost white on such a bold background.
My pencils are Faber Castell Polychromos but you could use whatever coloured pencils you have on hand. With a dark background it helps to lay down a light base of white before adding colours over the top. I chose two pink pencils plus a white to colour the petals and blended from white on the petal edges to dark pink at the petal base. I preserved the stamped lines where I could but occasionally coloured over them and did what repairs I could with my white pencil. I used a bright green pencil for the stems and sepals and a tiny spot of yellow in the centre of the lowest poppy.
As always it is hard to capture the shimmer of the paper on camera but I think you can see a bit of it in each photo. I stamped and embossed the sentiment on the panel but made a patchy job of it so I stamped it on cream cardstock and cut it out with the avery elle sentiment dies that are never far from my side these days! I popped the sentiment up on dimensional tape and added the panel to a cream card base.
I love that sentiment and hope you all stay awesome today, my friends!
Supplies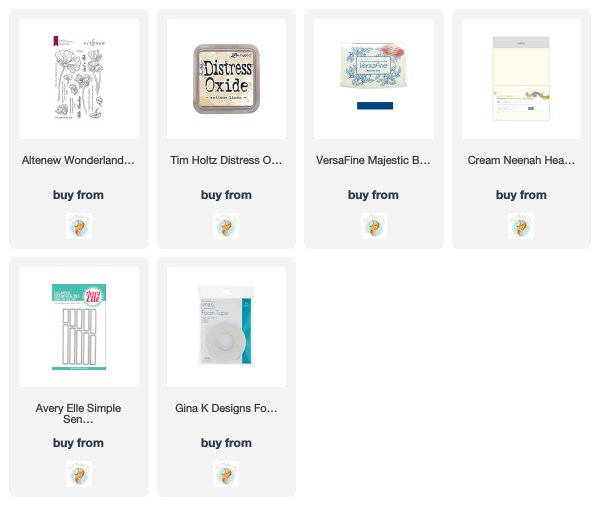 ---
Posted: February 5, 2019
Filed under: Avery Elle, boxes, mesh, Nature Walk, simple sentiments
| Tags: Avery Elle, Darkroom Door stamps, Darkroom Door stencils, Kuretake Gansai Tambi watercolour paints, Ranger Distress inks
6 Comments
I have mentioned before how beautiful these Darkroom Door 'nature walk' images are but have I mentioned how easy it is to create pretty cards with them. Each card today features just one image, stamped twice over a quick watercolour background.
I created the backgrounds with my glass mat and some distress inks. I squished the ink pads down on the mat side by side (three or four colours at a time), spritzed with water then swiped my hot pressed watercolour panel through the diluted ink a few times until there was good coverage on the panel. I dried the panel with a heat tool before sponging one or two of the distress inks through a section of stencil then added splots of water for some added texture. The panels were all different, all pretty and done within minutes.
I used the MISTI for stamping because the texture of the watercolour paper makes it necessary to stamp a few times to get a solid image. I used versafine clair nocturne ink which always gives me a crisp print. Once the ink was dry I splattered gold paint from the gansai tambi starry colours palette. The gold splatter might just be my favourite part of these cards; unfortunately it's not very obvious in the photos.
To draw more attention to the gold splatter I matted with gold and stamped the sentiments either on gold cardstock or with embossed in gold powder. The sentiments are from Darkroom Door's new sentiment strips. The sentiments are in list format and I have kept the stamp uncut. I stamp on a cardstock panel and cut out the sentiment I want. I now have a handy die set from the Foiled Fox which neatly cuts out the smaller fonts and I always love sentiments in small fonts! The set is called 'simple sentiments' and it has ten lengths of sentiment strip dies.
In putting together the cards I used one more happy new product. I am always searching for textured white cardstock. Today's cards feature a linen texture with enough depth to be seen by the camera. It is in 8½ "x11" sheets so one sheet did four card fronts, no waste. This is the first time I've used it so there will be more testing to come with dies, inks etc but so far, so good.
Thanks for listening to me prattle on about this and that. I hope you are enjoying some 'nature walks' even if they are of the snowy variety! While we have been experiencing extreme cold followed by loads of snow, friends and family on the other side of the world are experiencing extreme heat and flooding!
Supplies
Stamps: nature walk,  (DD)


Stencils: mesh, boxes 12 up


Dies: Simple Sentiment (Avery Elle)


Distress inks: crushed olive, pine needles, blue print sketch, milled lavender, stormy sky, mermaid lagoon, wilted violet, worn lipstick
.

Inks: versamark, nocturne versafine clair,


Paint: gansai tambi starry colours


Paper: hot pressed watercolour paper, snowbound textured white cardstock, gold cardstock, neenah solar white


Also: Cutterpillar glass mat, MISTI, gold embossing powder

---