Posted: April 12, 2023
Filed under: Darkroom Door, gel press, made for you, Nature Walk, Wildflowers Vol 1
| Tags: Darkroom Door stamps, gel press, gel printing
8 Comments
Some stamps old, some stamps new and some cardstock blue is the approach I took with these sweet new label stamps. I pulled out a textured gel print on rice paper and stamped flowers from a couple of favourite floral sets from Darkroom Door.
I used Ciao Bella chiascuro ink pads, the colours are deep but muted and worked beautifully with the paint colours in the gel print. Because rice paper is somewhat transparent I adhered the panel to a piece of aqua cardstock which made the print look bluer. I used the same cardstock to stamp the two phrases from the new DD 'made for you' set of label stamps.
The original gel print was done on a 9″x11″ gel plate so there was enough print for two cards and some extra strips on the envelope flaps
I think I have made cards a bit like this before. I love pairing DD silhouette flowers with gel prints. When I think about it, this gel print didn't 'work' as far as the technique was concerned. I was using a wallpaper sample which textured swirls on it and they did not appear at all, I just got the scaly texture you can almost see. That's the beauty of gel printing. Just because they don't do what you expect doesn't mean they are not usable.
The label stamps I've used as sentiments were probably designed to go on handmade items such as sewing or perhaps the back of a card. I decided they worked just as well as a message on the front of a card ready to send to someone dear to me.
(Compensated affiliate links from Foiled Fox, Scrap n Stamp & Ecstasy Crafts)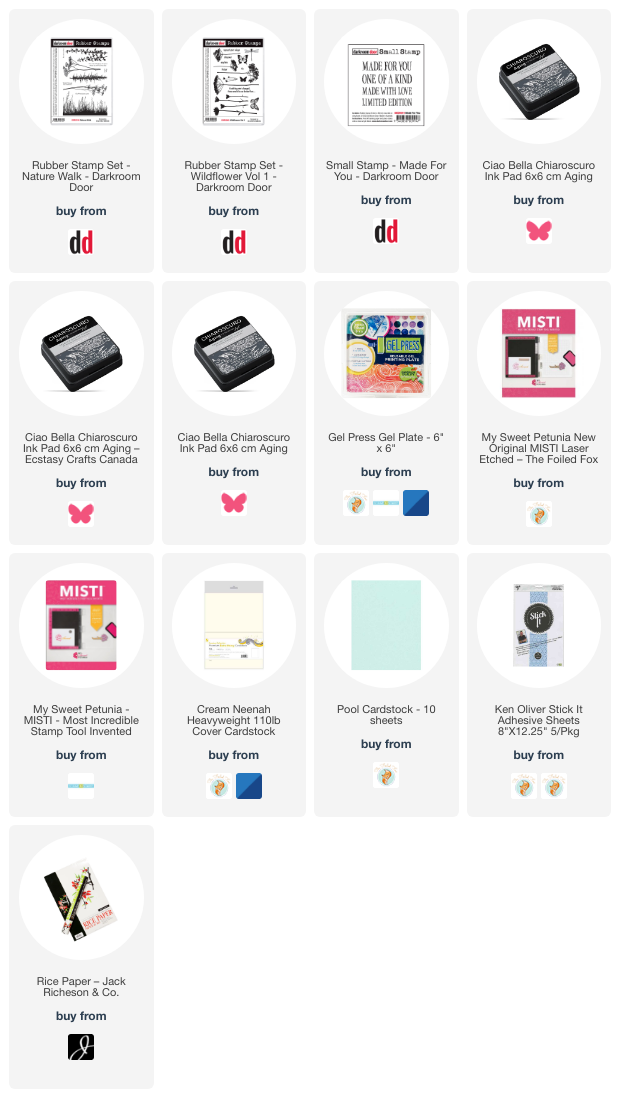 ---