Posted: May 20, 2022
Filed under: Art de Fleur vol 1, Darkroom Door, gel press, Nature Walk, tall flowers, Wildflowers Vol 2
| Tags: Darkroom Door stamps, gel press, gel printing, Ranger archival inks
7 Comments
Last week I taught a couple of gel printing classes and had a blast seeing others fall in love with the process and results. As you might imagine I have many prints now, a big box waiting to be used. I thought I would use a few scrappy patchy prints as backgrounds. Some of these prints are ghost prints where I pick up a patchy layer of paint left on the gel print after a more distinct print has been taken. I also have some patchy distressed looking prints taken from a damaged gel plate. I don't know how the surface got damaged but I still use it as a place to roll out paint before brayering on the main plate or to clean off excess paint after brayering on the main plate. The little dots you see on today's prints are from imperfections in the damaged plate.
On the print above you can see not only the specks of black paint from the plate but also the leftover paint from the border of the plate. Most gel printers love being able to pick up some of those colourful leftovers on a future print.
Both the print above and the one below were made from excess paint so there is very little defined pattern but instead some lovely specks, blends and blobs.
I chose to make cards from these prints not just because I wanted distressed backgrounds but also because it shows how even the scrappy, incomplete, messy prints can be worth saving.
The only colour on the background print above was some black. I used rustic wilderness, wild honey and frayed burlap archival inks to stamp flowers and grasses from Darkroom Door sets, nature walk and wildflowers vol 2.
The ghost print above was pulled with rice paper. When I stamped the purple flowers in versafine clair they soaked through the paper and spread to give the image a halo surrounding it. Although it was an interesting effect I switched to archival inks for the rest of my stamping as they sit of the surface and dry quickly.
I used similar colours to stamp flowers from DD sets, tall flowers and art de fleur vol 1 over the purple ghost print.
The print above was by far the busiest one I used so a bright contrasting colour seemed like a good idea. I used thistle, wild honey and faded jeans archival inks to stamp flowers from DD sets, nature walk and wildflowers vol 2. I also added some text with a stamp from the nature walk set
To attach the cards to the neenah card bases I used double sided adhesive sheets. I added some black and white paint splatter and Darkroom Door sentiments.
If you have read right to the end you are a champion. If you are a gel printer I hope you are inspired to use a few of those patchy prints you might otherwise discard. I have been using them in my art journals but it is nice to see them on cards too and it's not as if I am going to run out anytime soon!
Supplies
(Compensated affiliate links used when possible)

---
Posted: October 23, 2020
Filed under: Art de Fleur vol 1, Botanical Script, Darkroom Door, global postmarks, majestic mountains, scratches, sheet music, tall flowers
| Tags: Darkroom Door stamps, Fabriano Watercolour Paper, Papertrey ink
5 Comments
This card is the cardmaking version of going down a rabbit hole. I know how easy that is on the interwebs, but apparently it is possible with a card as well. What started out as a vintage style two layer card became a little more than that. I just kept thinking of stamps and papers and techniques I wanted to add.
I decided an insert would be nice; I don't usually put anything on the inside of my cards so an insert is quite the departure. An insert turned into two inserts which is more like a little book when you count both sides of the pages!
The front panel, which was initially going to be the whole deal features several Darkroom Door stamps: scratches background stamp, sheet music background stamp, global postmarks, art de fleur vol 1.
For the whole card I stuck with four Papertrey ink cubes (listed below); I used them for stamping, watercolouring, splattering and blending with a blending brush.
The inside pages are not watercolour paper but handmade paper from a Hanji gifts in Toronto. It is handmade paper with rose petals embedded in it. It was very white straight out of the packet so I smooshed some brown and pink inks on my glass mat, diluted with water then swiped the paper through the ink. This resulted in the colour I wanted but removed the sizing and wrinkled the paper. I ironed it, which did the trick then added little bits of stamping on every page. I used a couple of sentiments and some quote stamps, all from Darkroom Door and reused the same background stamps plus the floral stamps from the Art de Fleur set.
To join it all together I poked holes and used some fine twine for a little 'book binding'. With all the 'vintaging' I did on the front panel and pages the card base itself looked very stark so I swiped that through some smooshed ink too so everything would co-ordinate.
I was so deep down the rabbit hole by this point I realised an ordinary envelope was just not an option so I pulled out another sheet of the handmade rose petal paper, inked it, ironed it and used my envelope punch board to create an custom envelope, which I failed to photograph. All in all a very satisfying but surprising creative project. Now, back to work!
Supplies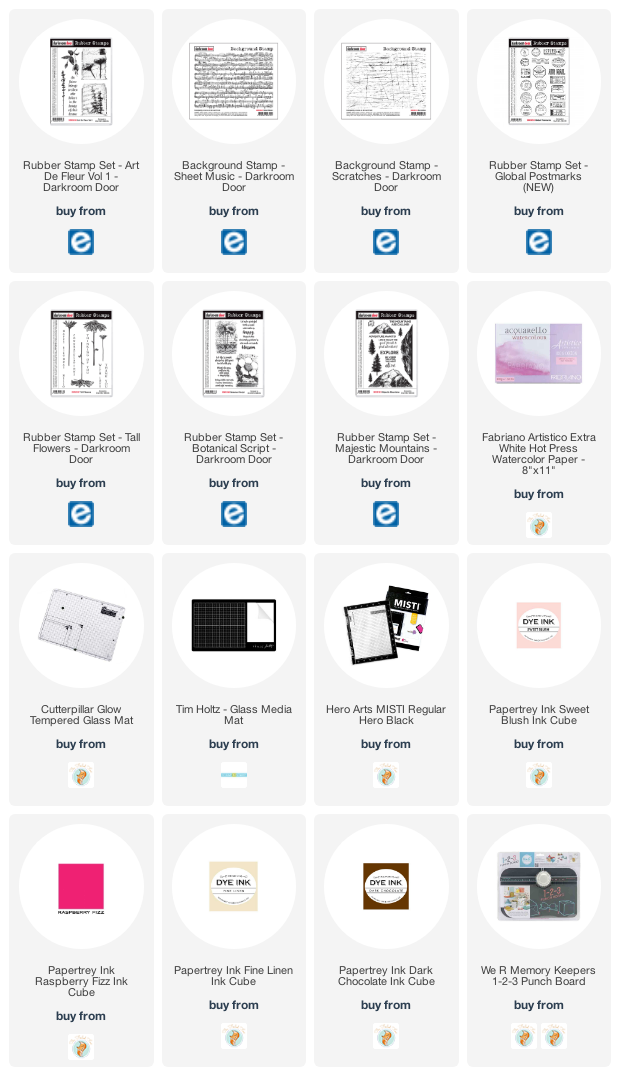 ---