Posted: October 23, 2020
Filed under: Art de Fleur vol 1, Botanical Script, Darkroom Door, global postmarks, majestic mountains, scratches, sheet music, tall flowers
| Tags: Darkroom Door stamps, Fabriano Watercolour Paper, Papertrey ink
5 Comments
This card is the cardmaking version of going down a rabbit hole. I know how easy that is on the interwebs, but apparently it is possible with a card as well. What started out as a vintage style two layer card became a little more than that. I just kept thinking of stamps and papers and techniques I wanted to add.
I decided an insert would be nice; I don't usually put anything on the inside of my cards so an insert is quite the departure. An insert turned into two inserts which is more like a little book when you count both sides of the pages!
The front panel, which was initially going to be the whole deal features several Darkroom Door stamps: scratches background stamp, sheet music background stamp, global postmarks, art de fleur vol 1.
For the whole card I stuck with four Papertrey ink cubes (listed below); I used them for stamping, watercolouring, splattering and blending with a blending brush.
The inside pages are not watercolour paper but handmade paper from a Hanji gifts in Toronto. It is handmade paper with rose petals embedded in it. It was very white straight out of the packet so I smooshed some brown and pink inks on my glass mat, diluted with water then swiped the paper through the ink. This resulted in the colour I wanted but removed the sizing and wrinkled the paper. I ironed it, which did the trick then added little bits of stamping on every page. I used a couple of sentiments and some quote stamps, all from Darkroom Door and reused the same background stamps plus the floral stamps from the Art de Fleur set.
To join it all together I poked holes and used some fine twine for a little 'book binding'. With all the 'vintaging' I did on the front panel and pages the card base itself looked very stark so I swiped that through some smooshed ink too so everything would co-ordinate.
I was so deep down the rabbit hole by this point I realised an ordinary envelope was just not an option so I pulled out another sheet of the handmade rose petal paper, inked it, ironed it and used my envelope punch board to create an custom envelope, which I failed to photograph. All in all a very satisfying but surprising creative project. Now, back to work!
Supplies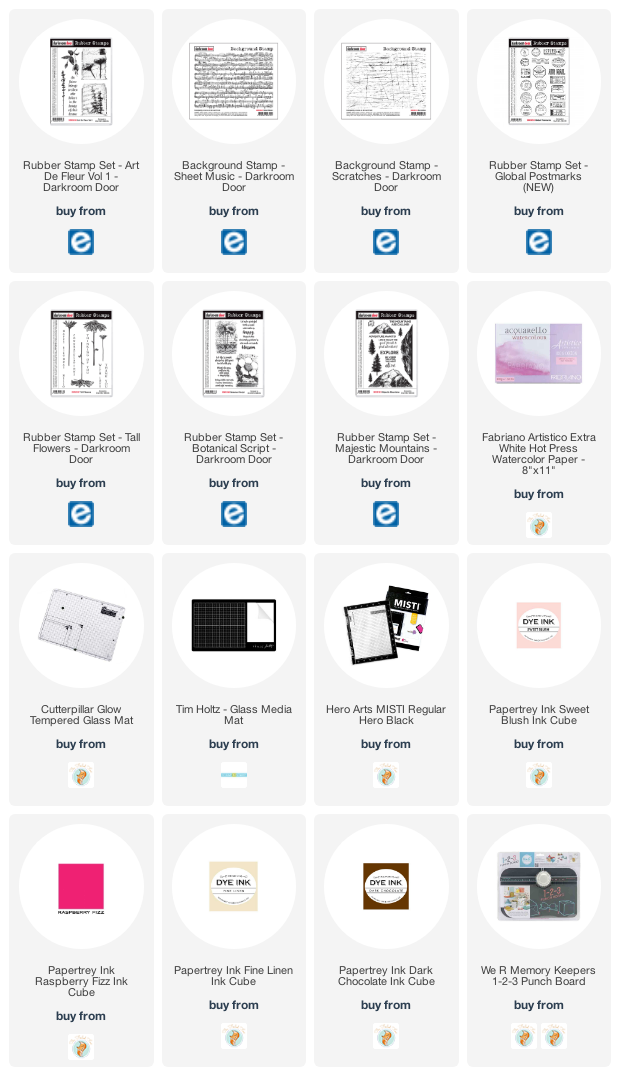 ---
Posted: February 27, 2018
Filed under: Botanical Script, Brusho, Feathers
| Tags: Brusho, Darkroom Door stamps, Koi coloring brush pens, Kuretake Zig clean color real brush markers, Tsukineko Versafine inks, WOW embossing powders
4 Comments
I decided to try a couple of methods for colouring a peacock feather stamp, my first experiment with the 'Feathers' set from Darkroom Door. I look forward to trying all of them eventually but the gorgeous colours of the peacock feather prompted me to pick that one first.The colouring on this first card was zig clean colour real brush markers directly on the stamp. I used the stamping platform so I could add one colour at a time. I blended the centre a little with a brush to get solid colour then spritzed the stamp with interference gold pearl-ex spray and stamped over the marker image. This gave everything a little shimmer and blended the colours into each other a bit. My pearl-ex spray is homemade; I add a small amount (about 1/8 tsp into a small spritzer filled with water). I stamped 'thanks' over the feather with majestic blue versafine then embossed with clear powder. The border panel looks black but is actually blue to co-ordinate with the centre of the feather and the sentiment.
My second colouring method was brusho. I spritzed the stamp with the same gold pearl-ex spray then stamped on hot pressed watercolour paper. I dropped a tiny amount of ultramarine brusho at the top of the feather, also a little turquoise then olive green down the shaft of the feather then stamped again to activate the brusho with pearl-ex spray. I embossed a birthday sentiment in gold and framed the panel in gold shimmer cardstock.
My final colouring method was with Sakura Koi colouring brush pens. I kept the stamp in the stamping platform so I could ink then stamp a colour at a time. The Sakura pens are very bright so I thought they were a good match for the gorgeous colours of peacock feathers.
Once again I stamped the colours one or two at a time so I could keep the centre of the feather distinct. Once I had stamped both feathers I spritzed the gold pearl-ex spray over the whole panel which ended up doing two things: the barbs softened to look a little 'hairy' and the droplets of spray created a pattern of watermarks over the 'eye' of the feather.
I ended up using majestic blue versafine ink again to add a sentiment from 'botanical script' set and cut a mat  in the same colour. This card also has a slight shimmer to it so I added a gold cord for a finishing touch.
Supplies
Stamps: Happy Birthday, Thank you, Feathers, Botanical Script


Inks: Versamark, Majestic Blue Versafine


Markers:  Zig clean color real brush markers, Koi Coloring Brush Pens


Paint: Brusho (ultramarine, turquoise, olive green)


Paper: hot pressed watercolour paper, blue cardstock, gold shimmer cardstock


Also: stamping platform, gold embossing powder, clear embossing powder, gold cord, pearl-ex interference gold spray

---
Posted: February 11, 2018
Filed under:
Botanical Script
| Tags: Darkroom Door stamps, Ranger Distress inks, Tsukineko Versafine inks
7 Comments
I am very happy to be sharing these two cards over on the Darkroom Door blog today. Both cards feature a floral collage stamp from the new Botanical Script set. You can find all the instructions over at Darkroom Door. My first card is done in a vintage style with distress inks.
My second card is bolder and brighter with a sparkly blue and white colour scheme.
I layered this one by cutting out and painting an extra flower. All the steps  and supplies are listed on the Darkroom Door blog. While you're there you can see the other pretty stamps from the Botanical Script set.
---