Posted: August 25, 2020
Filed under: Art Journal, Correspondence, Darkroom Door, Feathers, mesh, starry night
12 Comments
I've had oxide inks out on my desk the last few days so I put them to use on a journal page.
I taped the edges of the pages with painter's tape which gave me a border and held the pages flattish while I worked and painted the page area inside the tape with absorbent ground so I could add water to the inks and move them around a little.
Because the journal pages do not lie flat any more I was only able to pick up sections of ink from my glass mat. To get more coverage I squished ink on a piece of acetate, spritzed it and dragged it across the pages spreading ink as I went.
I added visual texture with two stencils from Darkroom Door then stamped feathers from the DD 'feathers' stamp set in black and then in the oxide inks. When it came to doodling on the page I used black and gold gel pens and wrote the verse with the same pens. I finished it off with gold and black splatters then removed the tapes to reveal an uneven but quite artistic border.
This was an unplanned experimental page as many of my pages are. I was inspired mainly by what was on my desk and a desire to doodle some of the design and not just stamp.
I am rather frustrated by the paper in this journal. It is good paper but not made to handle wet media so I am limited in creating the kind of blends and wet into wet designs I love to do. The question is do I persevere and learn some new techniques that don't rely so much on watercolour (gasp) or do I buy a good watercolour journal?
Supplies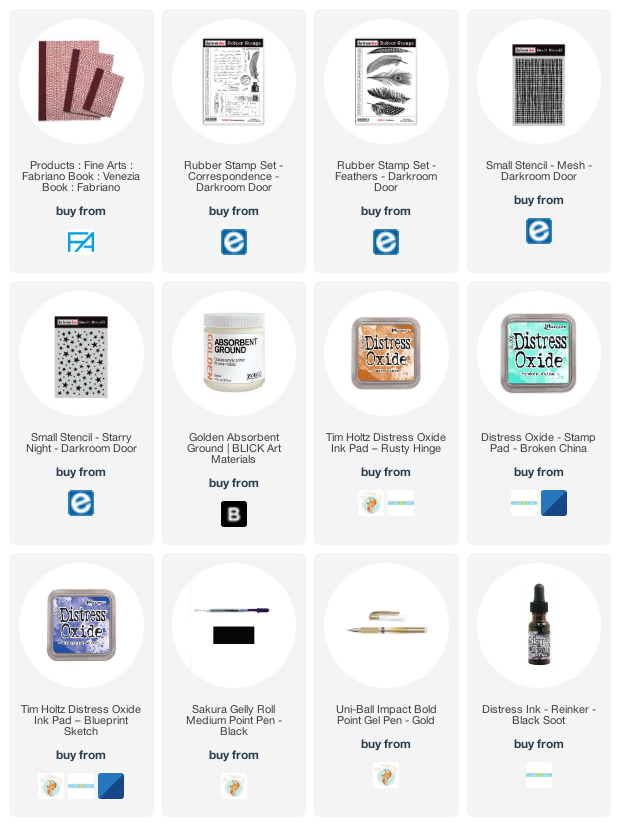 ---
Posted: April 1, 2019
Filed under: Darkroom Door, diamonds, Feathers, gelli plate
| Tags: Darkroom Door stamps, gelli plate, My Favorite Things
22 Comments
I spent a delightful day learning how to use my gelli plate last week. I have had it for years and only used it once or twice so everything my friends showed me was new and exciting.
I was so happy with these feather prints, I couldn't believe the detail using real feathers. If you want to see how it's done check out this video on the gelli arts youtube channel.
I did a few with navy and shimmery gold paint as well as some with burgandy and gold. Half of them got sentiments but only small ones as I didn't want to cover up the lovely detail. I had a MFT sentiment already stamped and die cut which matched the panel below. I haven't listed or linked any of the paints  because I don't remember what brands I used or colour names. If I continue with my gelli plate (and I'm pretty sure I will!) I will let you know what paints I buy.
My favourite panel is the one at the top of the post which also has the texture of the new 'diamonds' stencil from Darkroom Door in the background. As I was learning and experimenting I used computer paper for most prints, not the weight of cardstock I would usually use for panels on my cards. To make sure I didn't tear or buckle the panels with glue or narrow adhesive I covered the back of all the panels with double sided adhesive sheets.
These last two narrow panels were done on watercolour paper strips. I decided to add sentiments from the new Darkroom Door sentiment strip 'Sympathy'
Have you used a gelli plate? I love to hear what your favourite techniques are.
Supplies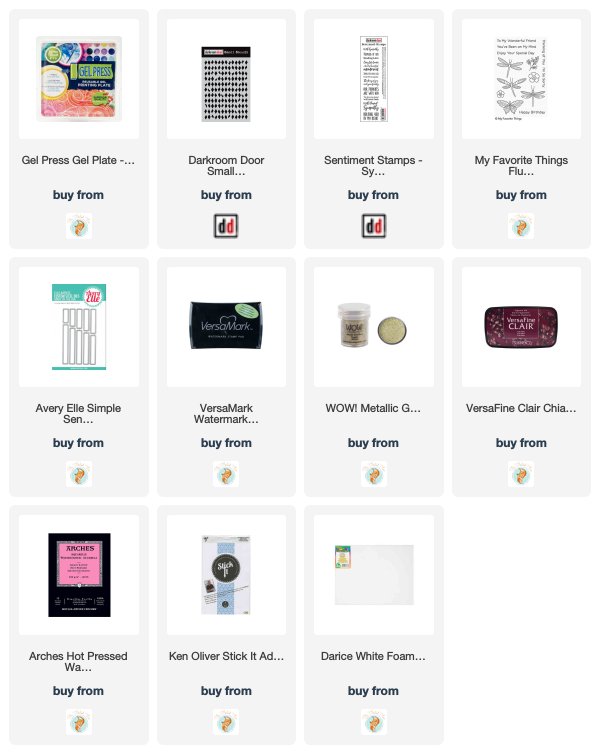 ---
Posted: February 27, 2018
Filed under: Botanical Script, Brusho, Feathers
| Tags: Brusho, Darkroom Door stamps, Koi coloring brush pens, Kuretake Zig clean color real brush markers, Tsukineko Versafine inks, WOW embossing powders
4 Comments
I decided to try a couple of methods for colouring a peacock feather stamp, my first experiment with the 'Feathers' set from Darkroom Door. I look forward to trying all of them eventually but the gorgeous colours of the peacock feather prompted me to pick that one first.The colouring on this first card was zig clean colour real brush markers directly on the stamp. I used the stamping platform so I could add one colour at a time. I blended the centre a little with a brush to get solid colour then spritzed the stamp with interference gold pearl-ex spray and stamped over the marker image. This gave everything a little shimmer and blended the colours into each other a bit. My pearl-ex spray is homemade; I add a small amount (about 1/8 tsp into a small spritzer filled with water). I stamped 'thanks' over the feather with majestic blue versafine then embossed with clear powder. The border panel looks black but is actually blue to co-ordinate with the centre of the feather and the sentiment.
My second colouring method was brusho. I spritzed the stamp with the same gold pearl-ex spray then stamped on hot pressed watercolour paper. I dropped a tiny amount of ultramarine brusho at the top of the feather, also a little turquoise then olive green down the shaft of the feather then stamped again to activate the brusho with pearl-ex spray. I embossed a birthday sentiment in gold and framed the panel in gold shimmer cardstock.
My final colouring method was with Sakura Koi colouring brush pens. I kept the stamp in the stamping platform so I could ink then stamp a colour at a time. The Sakura pens are very bright so I thought they were a good match for the gorgeous colours of peacock feathers.
Once again I stamped the colours one or two at a time so I could keep the centre of the feather distinct. Once I had stamped both feathers I spritzed the gold pearl-ex spray over the whole panel which ended up doing two things: the barbs softened to look a little 'hairy' and the droplets of spray created a pattern of watermarks over the 'eye' of the feather.
I ended up using majestic blue versafine ink again to add a sentiment from 'botanical script' set and cut a mat  in the same colour. This card also has a slight shimmer to it so I added a gold cord for a finishing touch.
Supplies
Stamps: Happy Birthday, Thank you, Feathers, Botanical Script


Inks: Versamark, Majestic Blue Versafine


Markers:  Zig clean color real brush markers, Koi Coloring Brush Pens


Paint: Brusho (ultramarine, turquoise, olive green)


Paper: hot pressed watercolour paper, blue cardstock, gold shimmer cardstock


Also: stamping platform, gold embossing powder, clear embossing powder, gold cord, pearl-ex interference gold spray

---