Gelli plate feathers
Posted: April 1, 2019
Filed under: Darkroom Door, diamonds, Feathers, gelli plate
| Tags: Darkroom Door stamps, gelli plate, My Favorite Things
22 Comments
I spent a delightful day learning how to use my gelli plate last week. I have had it for years and only used it once or twice so everything my friends showed me was new and exciting.
I was so happy with these feather prints, I couldn't believe the detail using real feathers. If you want to see how it's done check out this video on the gelli arts youtube channel.
I did a few with navy and shimmery gold paint as well as some with burgandy and gold. Half of them got sentiments but only small ones as I didn't want to cover up the lovely detail. I had a MFT sentiment already stamped and die cut which matched the panel below. I haven't listed or linked any of the paints  because I don't remember what brands I used or colour names. If I continue with my gelli plate (and I'm pretty sure I will!) I will let you know what paints I buy.
My favourite panel is the one at the top of the post which also has the texture of the new 'diamonds' stencil from Darkroom Door in the background. As I was learning and experimenting I used computer paper for most prints, not the weight of cardstock I would usually use for panels on my cards. To make sure I didn't tear or buckle the panels with glue or narrow adhesive I covered the back of all the panels with double sided adhesive sheets.
These last two narrow panels were done on watercolour paper strips. I decided to add sentiments from the new Darkroom Door sentiment strip 'Sympathy'
Have you used a gelli plate? I love to hear what your favourite techniques are.
Supplies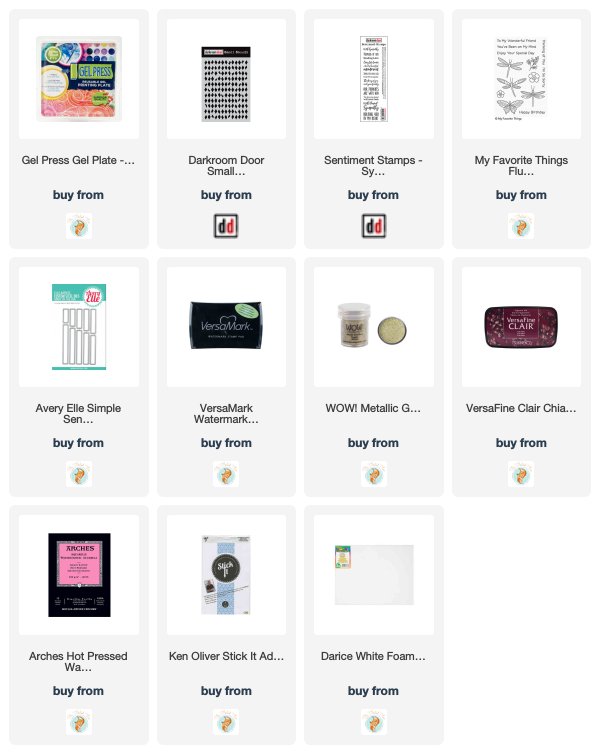 ---