Posted: May 14, 2019
Filed under: carved flowers, carved leaves, circle stencil, diamonds, Wildflowers Vol 2
| Tags: Darkroom Door stamps, distress oxide inks
3 Comments
I tried out a few new products yesterday and ended up with these two cards featuring the Darkroom Door carved flower set. I coloured both cards with distress oxide inks. For this first one I smushed the oxide inks on my glass mat, added some water then painted a graduated wash going from yellow to brown. Oxide inks are designed to react with water so the diluted wash I painted on the card had a muted looked to it when it dried. I wanted to add a pale sun and some stenciled diamonds so I used my new 'Wendy Vecchi Stay-tion'. It is a magnetic surface which is well suited to stenciling. There are four magnets to hold the stencil firmly over the paper while adding a medium through the stencil. I used it first to hold the DD circle stencil over the panel while I diluted the exposed circle with water and dabbed colour away with a paper towel. I then used the magnets and board to hold the diamond stencil while I sponged some oxide ink onto the background. I splattered some water over the panel then stamped the carved flowers and carved leaves in black archival ink.
Instead of painting a wash with diluted oxide ink for the second card I blended oxide inks over the whole panel which I had added a circle mask to before I started. Once again I used the magnets and board to keep the panel in place while I blended the inks and while I dabbed out some colour through the diamond stencil. Even though the two cards look similar the techniques were a bit different; you can see the oxide ink applied with a blending brush is smoother than the painted panel. Oxides really do blend well. I used the make up blending brushes my children gave me for mothers' day. They are not life changing but they did do a very good job 😉
Once again I stamped carved flowers and wildflowers in jet black archival ink using the misti.
In keeping with the solid black flowers I chose to emboss sentiments on black cardstock in rose gold powder hoping it would look a bit coppery like the sunset. It did. The sentiments are from the DD 'thank you' sentiment strip stamped then cut out with the Avery Elle sentiment strip dies and popped up on black foam tape. The black tape is handy when the card base or element needing the tape is black or a dark colour.
It was my first time trying the Wendy Vecchi 'stay-tion' and I found it very useful. The magnets held the stencils and paper in place and it cleaned up easily. I am sure I will be using it often.
Don't forget to check out the 'Color Trio Challenge' I am hosting with the Foiled Fox. I would love to see your three colour cards and give you the chance to win a shopping spree at the Foiled Fox store!
Supplies

---
Posted: April 1, 2019
Filed under: Darkroom Door, diamonds, Feathers, gelli plate
| Tags: Darkroom Door stamps, gelli plate, My Favorite Things
21 Comments
I spent a delightful day learning how to use my gelli plate last week. I have had it for years and only used it once or twice so everything my friends showed me was new and exciting.
I was so happy with these feather prints, I couldn't believe the detail using real feathers. If you want to see how it's done check out this video on the gelli arts youtube channel.
I did a few with navy and shimmery gold paint as well as some with burgandy and gold. Half of them got sentiments but only small ones as I didn't want to cover up the lovely detail. I had a MFT sentiment already stamped and die cut which matched the panel below. I haven't listed or linked any of the paints  because I don't remember what brands I used or colour names. If I continue with my gelli plate (and I'm pretty sure I will!) I will let you know what paints I buy.
My favourite panel is the one at the top of the post which also has the texture of the new 'diamonds' stencil from Darkroom Door in the background. As I was learning and experimenting I used computer paper for most prints, not the weight of cardstock I would usually use for panels on my cards. To make sure I didn't tear or buckle the panels with glue or narrow adhesive I covered the back of all the panels with double sided adhesive sheets.
These last two narrow panels were done on watercolour paper strips. I decided to add sentiments from the new Darkroom Door sentiment strip 'Sympathy'
Have you used a gelli plate? I love to hear what your favourite techniques are.
Supplies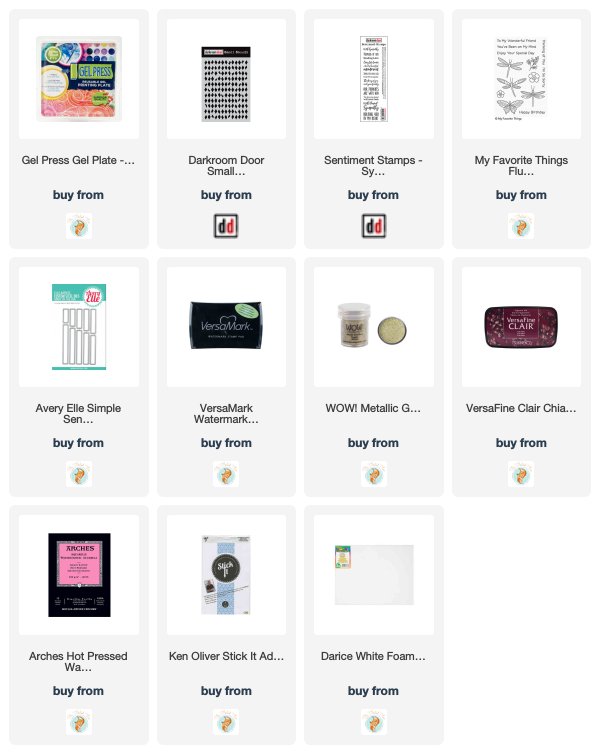 ---