Posted: March 25, 2020
Filed under: classic cars vol 1, Darkroom Door, diamonds, gelli plate, number medley, starry night, Stencils
| Tags: Darkroom Door stamps, Darkroom Door stencils, gel printing
7 Comments
I have some mixed media goodness for you today. I know it's pretty flat and doesn't involve any fibres or other funky textured things but it is mixed media and currently my favourite mixed media option – gel printing. I spent a day with a friend a few weeks ago, and we printed up a storm on our gel presses. This is one of my backgrounds patterned with Darkroom Door stencils then stamped with DD stamps.
The textures in the background were made with the DD small stars stencil, diamond stencil and some corrugated cardboard. This background was cut from a bigger panel and I chose a section that had a pop of yellow in the corner; it's only a small thing but it provides some contrast and leads the eye from left to right.
Once I'd trimmed my panel I stamped one of the cars from 'classic cars vol 1' in versamark ink and embossed in white. The background is so busy I needed to do something to make the car stand out a bit more so I coloured it with a white pencil which softened the area inside the stamped car just enough to make a difference. I added numbers from the new 'number medley' set in black so they would subtle but noticeable. The sentiment also from 'classic cars' set is embossed on a strip of the gel print then matted in white and popped up on some foam tape.
Supplies
---
Posted: April 10, 2019
Filed under: Alexandra Renke, cherry blossom, gelli plate, monarch, Script
| Tags: gelli plate, Penny Black creative dies, Penny Black stamps, Tsukineko Versafine inks
3 Comments
Thank you for all your lovely comments about my recent art journal page. I'm glad you enjoyed it. I have a couple more pages in process in my journals which I look forward to showing you in the future. I would love to hear from other art journallers. What are some of your favourite mediums and techniques?
Today's cards are made with my latest fave: the gelli plate! I am very much a beginner but learning as I go and watching the myriad of techniques shared on the Gelli Arts youtube channel. The panels in today's cards were made by printing layer after layer while rearranging die cut paper butterflies and blossoms on top of each new layer of paint. The dies are Penny Black 'monarch' and cherry blossom'.
I wont' try to describe my process because I don't remember exactly what my order was or what paint colours I used. I know there was green, white, burgandy, gold and pink liquitex basic acrylics but there could have been more. Like many artistic techniques success with a layered gelli print can be knowing when to stop. Once I was happy with the one above I still had paint and pattern showing on the gelli plate so I added one more layer of paint then pulled a ghost print (I'm learning the lingo!) on patterned paper. The paper I chose was a woodgrain print from Alexandra Renke.
You can see the woodgrain print through the paint and pattern. I ended up matting both panels in burgandy cardstock then attaching them to a base panel of the same AR woodgrain paper.
It's always hard to capture shimmer on camera but all three panels have gold shimmer on them so I added some gold accents to each one. On the top panel I stamped the PB script stamp, embossed in gold powder and matted the panel with gold cardstock. On the card above I added a gold embossed sentiment from the PB set happy snippets and stamped the same script stamp in chianti versafine clair. On the card below I stamped the script stamp in shady lane versafine clair ink and added a gold vellum die cut butterfly, the same butterfly used as a mask in the gel printing process.
I love all the texture from the gelli printing process, the paint which builds up after several layers of printing adds so much interest
I did another butterfly and blossom print in a different colour scheme but I'll share that another day. Thanks for dropping in.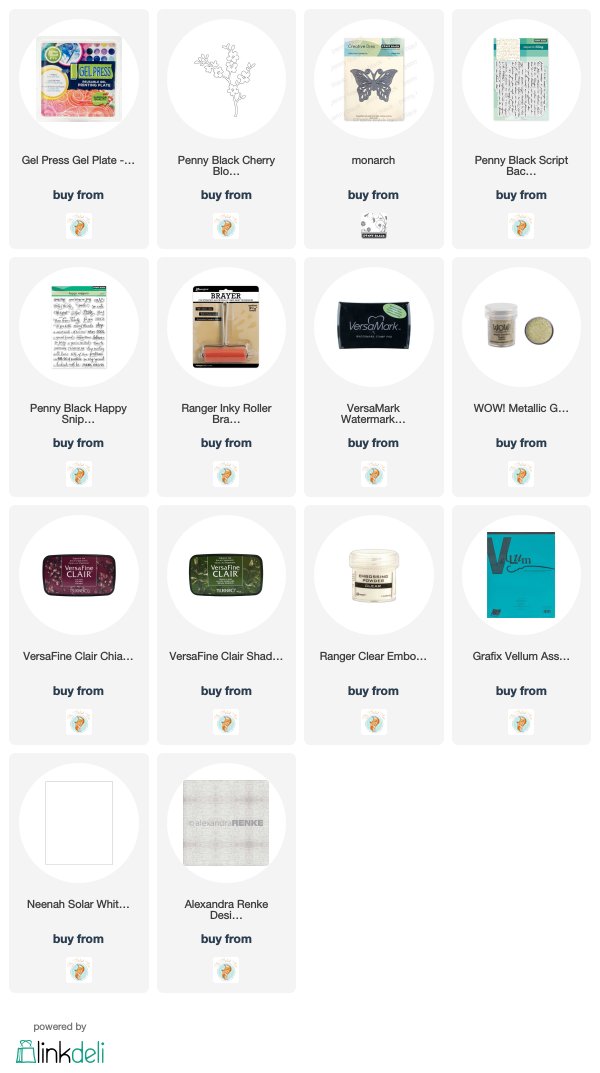 .
---
Posted: April 1, 2019
Filed under: Darkroom Door, diamonds, Feathers, gelli plate
| Tags: Darkroom Door stamps, gelli plate, My Favorite Things
21 Comments
I spent a delightful day learning how to use my gelli plate last week. I have had it for years and only used it once or twice so everything my friends showed me was new and exciting.
I was so happy with these feather prints, I couldn't believe the detail using real feathers. If you want to see how it's done check out this video on the gelli arts youtube channel.
I did a few with navy and shimmery gold paint as well as some with burgandy and gold. Half of them got sentiments but only small ones as I didn't want to cover up the lovely detail. I had a MFT sentiment already stamped and die cut which matched the panel below. I haven't listed or linked any of the paints  because I don't remember what brands I used or colour names. If I continue with my gelli plate (and I'm pretty sure I will!) I will let you know what paints I buy.
My favourite panel is the one at the top of the post which also has the texture of the new 'diamonds' stencil from Darkroom Door in the background. As I was learning and experimenting I used computer paper for most prints, not the weight of cardstock I would usually use for panels on my cards. To make sure I didn't tear or buckle the panels with glue or narrow adhesive I covered the back of all the panels with double sided adhesive sheets.
These last two narrow panels were done on watercolour paper strips. I decided to add sentiments from the new Darkroom Door sentiment strip 'Sympathy'
Have you used a gelli plate? I love to hear what your favourite techniques are.
Supplies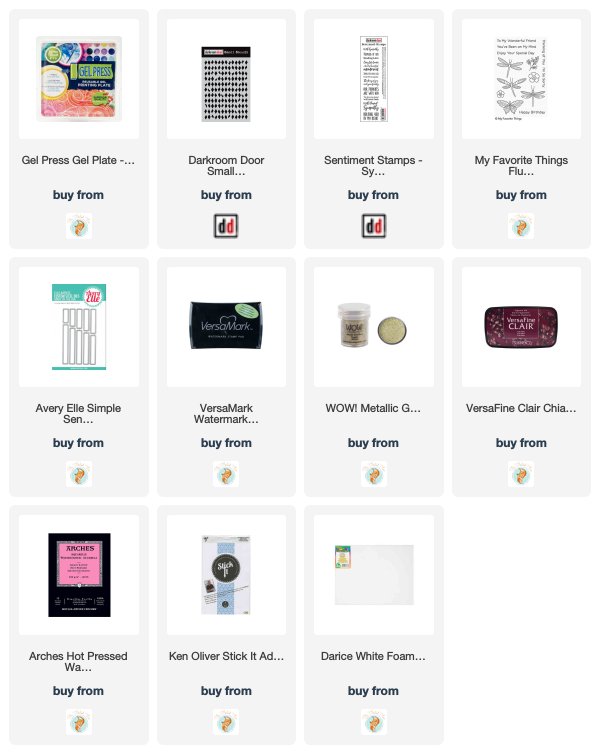 ---