Gel Printing with stencils + video
Posted: July 12, 2021
Filed under: Butterflies, classic cars vol 1, Darkroom Door, fragments, gel press, gelli plate, Heather lowercase stamp set, little swirls, Nature Walk, Paper Rose, Pink Fresh studio, so extra supporting sentiments
| Tags: Darkroom Door stamps, gel press, gel printing, Paper Rose, Pink Fresh studio
7 Comments
In recent gel printing sessions I have used some of my intricate stencils from Paper Rose Studio. This stencil, 'little swirls' makes a particularly beautiful background. I've been printing on a 6″x6″ gel plate with a 6″x6″ stencil but I cut the print down to make a 4¼" x 5½" card.
I used stamps from Darkroom Door's nature walk , butterflies and happy birthday sets. (all linked at the end of the post). The process for making this type of print is shown in the video below.
After any gel printing session I usually have quite a pile of prints, some become cards but I am hoping to use more in my art journal. I have to be a bit more adventurous in tearing and layering and turning them into more than just a patterned print.
The making of the background above is included in the video. To turn it into a birthday card I stamped 'have fun' directly on the print then popped up a sentiment strip on top. The words are stamped in Gina K obsidian amalgam ink using the Pink Fresh Studio 'Heather' lowercase alphabet set.
The making of the background below is also part of the video and you can see the mustard paint beaded on the surface of the gel plate making an allover pattern when printed. I didn't necessarily want the beading but was happy when it ended up uniform. Paints of different brands perform differently on the gel press so experimentation is necessary to work out how much paint and which brands will give you the results you want.
I turned this background into another birthday card by embossing a car from the Darkroom Door Classic Cars vol 1 set along with a sentiment from the same set plus one from the Happy Birthday set.
I also filmed some gel printing with a few textured surfaces from the recycling box; I'll be sharing that video soon.
I'd love to hear how you use your gel prints; I'm always open to ideas.
(Compensated affiliate links used when possible)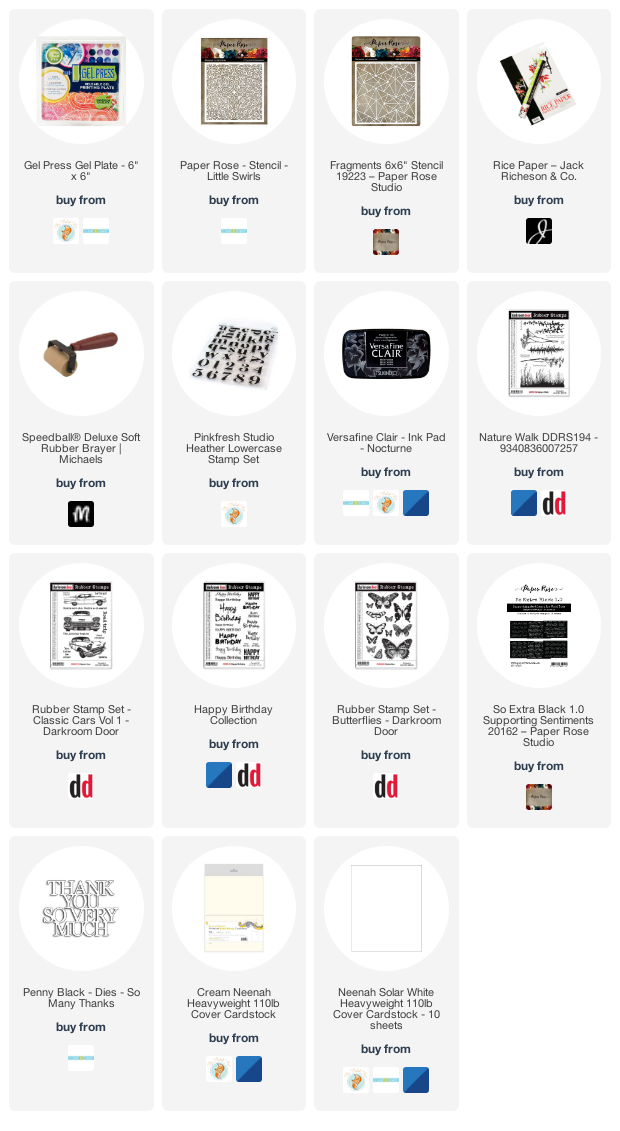 ---