Puppy's Quilt in Pencil
Posted: July 9, 2021
Filed under: Colorado Craft Company, Coloured pencil, puppy's quilt
| Tags: Colorado Craft Company, Faber-Castell Polychromos Colour Pencil
6 Comments
More pencil on kraft cardstock, this time Faber Castell polychromos pencils and a black stamped image from the Colorado Craft Company. My first card with this stamp, 'puppy's quilt' featured watercolour and lots of blue. This time I have included more white which is always eye catching on kraft along with blue, green and burgandy.
A bonus when colouring an animal on kraft cardstock is using the light brown of the kraft as a colour in the fur or feathers. I have coloured the dog with white and grey but there are light tan areas that show through the shading.
I used archival jet black ink for the outline stamping, I like the way it dries quickly before I have a chance to smudge it! Having used both the inktense and the polychromos pencils on kraft I think I would say the inktense are a little brighter and chalkier, the polychromos more muted and creamier. Not sure how helpful that comparison is but you can compare the two looks if you go back to Monday's floral card.
(Compensated affiliate links used when possible)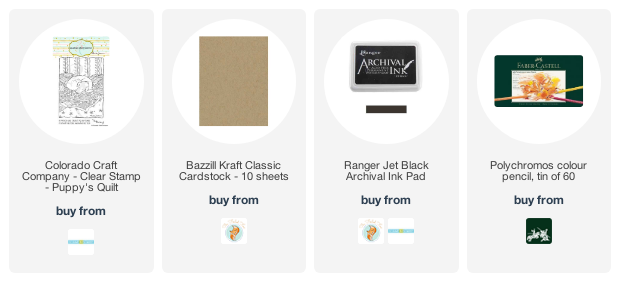 ---