2021 BuJo – July theme
Posted: July 7, 2021
Filed under: Bullet Journal, Dingbat notebooks
| Tags: Bullet Journal, Dingbats notebook, Pitt artist pens, Staedtler watercolour brush pens
5 Comments
With all the flowers blooming in my garden right now I have a wealth of inspiration. I decided to go for daisies but then realised I didn't want to fiddle with white petals and settled on black-eyed Susans instead.
I tested the black fine tip markers currently in my possession to see which ones were waterproof and would give me a dark black. I ended up choosing the small and the medium from a set of Faber Castell Pitt artist pens. I did most of the drawing with the small tip (0.3mm) and then used the medium (0.7mm) for the calendar page.
I drew all the daisies myself and let the black ink dry before colouring with orangey-yellow and light green brushmarkers from the Staedtler set of watercolour brushmarkers.
I used the same four pens for all the pages. On the calendar page below I made a couple of mistakes, in marker! Not ideal but I came up with some fixes that satisfied me. I will do a bit more pencil sketching next time; I think by the time I got to the calendar page I was not being as careful as I had been for the previous two pages!
The first mistake you can probably guess was a vertical line which did not line up to make even 7×7 dot squares! To cover the mistake I made all the vertical lines off by one dot! The second mistake was drawing the title letters in pen without sketching them in pencil first. Both the downstroke of the J and the curve of the U ended up narrower than the rest of the letters. Solution? A few little flowers to pad them out!
Despite the errors along the way I am happy with the July theme because it is bright and happy and showed me I could draw my elements from scratch and not need a stamp or die every time! Hope your July is off to a great start.
(Compensated affiliate links used when possible)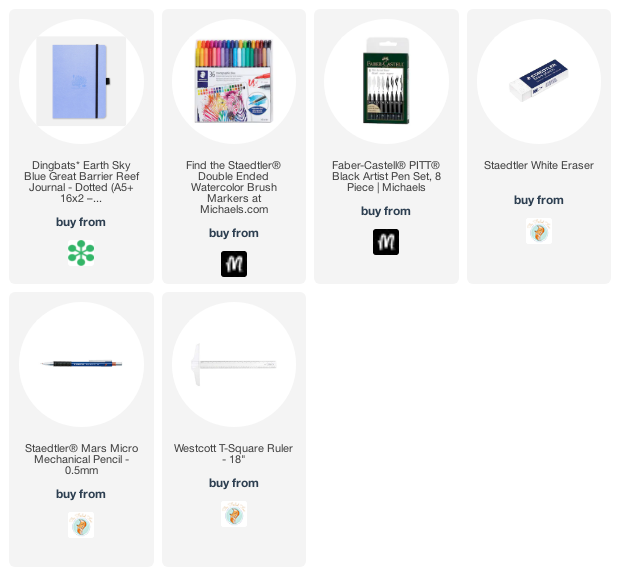 ---