Posted: July 9, 2021
Filed under: Colorado Craft Company, Coloured pencil, puppy's quilt
| Tags: Colorado Craft Company, Faber-Castell Polychromos Colour Pencil
6 Comments
More pencil on kraft cardstock, this time Faber Castell polychromos pencils and a black stamped image from the Colorado Craft Company. My first card with this stamp, 'puppy's quilt' featured watercolour and lots of blue. This time I have included more white which is always eye catching on kraft along with blue, green and burgandy.
A bonus when colouring an animal on kraft cardstock is using the light brown of the kraft as a colour in the fur or feathers. I have coloured the dog with white and grey but there are light tan areas that show through the shading.
I used archival jet black ink for the outline stamping, I like the way it dries quickly before I have a chance to smudge it! Having used both the inktense and the polychromos pencils on kraft I think I would say the inktense are a little brighter and chalkier, the polychromos more muted and creamier. Not sure how helpful that comparison is but you can compare the two looks if you go back to Monday's floral card.
(Compensated affiliate links used when possible)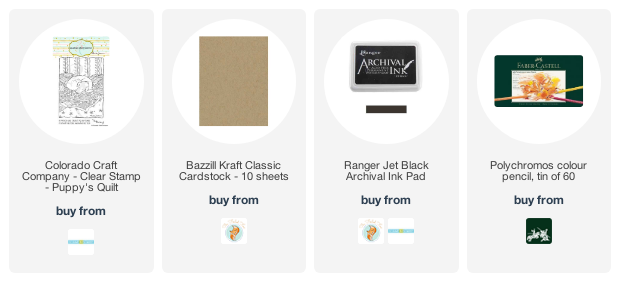 ---
Posted: April 30, 2021
Filed under: Colorado Craft Company, puppy's quilt, sennelier watercolours, simple strips, Taylored Expressions, weathered
| Tags: Colorado Craft Company, Fabriano Watercolour Paper, sennelier watercolours, Taylored Expressions
5 Comments
I created this sweet dog card for a friend to give her grand-daughter. You know it is unusual to see animals on my cards but this stamp had the perfect mix of watercolourable-quilt and not-too-difficult-to-paint dog. The colour scheme is all my own choice, no surprises there, but some of the technique was provided by the talented and prolific Sandy Allnock. When she created with this stamp she used the opportunity to teach how to paint a bold shadow. I decided not to add a bold shadow but just watching her paint the image was helpful. It made me realise there was absolutely no need to add more than one colour to each quilt square even though the fabric included patterns.
I stamped the image on hot pressed watercolour paper in versafine clair morning mist, a pigment ink which would not move when I added water and watercolour paint over the top. I used Sennelier watercolours for all the painting and to create a custom watercolour mat to frame the image also. I watched Sandy's video more than once to help me paint the dog taking care to leave some areas bright white while the sections closer to the quilt were shadowy and grey.
The sentiment is from the Taylored Expressions 'simple strips' set stamped in versafine deep lagoon and cut with the co-ordinating simple strips die. If you haven't seen the simple strips series from TE they are very clever; you get one large stamp with 18 different sentiments and one die that cuts them all into banner style strips. Very handy to have a bunch of strips on hand to add to cards. It isn't noticeable in the photos but the blue watercoloured mat has some texture as I embossed it with the weathered embossing folder, also from Taylored Expressions.
(Compensated affiliate links used when possible)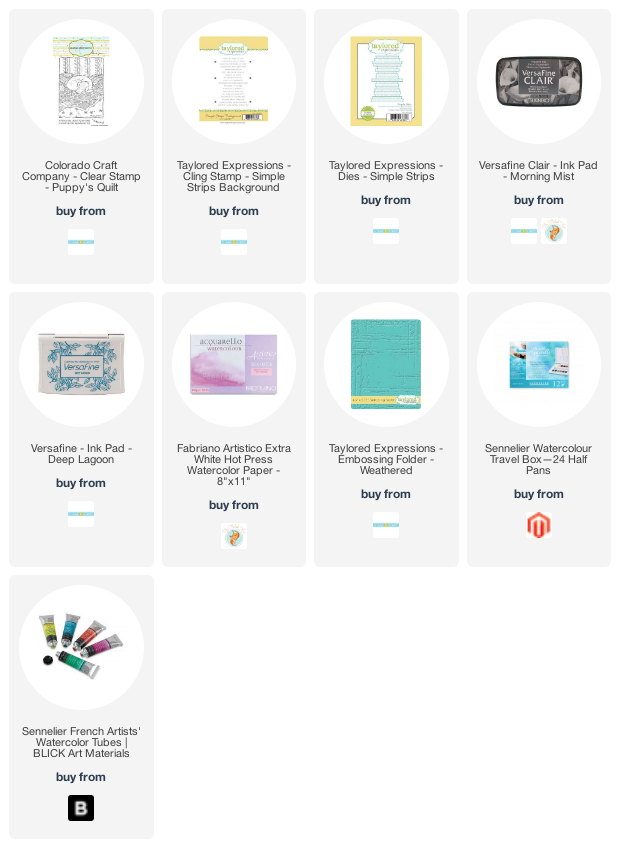 ---