Posted: December 13, 2021
Filed under: Alcohol Ink, bird ornament, Dies, manger, paint pouring, Penny Black, Taylored Expressions, weathered
| Tags: Penny Black creative dies, Penny Black stamps, sizzix embossing folder, Taylored Expressions
8 Comments
Here are a few more cards made from patterned panels I had sitting around. The panels were very pretty experiments using brusho, paint poring and alcohol inks but at the time I made them I didn't have a plan for them. Last week they came into their own when paired with Penny Black dies and a few of my favourite embossing folders.
The background above is from an acrylic paint pouring day I had with a friend. The result looked like peacock feathers but works well as a northern night sky too.
The purple panels above and below right were brusho & cling wrap on photo paper another technique taught to me by a friend.
The blue background below is alcohol ink; you probably recognise the patterns made possible with just one or two colours plus some isopropyl alcohol.
The dies are listed below and the embossing folders are a mix of currrent and retired. Above is 'weathered' from Taylored Expressions. The tiny squares folder is a retired Spellbinders one (SEL 006), the woodgrain is Tim Holtz/Sizzix also retired but there are plenty of new options around. The Tim Holtz/Sizzix Snowfall fade folder at the top of the page is still available and I often reach for it.
I enjoyed using some scraps and samples that were too pretty to throw away to make simple but unique Christmas cards. I think I almost have enough for this year so I will start next year's stack early!
(Compensated affiliate links used when possible)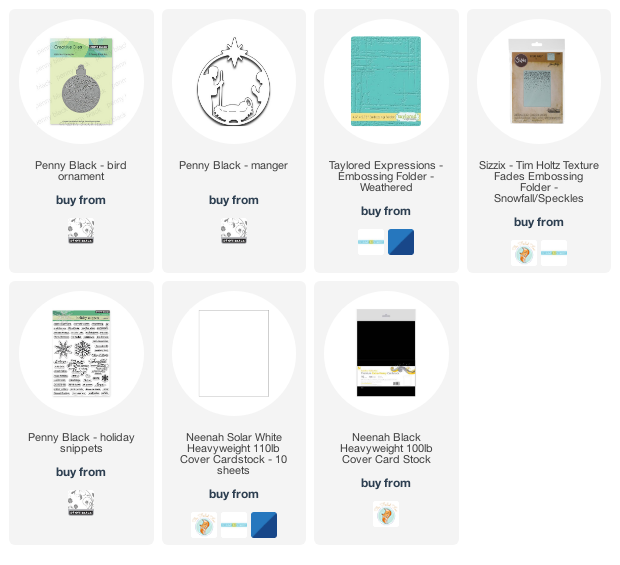 ---
Posted: April 30, 2021
Filed under: Colorado Craft Company, puppy's quilt, sennelier watercolours, simple strips, Taylored Expressions, weathered
| Tags: Colorado Craft Company, Fabriano Watercolour Paper, sennelier watercolours, Taylored Expressions
5 Comments
I created this sweet dog card for a friend to give her grand-daughter. You know it is unusual to see animals on my cards but this stamp had the perfect mix of watercolourable-quilt and not-too-difficult-to-paint dog. The colour scheme is all my own choice, no surprises there, but some of the technique was provided by the talented and prolific Sandy Allnock. When she created with this stamp she used the opportunity to teach how to paint a bold shadow. I decided not to add a bold shadow but just watching her paint the image was helpful. It made me realise there was absolutely no need to add more than one colour to each quilt square even though the fabric included patterns.
I stamped the image on hot pressed watercolour paper in versafine clair morning mist, a pigment ink which would not move when I added water and watercolour paint over the top. I used Sennelier watercolours for all the painting and to create a custom watercolour mat to frame the image also. I watched Sandy's video more than once to help me paint the dog taking care to leave some areas bright white while the sections closer to the quilt were shadowy and grey.
The sentiment is from the Taylored Expressions 'simple strips' set stamped in versafine deep lagoon and cut with the co-ordinating simple strips die. If you haven't seen the simple strips series from TE they are very clever; you get one large stamp with 18 different sentiments and one die that cuts them all into banner style strips. Very handy to have a bunch of strips on hand to add to cards. It isn't noticeable in the photos but the blue watercoloured mat has some texture as I embossed it with the weathered embossing folder, also from Taylored Expressions.
(Compensated affiliate links used when possible)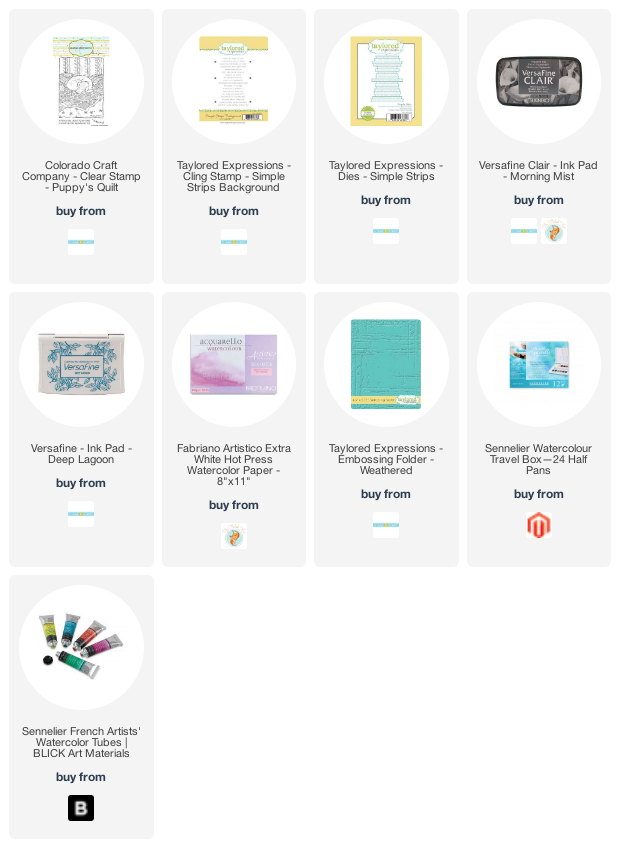 ---