Posted: August 25, 2021
Filed under: Art Journal, basket weave, Darkroom Door, fragments, gel press, honeycomb, Paper Rose, Stencils
| Tags: Art Journal, Darkroom Door stencils, gel press, gel printing, Paper Rose, Ranger Distress inks
2 Comments
The fun and inspiration continues in Rachel Greig's Artful August challenge. I am so impressed and inspired by what I have seen. Rachel's own art has been beautiful and unique every single day. As I mentioned in my last post I have not participated every day but I have definitely enjoyed the times I have followed the prompts. Today's prompt is 'Home' and I decided to make an art journal page of a street.
Make sure you read to the end of this post to find out the winner of Summer Giveaway I hosted with the Foiled Fox.
None of these quirky houses look anything like my home but I have had thirteen different homes over the years so I wasn't going for realism, instead I wanted to create more of a neighbourhood feel. Once again I cut up gel prints to make the houses, trees and flowers. I particularly like the gel print trees. The one on the left was printed with bubble wrap and the one on the right features texture from three different stencils which ended up giving me leaves and a branch to hang a swing on.
I began by masking the top and bottom edges then used blending brushes to fill the sky with blue distress inks and the road with black soot ink. I cut all the shapes by hand not worrying about perspective or scale and glued them on with multi matte medium. Once the glue dried I drew around all the edges and added detail with with a black ultrafine sharpie. I added markings to the road with a white sharpie paint pen.
Thank you to everyone who entered the Summer Giveaway by telling us your favourite summer activity. I enjoyed reading about beach walks, mountain hikes, picnics, porches and time spent with friends. I hope you are all still enjoying those pastimes. Summer is not over yet! Congratulations to Stephanie Clapper, check your email for your gift certificate to the wonderful Foiled Fox online store.
(Compensated affiliate links used when possible)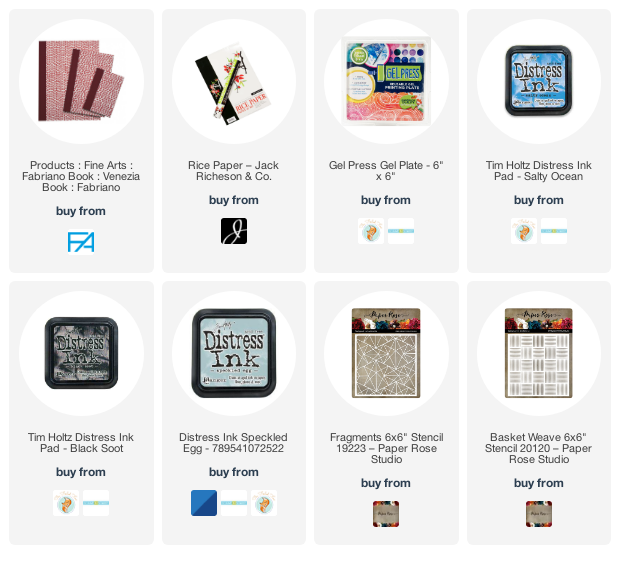 ---