Posted: December 29, 2020
Filed under: fragments, Giraffe, glasses, Penny Black, perspective, Pink Ink Designs
| Tags: Paper Rose, Penny Black creative dies, Penny Black stamps, Pink Ink Designs
4 Comments
Children's cards are something of a rarity for me but this one ended up being so much fun I might try them more often. I've had this gold embossed giraffe image sitting round for a while. The stamp, from Pink Ink Designs is called 'giraffe', no surprises there! It's a large stamp so I cropped a bit of the neck off so it would fit on a 6×6 card.
I used Staedtler watercolour markers and papertrey ink cubes to watercolour the giraffe and the amethyst ink cube for the blended background. I decided on the stencil background after I'd finished watercolouring the giraffe so I cut a giraffe shaped mask and positioned it over the giraffe while I used blending brushes and the Paper Rose studio 'fragments' stencil.
The giraffe stamp set comes with a pair of glasses stamp but I went bigger and sparklier with a die cut from Penny Black. I embossed the purple glasses in clear sparkle powder first then clear gloss ultra high to seal the sparkle and make them shiny. The sentiment is from the PB set 'perspective'. Pink Ink Designs has some beautiful big animal and fantasy stamps. They totally captured my imagination when I saw them. I've already shared a card with the dragon stamp and have one with a sea turtle still to come. Not my usual themes that's for sure.
(Compensated affiliate links used when possible)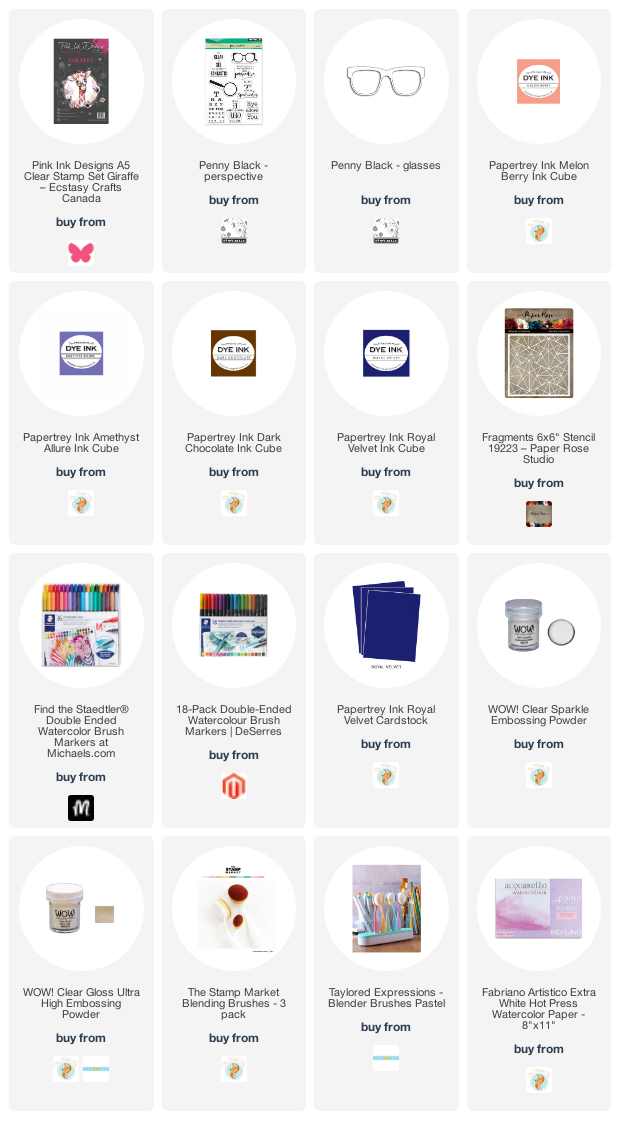 ---
Posted: June 21, 2018
Filed under: Happy together, perspective
| Tags: Kuretake Zig clean color real brush markers, Penny Black stamps
12 Comments
Our family is in the midst of a season of graduations as all three of our children are awarded diplomas or degrees. We enjoyed one last week, another yesterday and will attend one more next week. I will share some photos next week after our son graduates from high school. Today's card is the one I made for my older daughter who has just received her Master of Teaching. As you can imagine I am exceedingly proud of her; I think she is pretty fantastic!
This card is also my only participation so far in Kathy Racoosin's current 30 day colouring challenge. This month's festivities have left very little time for colouring. I embossed the flowers from Penny Black's 'happy together' transparent set in silver powder on hot pressed watercolour paper. I used four zig real brush pens for the petals colouring with a deep colour (purple or blue) near the base of the flowers and with a light blue near the tips of the petals. I then blended the two or three colours with a paintbrush and water until I had soft blends covering the flowers. I added a bit of violet to a few flowers for some extra depth and variation. I used light green and light blue for the leaves and sepals. To make the flowers pop a bit more I coloured around all the edges with a grey zig maker, blended it with water and a few dabs of light green. I was inspired by a few of Susie Lessard's recent cards. (here's the link to one on IG)
I completed the card with a purple mat and sentiment from the PB 'perspective' set also in purple.
Supplies
Stamps: happy together, perspective
Markers: zig clean color real brush markers (blue, purple, light grey, violet, light green, light blue)


Inks: versafine clair monarch, versamark


Paper


Also:

---