Posted: August 25, 2020
Filed under: Art Journal, Correspondence, Darkroom Door, Feathers, mesh, starry night
12 Comments
I've had oxide inks out on my desk the last few days so I put them to use on a journal page.
I taped the edges of the pages with painter's tape which gave me a border and held the pages flattish while I worked and painted the page area inside the tape with absorbent ground so I could add water to the inks and move them around a little.
Because the journal pages do not lie flat any more I was only able to pick up sections of ink from my glass mat. To get more coverage I squished ink on a piece of acetate, spritzed it and dragged it across the pages spreading ink as I went.
I added visual texture with two stencils from Darkroom Door then stamped feathers from the DD 'feathers' stamp set in black and then in the oxide inks. When it came to doodling on the page I used black and gold gel pens and wrote the verse with the same pens. I finished it off with gold and black splatters then removed the tapes to reveal an uneven but quite artistic border.
This was an unplanned experimental page as many of my pages are. I was inspired mainly by what was on my desk and a desire to doodle some of the design and not just stamp.
I am rather frustrated by the paper in this journal. It is good paper but not made to handle wet media so I am limited in creating the kind of blends and wet into wet designs I love to do. The question is do I persevere and learn some new techniques that don't rely so much on watercolour (gasp) or do I buy a good watercolour journal?
Supplies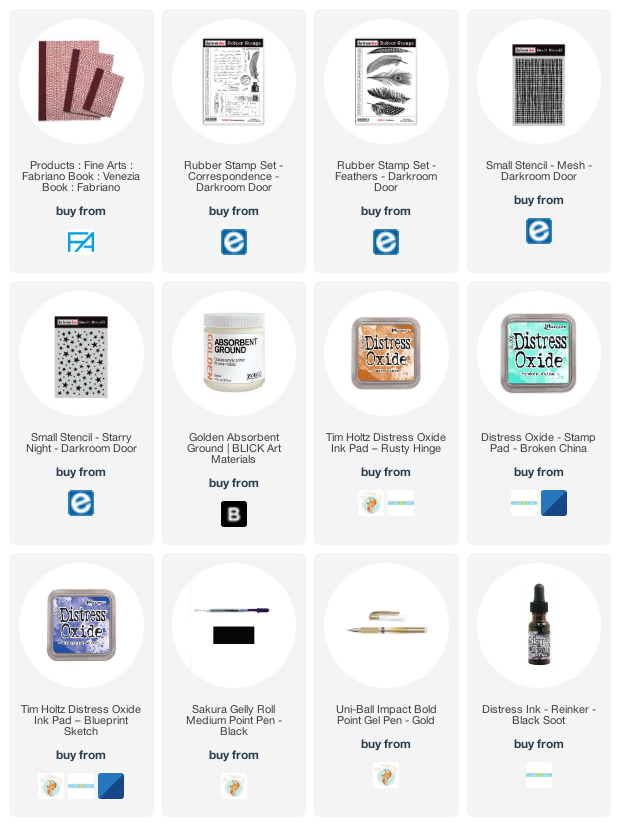 ---
Posted: March 25, 2020
Filed under: classic cars vol 1, Darkroom Door, diamonds, gelli plate, number medley, starry night, Stencils
| Tags: Darkroom Door stamps, Darkroom Door stencils, gel printing
7 Comments
I have some mixed media goodness for you today. I know it's pretty flat and doesn't involve any fibres or other funky textured things but it is mixed media and currently my favourite mixed media option – gel printing. I spent a day with a friend a few weeks ago, and we printed up a storm on our gel presses. This is one of my backgrounds patterned with Darkroom Door stencils then stamped with DD stamps.
The textures in the background were made with the DD small stars stencil, diamond stencil and some corrugated cardboard. This background was cut from a bigger panel and I chose a section that had a pop of yellow in the corner; it's only a small thing but it provides some contrast and leads the eye from left to right.
Once I'd trimmed my panel I stamped one of the cars from 'classic cars vol 1' in versamark ink and embossed in white. The background is so busy I needed to do something to make the car stand out a bit more so I coloured it with a white pencil which softened the area inside the stamped car just enough to make a difference. I added numbers from the new 'number medley' set in black so they would subtle but noticeable. The sentiment also from 'classic cars' set is embossed on a strip of the gel print then matted in white and popped up on some foam tape.
Supplies
---