Posted: August 25, 2022
Filed under: 6"x 6" journal, Art Journal, Ciao Bella, clockwork stencil, mechanical dies
| Tags: Art Journal, Ciao Bella, Mixed Media, Tim Holtz
3 Comments
Not a leaf, tree or flower in sight on this journal page but it was made my me, just in case you are wondering. The day I created this page I claimed to have come over all Tim Holtzish; you can probably see the connection.
I began with a few strips of Ciao Bella rice paper glued to the left and right edges of the the journal pages. Over the rice paper I added texture paste through the Tim Holtz 'clockwork' stencil then filled the rest of the background with brown and black distress inks and sprays.
I cut a stack of gears from black and olive cardstock then arranged them both flat and stacked across the pages. The stars of this double page spread for me were the Finnabair metallic waxes. I applied them over the gear die-cuts and the stencilled clockfaces creating metallic edges and highlights. Adding old silver wax over black cardstock transforms it immediately.
To complete the page I cut a couple of labels from black cardstock and rubbed wax on the edges. I used some little typewriter letters stamps to stamp, 'the wheels are always turning'. When it comes to art journal pages and creating in general, my wheels are indeed always turning. Hope you have a creative day!
(Compensated affiliate links from Foiled Fox, Scrap n Stamp and Ecstasy Crafts)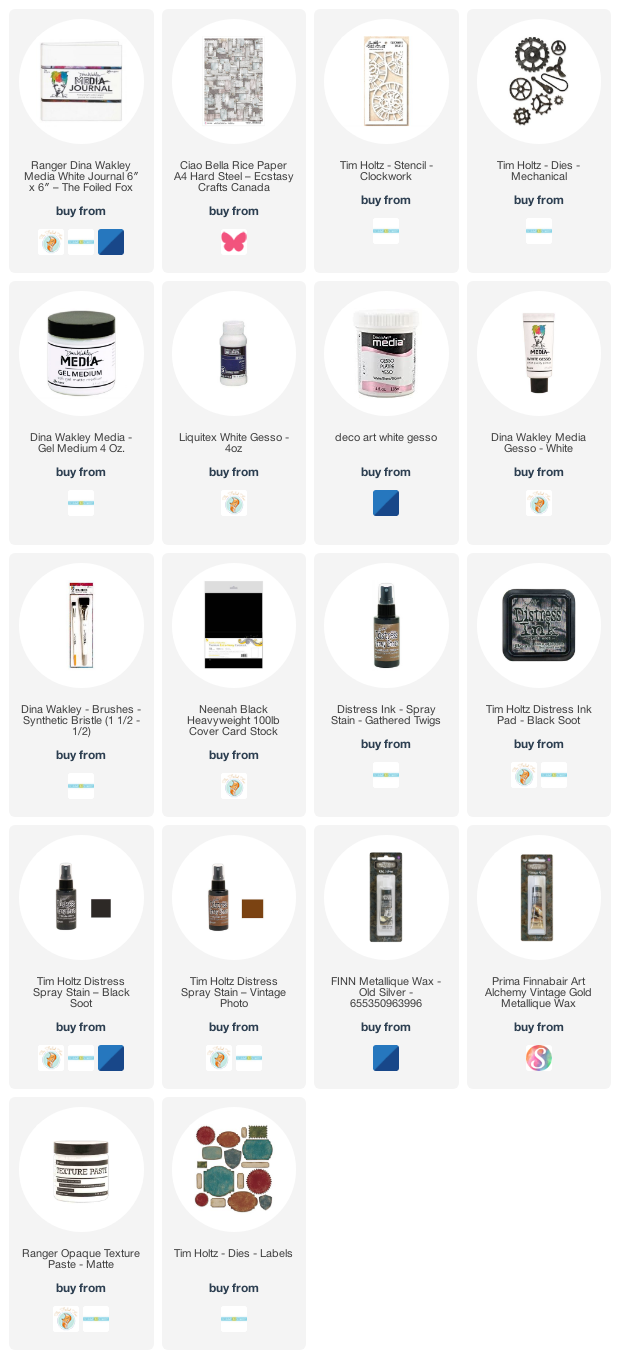 ---
Posted: January 13, 2022
Filed under: 6"x 6" journal, A blizzard, Art Journal, Darkroom Door, Dies, French Script, Mixed Media, Snowflake trio, snowflakes
| Tags: Art Journal, Darkroom Door stamps, Mixed Media, Penny Black creative dies
12 Comments
I continue to create and experiment in my 6×6 art journal, definitely inspired by the current season and view. When I started this page I had a technique in mind but no picture in my head of how it might turn out. I couldn't be happier with the end result!
I am trying a range of techniques and methods in my art journals because that is what they're for and because I have a series of workshops coming up this year (temporarily postponed until restrictions change). On this spread I started by layering and gluing torn papers on the pages. I pulled blue pieces from my considerable stash of papers, some old (Penny Black 6×6 packs) and some new (decorative rice paper) along with Dina Wakley printed white collage paper. After gluing the strips here and there I added modeling past through a stencil and let that dry.
Over the papers and paste I painted white gesso and then a couple of blues from Dina Wakley's acrylic selection. You can see some of the patterns show through from the papers and in real life you can also see the texture from the stencilled paste. I added stamping in blue and white with Darkroom Door background stamps, 'snow flakes' and 'French Script'.
I had started the page with a vague idea of adding a picture from a Christmas card or magazine. In choosing the tree picture you see included I fell down a rabbit hole of memories going through boxes of saved cards! I have saved cards since childhood and I was sorting and reading for quite a while. I didn't open every single card but I found some adorable and hilarious cards made by my children and some I taught in school, I also found many sweet notes in cards from my parents, aunts, uncles and grandparents. The picture I chose of the single tree on a snowy hill was in a Christmas card from a sweet friend.
It is worth noting at this point that I didn't plan this layout or have this card on hand when I started the painting so the colours did not match perfectly. You know how I feel about the matchy-matchy so I ended up adding paint to the sky around the tree to make the blue a bit more purply and less aqua. I also extended the scene by turning a white area that was already on the page into a clearly defined snowy hill. I used a white gel pen to add more foliage to carry the scene off the little square onto my page. I finished off the page with some die cut Penny Black snowflakes.
I know that is a lot of description that would be better understood with video footage but it didn't happen this time. As I continue to make pages I will try to capture some of them on film.
Do you save the cards you are given? Do you put them to use making something new? Just wondering…
Supplies
(Compensated affiliate links used when possible)

---