Posted: February 1, 2021
Filed under: A blizzard, Art Journal, Brusho, Classes, Dies, fir tree, Heather lowercase die set, online class, Penny Black, Pink Fresh studio, Skis 'n' sled, Snow time, winter trees, winter wardrobe
| Tags: Brusho, online class, Penny Black creative dies, Pink Fresh studio
6 Comments
After my son and I finished filming the stop animation intro for my Winter Wonder online class I didn't know what to do with the painted background and all the die cuts we'd used. They lay on a tray still in their snowy formation for a few months gathering dust until I realised I could keep the scene if I transferred it to my art journal.
The initial spread was bigger than art journal page so I cut down the watercoloured background panel, cut new snowdrifts out of lighter weight cardstock and added ink blending to help them stand out. I saved the trees, sled, skis, mitts, snowflakes and bird all cut using the Penny Black dies listed below and glued them on. Yes the gluing almost finished me but I persevered and even glued the outline letters from Pink Fresh studio. I found that I do have a glue pen that works if you are patient and take note that enough glue if coming out.
If you haven't scene the stop motion animation it is part of the promo for my WINTER WONDER class which teaches my methods for making cards with a northern winter theme. I'll include the promo below just for fun and in case you're new around here.
The scene shown in the journal page is mirrored outside right now; we have plenty of snow, we've been skiing and enjoying winter wonder all around us. Back in October-November when we filmed the class there was little to no snow!
(Compensated affiliate links used when possible)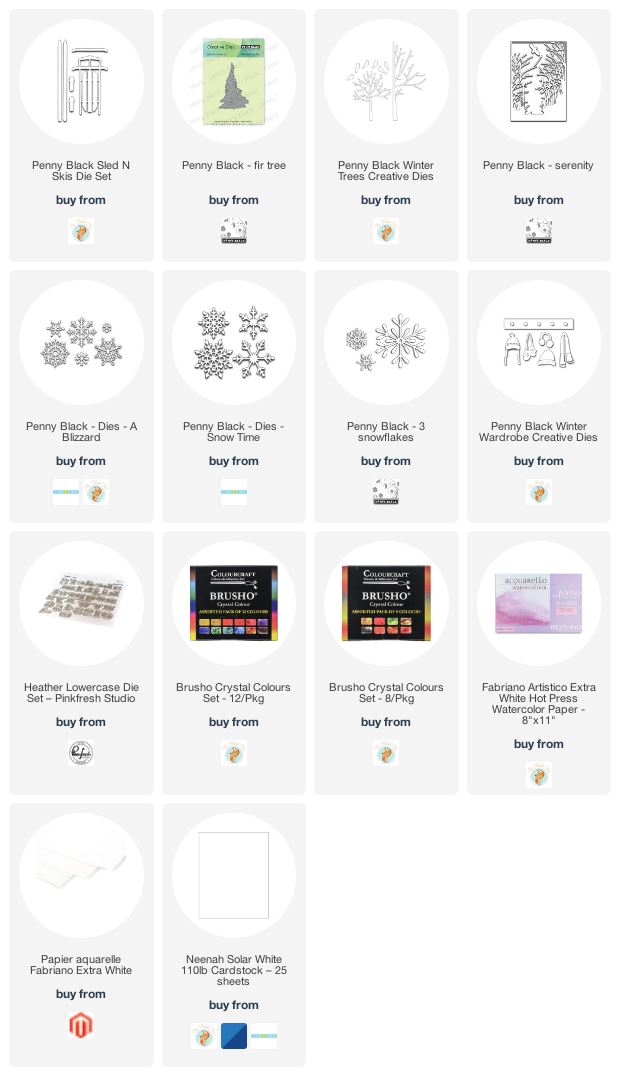 ---
Posted: November 23, 2017
Filed under: A blizzard, wreath & bow
| Tags: Brusho, Fabriano Watercolour Paper, Penny Black creative dies, Penny Black stamps
3 Comments
I have a frosty little wreath to share today which seems appropriate now it's all frosty outside. I created my background on hot pressed watercolour paper by sprinkling ultramarine brusho over the paper then spritzing it with my homemade pearl-ex spray. The result is a shimmery pattern of blue, turquoise and purple made with paint powder from just one container.
I applied stick it adhesive to the back of neenah solar white cardstock then die-cut three wreaths using Penny Black's 'wreath & bow' die. I stacked them on top of each other which was surprisingly easy even though they were quite delicate. I use a pair of tweezers to squeeze each section of the die-cuts into alignment with the ones above and below.
I stamped a sentiment from festive snippets on purple cardstock, embossed it in white and attached it overlapping the wreath then matted the painted panel in purple also. To finish it off I attached some silver cord and a little die-cut snowflake on top of the sentiment strip. You can find all the supplies listed below; I am experimenting with the appearance of my supply list; word has it that people like to see the product not just the name. Let me know if the pictures and links are helpful.
I know there are sales everywhere you turn this week but I just want to mention one. The Foiled Fox is offering 15% off everything in their store this weekend and if you click through from my blog you don't have to wait until Friday to start shopping. The coupon code for check out is HOLIDAY2017
 Supplies
Stamps: festive snippets

Dies: wreath & bow, a blizzard

Paper:  Neenah solar white cardstock, 100% cotton hot pressed watercolour paper

Also: white embossing powder, stick it adhesive, pearl ex interference blue powder, silver cord

---
Posted: March 28, 2017
Filed under: A blizzard, bird flower doily, Brusho, CAS, Dies, Metropolitan, No two are alike, the gift
| Tags: Brusho, CAS, Penny Black creative dies
5 Comments
I have a few more cards made with matelasse style backgrounds topped with bright brusho elements. I once again chose intricate dies for the backgrounds. In the cards above and below I embossed watercolour paper with the no two are alike die. For focal elements I die-cut the city skyline, some snowflakes and a couple of words from a panel painted with turquoise and cobalt blue brusho.
The background below was embossed with the bird flower doily then matted with the same painted paper I die cut the dove from. All the dies I used for these three cards are listed and linked below.
I used my big shot/big kick to emboss these panels and my 'sandwich' was:
multipurpose platform with one tab showing and one flipped open out of the way
cutting plate
silicon mat
watercolour paper (damp)
die
cutting plate
---