Posted: February 1, 2021
Filed under: A blizzard, Art Journal, Brusho, Classes, Dies, fir tree, Heather lowercase die set, online class, Penny Black, Pink Fresh studio, Skis 'n' sled, Snow time, winter trees, winter wardrobe
| Tags: Brusho, online class, Penny Black creative dies, Pink Fresh studio
6 Comments
After my son and I finished filming the stop animation intro for my Winter Wonder online class I didn't know what to do with the painted background and all the die cuts we'd used. They lay on a tray still in their snowy formation for a few months gathering dust until I realised I could keep the scene if I transferred it to my art journal.
The initial spread was bigger than art journal page so I cut down the watercoloured background panel, cut new snowdrifts out of lighter weight cardstock and added ink blending to help them stand out. I saved the trees, sled, skis, mitts, snowflakes and bird all cut using the Penny Black dies listed below and glued them on. Yes the gluing almost finished me but I persevered and even glued the outline letters from Pink Fresh studio. I found that I do have a glue pen that works if you are patient and take note that enough glue if coming out.
If you haven't scene the stop motion animation it is part of the promo for my WINTER WONDER class which teaches my methods for making cards with a northern winter theme. I'll include the promo below just for fun and in case you're new around here.
The scene shown in the journal page is mirrored outside right now; we have plenty of snow, we've been skiing and enjoying winter wonder all around us. Back in October-November when we filmed the class there was little to no snow!
(Compensated affiliate links used when possible)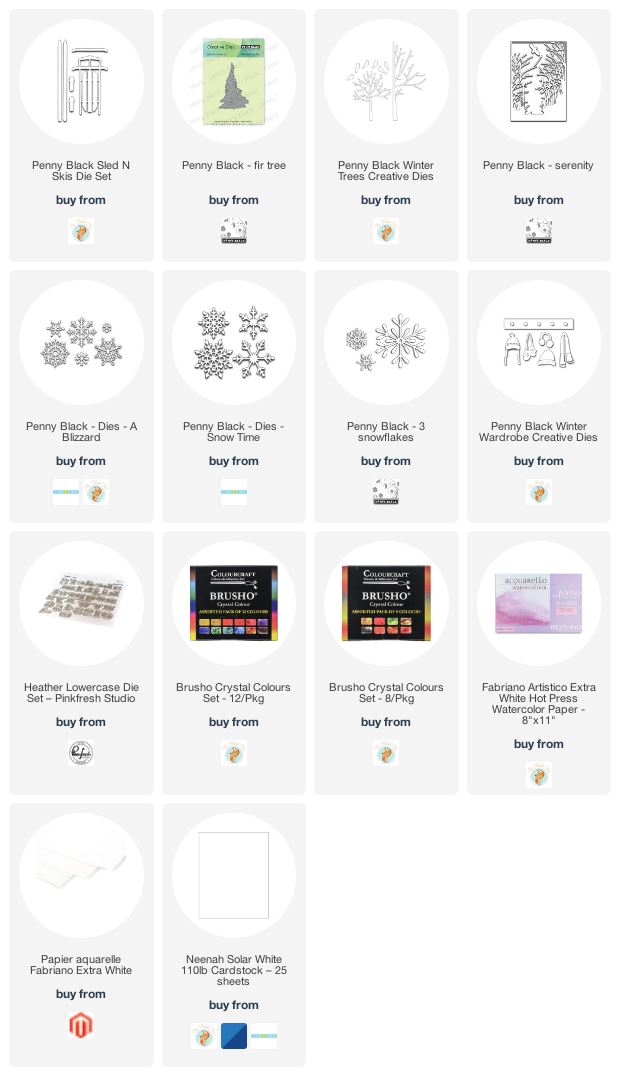 ---
Posted: December 22, 2017
Filed under: Skis 'n' sled, winter wardrobe
| Tags: Kuretake Gansai Tambi watercolour paints, Penny Black creative dies, Penny Black stamps, Tsukineko Versafine inks
1 Comment
I had some fun and a certain amount of frustration putting today's cards together. The fiddliness factor was high, well for me anyway. All three cards feature the winter wardrobe  and sled 'n' skies die sets from Penny Black. I've backed them with the mosaic pattern stamp on the first two cards and created an outside window backdrop for the final card.
On the cards above and below I stamped the mosaic background stamp then embossed in clear powder. Above I used versafine crimson red ink; below I used versamark. To create all the clothing, skis and sleds I painted scraps of watercolour paper with gansai tambi paints. I had a bunch of coloured scraps that I lay the various dies on to cut as many elements as I could. I also cut a few from black card stock. When I had all my little bits and pieces cut out I arranged them on a white sheet of paper and started making combinations and vignettes. For a few crazy moments I thought about videoing the process of putting these cute little collections together then realized that it would make me want to poke tweezers in my eyes and possibly have the same effect on you, my faithful readers.
Despite the fiddliness factor it was fun to combine my different coloured hats, mitts, scarves, muffs and trims to co-ordinate and contrast with the sleds and skis.
To create my outdoor scene I used a piece of brown wood textured cardstock then tore some white card to create two layers of snow where I tucked in the sled, skis and hats (or beanies and toques depending where you come from!) I painted pale blue on a white piece of watercolour paper for the window panel and die cut a light brown square with four more squares cut from it for the window frame.
All three panels are on white card bases and two feature sentiments from the PB holiday snippets stamp set.
I hope you are having a warm and wonderful day.
Supplies
Stamps: holiday snippets


Dies: winter wardrobe, sled n skis, square dies


Ink: versafine crimson red, versamark


Paper: neenah solar white, neenah epic black, hot pressed watercolour


Paint


Adhesives: multi matte medium, kool tak foam

---
Posted: October 31, 2016
Filed under: Skis 'n' sled, Woodland Beauty
| Tags: Penny Black creative dies, Penny Black stamps, Ranger Distress inks, Tsukineko Memento inks
11 Comments
I am writing this post from sunny warm Australia while my Ottawa family is sending me photos of the snow that has already fallen. I have a series of  'Winter Warmth' posts this week featuring dies and stamps from the latest Penny Black releases. I chose to pair watercoloured die-cuts with watercoloured backgrounds to make some indoor and outdoor winter scenes. You might think that sledding or skiing is not a particularly 'warm' activity but consider the trudge up the hill with the sled or the energy expended cross-country skiing; you can end up quite heated!
I created my background forest on cold pressed watercolour paper by doing first and second generation stamping with memento northern pine ink. I then tore a few snow banks from the same paper and layered them in front of the trees.
I die-cut the sled and skis from hot pressed watercolour paper then coloured them with distress markers, blending with water to get shadows and dimension. I added some die-cut greenery and a little twine bow to both the skis and the sled then tucked them in behind the torn paper snow banks. I added some clear wink of stella to the torn edges to make the snow banks glisten a little.
Supplies
Stamps: woodland beauty, festive snippets
Dies: Sled 'n' skies, winter lantern
Inks: memento northern pine, tuxedo black (Tsukineko), festive berries, gathered twigs distress markers (Ranger)
Paper: hot and cold pressed watercolour papers (Fabriano), green cardstock
Also: clear wink of stella, linen twine
---