Winter Wonder art journal page
Posted: February 1, 2021
Filed under: A blizzard, Art Journal, Brusho, Classes, Dies, fir tree, Heather lowercase die set, online class, Penny Black, Pink Fresh studio, Skis 'n' sled, Snow time, winter trees, winter wardrobe
| Tags: Brusho, online class, Penny Black creative dies, Pink Fresh studio
6 Comments
After my son and I finished filming the stop animation intro for my Winter Wonder online class I didn't know what to do with the painted background and all the die cuts we'd used. They lay on a tray still in their snowy formation for a few months gathering dust until I realised I could keep the scene if I transferred it to my art journal.
The initial spread was bigger than art journal page so I cut down the watercoloured background panel, cut new snowdrifts out of lighter weight cardstock and added ink blending to help them stand out. I saved the trees, sled, skis, mitts, snowflakes and bird all cut using the Penny Black dies listed below and glued them on. Yes the gluing almost finished me but I persevered and even glued the outline letters from Pink Fresh studio. I found that I do have a glue pen that works if you are patient and take note that enough glue if coming out.
If you haven't scene the stop motion animation it is part of the promo for my WINTER WONDER class which teaches my methods for making cards with a northern winter theme. I'll include the promo below just for fun and in case you're new around here.
The scene shown in the journal page is mirrored outside right now; we have plenty of snow, we've been skiing and enjoying winter wonder all around us. Back in October-November when we filmed the class there was little to no snow!
(Compensated affiliate links used when possible)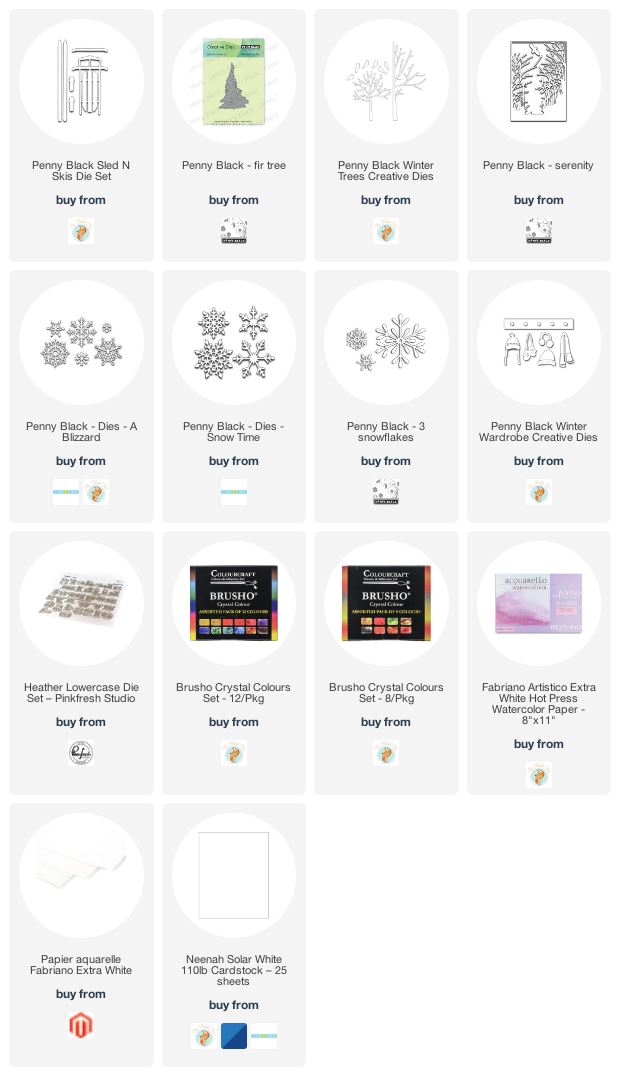 ---