Posted: April 22, 2022
Filed under: Art Journal, bookshelf, bookworm, Darkroom Door, library books, Mixed Media
| Tags: Art Journal, Darkroom Door stamps, Mixed Media, Ranger archival inks
9 Comments
I have always loved the library, perhaps now more than ever. I remember as a child having my own library card at the Civic Library in Canberra as well as library cards at school. Filling a library card with date stamps seemed a worthy achievement and then I would get a fresh new card. If only I had kept those cards for forty years later when I wanted to put one in an art journal! I worked in my 9″x 6″ 'literary themed journal' for this one not the 6″x 6″ I've been sharing a lot lately.
The library card on this journal page I made with a new Darkroom Door stamp, but I'm guessing you already knew that! The new set 'library books' includes a library card stamp, two stacks of books, an open book and three quote stamps. What can I say; it's a delight.
This page was not a delight most of the way through but as I tell the participants in my art journal adventure classes this is often the case. Many pages really do not pull through until the very end. It is an example of a collage page which is what we will be doing in Art Journal Adventure Episode #3. All the dates are listed and linked on my Classes page including a couple of Episode #2 sessions next week.
I began this spread by gluing down pieces of old book pages. If you look at the top right corner of the photo above you will see the aged rounded corner of an old page. It has been become one of my favourite collage tricks to stick the book corners over my page corners then cut away the journal page behind to leave that soft round corner. I did it on all four corners of this page. After the old book pages I added stamping, paint and a couple of photos of books from magazines. More paint then more books using stamps from the DD set 'bookworm'. I had already stamped my library card, distressed it and set it aside.
The stacks of very old books I made by stamping the DD 'bookshelf' border stamp on some gel prints. I cut them out (fussy) and defined some edges and spine details with markers. Once everything was glued down I added splatter and ink blending and some partial stamping with the DD world map stamp. Last but not least a wonderful quote.
I couldn't end a post like this without asking for a couple of book recommendations. You have helped me before so please leave a recent favourite in the comments below. A few months back I read the first two books in a trilogy and now I am very keen for the third to be published. They were The Lost Queen and The Forgotten Kingdom by Signe Pike. I also enjoyed The Salt Path by Raynor Winn and have The Wild Silence, her second book, waiting for me at the library. I'm in the middle of Roots & Sky by Christie Purifoy which introduced me to her story telling podcast. That's enough from me; I want to hear from you.
Supplies
(Compensated affiliate links used when possible)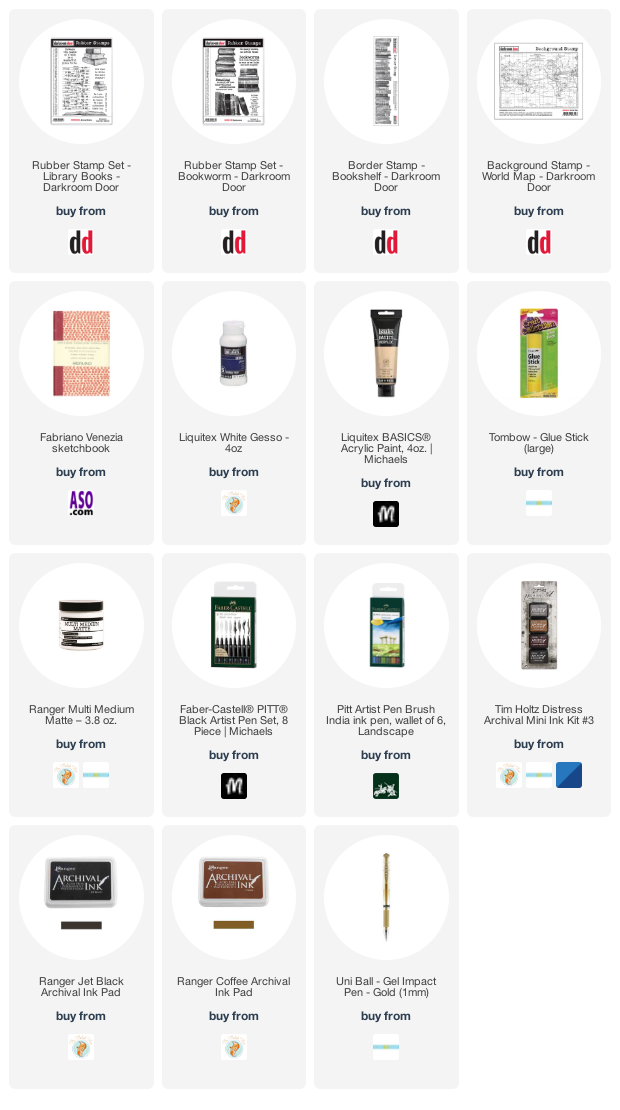 ---