Posted: June 9, 2022
Filed under: Art Journal, coffee time, Darkroom Door, Mixed Media
| Tags: Art Journal, Darkroom Door stamps, Mixed Media, Ranger archival inks
7 Comments
I've been having a delightful time in my art journals and in the Art Journal Adventure workshops. We have gone in three different directions so far and the next one is coffee or tea themed. You can see an example of a tea themed page on my classes page and here is my first coffee page.
It doesn't show up in the photo but the red cup is embossed and glossy and I want one just like it in real life! I used distress embossing glaze for both the words and the cup then had to create a visual triangle in red, do you see it?
I am currently not a coffee drinker which actually makes the quote all the more apt for me. I love the aroma! For Christmas I gave my husband a coffee subscription and each month the coffee comes in a cardboard package which smells delightful as does the mailbox !
If you are interested in joining in the art journal adventure please check out my Classes page where you will see the next two sessions or click on the Crop A While classes page.
Supplies
(Compensated affiliate links used when possible)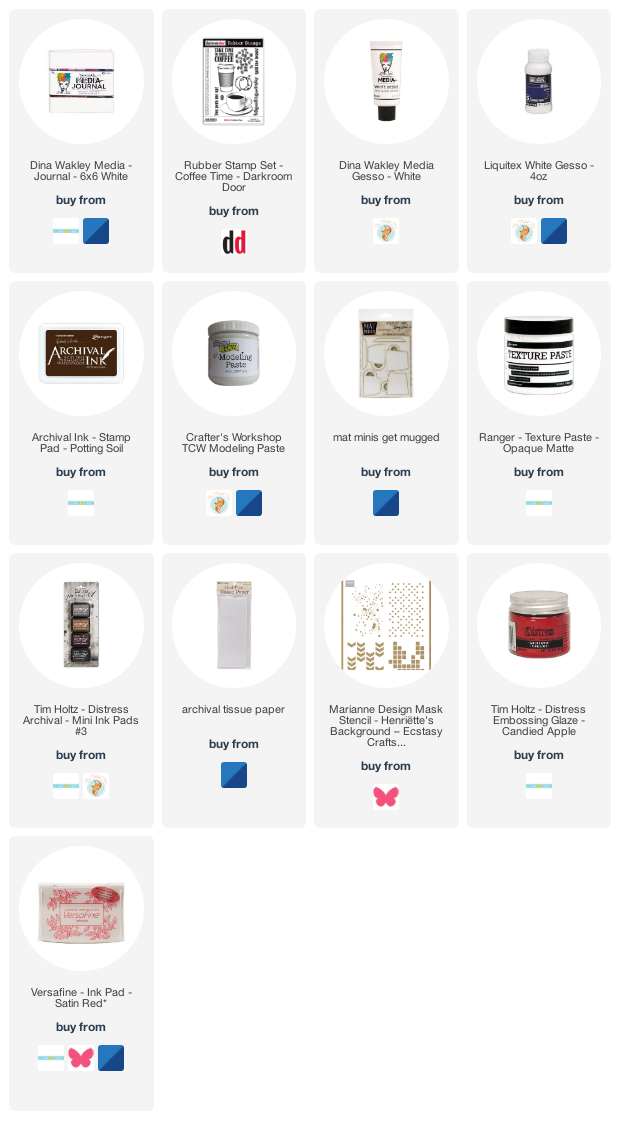 ---
Posted: May 4, 2020
Filed under: brick wall, coffee time, Darkroom Door, handwritten script, Stencils, World Map
| Tags: Darkroom Door stamps, Darkroom Door stencils, Ranger Distress inks
4 Comments
I posted a coffee themed card using the Darkroom Door 'coffee time' set recently which prompted a request for a pack of coffee themed cards. These ones are on their way to Australia, and were made with the addition of the word 'virtual' because, well, you know why. I rarely do multiples and when I do they are never exactly the same. This time I did four of one colour scheme with the cup and saucer stamp from Darkroom Door's 'coffee time' set and then four more in a different colour scheme a little more like my original coffee card featuring the take out cup from the same set.
The nice thing about making multiples is starting with a large panel to create the background. I used hot pressed watercolour paper for both sets and splattered masking fluid over the panel first. I like the addition of some random white spots and shapes from a masking fluid splatter but often I wish I'd done more when I remove it from the finished project. To create the cards above I smooshed ground espresso, salty ocean and crushed olive distress inks on my glass mat. I spritzed water over the inks until they were spread over a large area then placed the watercolour panel over the top and moved it around to soak up random coloured patterns. When I turned the panel over there were blotches of each colour along with blends and blank areas. I did some further spritzing and picking up of colour until I was satisfied with the coverage. Once the panel was dry I cut it into four pieces and used both the DD handwritten script and brick wall stencils to add pattern in the same three distress inks. I used blending brushes to apply the ink which gave me soft blends that faded away into nothing at the edges.
Next I add coffee cups and coffee stains in ground espresso ink. I blended ink inside the cup on some panels but on others I added more ink outside the cup to darken the negative space. It is hard to describe my process with the cups as I did each one differently and kept playing with the three inks until I was happy with the results. On a couple of the panels I added a partial print of the world map stamp. With all the artsy stuff done I just needed to add the 'virtual coffee' label. The word 'coffee' is part of one of the word stamps from the set so I masked, stamped and embossed then wrote the word 'virtual' above and embossed that. I was interested to see I could write the words with a papermate flair pen and then if I covered it with clear embossing powder straight away I could get the shiny embossed effect. I do have clear embossing pens but it is impossible to see what I've written with a clear pen!
I also did four more cards with the takeaway cup stamp using much the same technique and a peeled paint/scattered straw/dusty concord colour scheme. I added a few stamped coffee beans to these ones; the 'coffee time' set is a very cool collection of stamps.
Thanks for joining me for 'virtual coffee' today. I hope your week is off to a good start.
Supplies

---
Posted: April 22, 2020
Filed under: coffee time, Darkroom Door, global postmarks, handwritten script, World Map
| Tags: Brusho, Darkroom Door stamps, Darkroom Door stencils, distress oxide inks, Ranger Distress inks
6 Comments
Are you missing the coffee shops? I'm sure you are missing your friends and perhaps you are missing coffee with friends. This one is for a friend of mine who loves her coffee!
I began with a piece of hot pressed watercolour paper and splattered a few drops of masking fluid over the whole thing. Once the masking fluid was dry I sprinkled sandstone brusho on my glass mat, spritzed the brusho with water and swiped this panel through it. It took a few swipes before I had an orange and brown abstract background. I added some dark brown brusho on one side and spritzed that to make it blend and spread a bit. Once I'd dried that I blended through the new Darkroom Door 'handwritten script' stencil with rusty hinge oxide ink.
At this point the panel was very much just an abstract background so I stamped the cup from DD 'coffee time' in gathered twigs distress ink and blended the stamping with some water and extra ink. The set also has a coffee cup stain stamp so I added that here and there, spritzing it to make it blurry. I stamped some postmarks from the 'global postmarks' set because I can't help myself.
Unfortunately the coffee cup did not stand out enough from the background and the background itself looked incomplete. DD world map stamp and blueprint sketch distress ink came to the rescue. I stamped the world map several times on the panel in gathered twigs ink and then, to break up the orange and brown monopoly, I added some blueprint sketch ink in just a few places. I found some blue cardstock that matched the blue and stamped 'friendship' and 'you're the best' from the DD 'friendship' strip of sentiments to finish the card. Oh, and I added a thin strip of brown cardstock separating the blue from the patterned panel.
I'm glad I didn't give up on this panel; it is just the thing for my friend who I will enjoy a coffee with again one day.
Supplies

---