Posted: May 4, 2020
Filed under: brick wall, coffee time, Darkroom Door, handwritten script, Stencils, World Map
| Tags: Darkroom Door stamps, Darkroom Door stencils, Ranger Distress inks
4 Comments
I posted a coffee themed card using the Darkroom Door 'coffee time' set recently which prompted a request for a pack of coffee themed cards. These ones are on their way to Australia, and were made with the addition of the word 'virtual' because, well, you know why. I rarely do multiples and when I do they are never exactly the same. This time I did four of one colour scheme with the cup and saucer stamp from Darkroom Door's 'coffee time' set and then four more in a different colour scheme a little more like my original coffee card featuring the take out cup from the same set.
The nice thing about making multiples is starting with a large panel to create the background. I used hot pressed watercolour paper for both sets and splattered masking fluid over the panel first. I like the addition of some random white spots and shapes from a masking fluid splatter but often I wish I'd done more when I remove it from the finished project. To create the cards above I smooshed ground espresso, salty ocean and crushed olive distress inks on my glass mat. I spritzed water over the inks until they were spread over a large area then placed the watercolour panel over the top and moved it around to soak up random coloured patterns. When I turned the panel over there were blotches of each colour along with blends and blank areas. I did some further spritzing and picking up of colour until I was satisfied with the coverage. Once the panel was dry I cut it into four pieces and used both the DD handwritten script and brick wall stencils to add pattern in the same three distress inks. I used blending brushes to apply the ink which gave me soft blends that faded away into nothing at the edges.
Next I add coffee cups and coffee stains in ground espresso ink. I blended ink inside the cup on some panels but on others I added more ink outside the cup to darken the negative space. It is hard to describe my process with the cups as I did each one differently and kept playing with the three inks until I was happy with the results. On a couple of the panels I added a partial print of the world map stamp. With all the artsy stuff done I just needed to add the 'virtual coffee' label. The word 'coffee' is part of one of the word stamps from the set so I masked, stamped and embossed then wrote the word 'virtual' above and embossed that. I was interested to see I could write the words with a papermate flair pen and then if I covered it with clear embossing powder straight away I could get the shiny embossed effect. I do have clear embossing pens but it is impossible to see what I've written with a clear pen!
I also did four more cards with the takeaway cup stamp using much the same technique and a peeled paint/scattered straw/dusty concord colour scheme. I added a few stamped coffee beans to these ones; the 'coffee time' set is a very cool collection of stamps.
Thanks for joining me for 'virtual coffee' today. I hope your week is off to a good start.
Supplies

---
Posted: April 13, 2020
Filed under: alphabet medley, brick wall, classic cars vol 1, classic motorcycles, Darkroom Door, number medley
| Tags: Darkroom Door stamps, distress oxide inks
13 Comments
Recently I posted a classic car card and both my brother and father responded that it was time for a classic motorcycle card. It is my dad's birthday tomorrow so here is a motorcycle themed birthday card. Unfortunately it won't arrive in his mail box anytime soon but we will chat via the interwebs. Happy Birthday, Dad!
To create the card I pulled out the distress oxide inks; I haven't used them lately and had forgotten the cool effects I can get when I layer them. I started by smooshing three colours on my glass mat then spritzing them with water. The three inks were dusty concord, frayed burlap and fossilized amber. The dusty concord looks more pink than purple when it's wet, the amber gives a nice bright pop of colour and the burlap is a neutral that works with both. Before I swiped my watercolour panel through the spritzed ink I had splattered some masking fluid on it and let that dry. The little white spots here and there on the finished card are the results of using masking fluid before adding any ink. I know they are a subtle effect but I like the contrast of a few white spots.
I ended up swiping the panel through the inks several times, letting it dry between swipes so the colours would layer rather than turn to mud. Once all the layering was finished I used the new Darkroom Door small brick wall stencil to blend some bricks over the panel with frayed burlap and fossilized amber inks. I stamped the motorcycle from DD 'classic motorcycles' set in versafine clair nocturne then added some collage numbers and letters using stamps from  DD 'alphabet medley' and 'number medley' sets in black soot and dusty concord oxide ink.
I stamped and embossed sentiments from both 'happy birthday' and 'classic cars vol 1' and die cut them so I could pop them up down the side of the card. The embossing powder is Ranger 'weathered wood' to fit with the slightly grungy style of the card.
I have no idea what kind of motorcycle this is but maybe my brother can fill me in on that. About six months ago he became a Harley owner; that's him and his lovely wife out for their first ride on the new bike. It is certainly not his first bike so maybe he will recognise some distinctive feature of the one on my card.
Thank you for getting in touch on my last post about online church and hope at this time of isolation. I am happy to hear it was an encouragement to so many of you.
Supplies


---
Posted: February 26, 2020
Filed under: brick wall, Darkroom Door, diamonds, global postmarks, number medley, Stencils, tall flowers, warm wishes, Wildflowers Vol 1
| Tags: Darkroom Door stamps, Darkroom Door stencils, gel printing, liquitex acrylic paint
4 Comments
The new Darkroom Door global postmarks set features on today's cards, and if you look closely you can see I chose several Australian postmarks but there are different shapes and sizes from all over the world. It is a very cool set and once again these cards have made me want to create an art journal page.
I've had my gel press out after quite a break and I'm hooked again. In any one session I always end up with some duds and some winners but the more I print, the more I like what I;m printing. One of the lessons I learnt in my latest session was the beauty of restricting my paint colours. You would think I would know that by now considering how often I restrict myself to a limited palette when watercolouring.
The prints I turned into today's cards were made with a turquoise, dark blue, gold, beige and purple palette. The first card was just beige, gold, turquoise and a bit of dark blue left on the gel press from the previous print. To create patterns in the print I used Darkroom Door stencils and stamps.
I won't go into my gel printing process because there are videos aplenty that will show you. I brayered acrylic paints onto the press and used the new 'brick wall' stencil along with the diamonds and starry night stencils. I also pressed the mesh background stamp and the wavy line postmark stamp into the paint before pulling a print.
After pulling the prints I used black archival and black versafine clair inks to stamp the flowers, sentiments and dragonfly. I stamped several of the global postmark stamps in mermaid lagoon archival ink and tiny numbers from the new 'number medley' set lightly in black.
The flowers on the square card are from DD 'tall flowers' and are stamped in nocturne versafine clair then embossed in clear powder. The black stamping on the larger card is black soot archival ink. I tried popping up the sentiments from the 'warm wishes' set but it didn't look right, the beauty of a monoprint is that it looks like it has depth and texture even though it is a single layer.
Supplies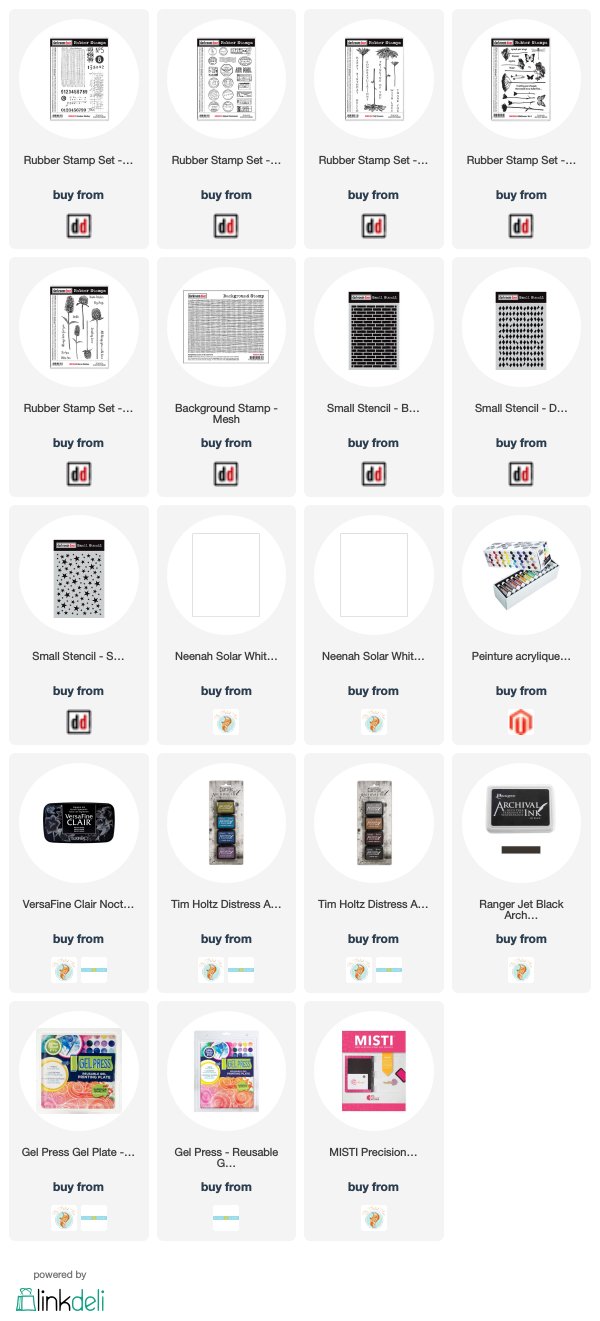 ---