Posted: February 26, 2020
Filed under: brick wall, Darkroom Door, diamonds, global postmarks, number medley, Stencils, tall flowers, warm wishes, Wildflowers Vol 1
| Tags: Darkroom Door stamps, Darkroom Door stencils, gel printing, liquitex acrylic paint
4 Comments
The new Darkroom Door global postmarks set features on today's cards, and if you look closely you can see I chose several Australian postmarks but there are different shapes and sizes from all over the world. It is a very cool set and once again these cards have made me want to create an art journal page.
I've had my gel press out after quite a break and I'm hooked again. In any one session I always end up with some duds and some winners but the more I print, the more I like what I;m printing. One of the lessons I learnt in my latest session was the beauty of restricting my paint colours. You would think I would know that by now considering how often I restrict myself to a limited palette when watercolouring.
The prints I turned into today's cards were made with a turquoise, dark blue, gold, beige and purple palette. The first card was just beige, gold, turquoise and a bit of dark blue left on the gel press from the previous print. To create patterns in the print I used Darkroom Door stencils and stamps.
I won't go into my gel printing process because there are videos aplenty that will show you. I brayered acrylic paints onto the press and used the new 'brick wall' stencil along with the diamonds and starry night stencils. I also pressed the mesh background stamp and the wavy line postmark stamp into the paint before pulling a print.
After pulling the prints I used black archival and black versafine clair inks to stamp the flowers, sentiments and dragonfly. I stamped several of the global postmark stamps in mermaid lagoon archival ink and tiny numbers from the new 'number medley' set lightly in black.
The flowers on the square card are from DD 'tall flowers' and are stamped in nocturne versafine clair then embossed in clear powder. The black stamping on the larger card is black soot archival ink. I tried popping up the sentiments from the 'warm wishes' set but it didn't look right, the beauty of a monoprint is that it looks like it has depth and texture even though it is a single layer.
Supplies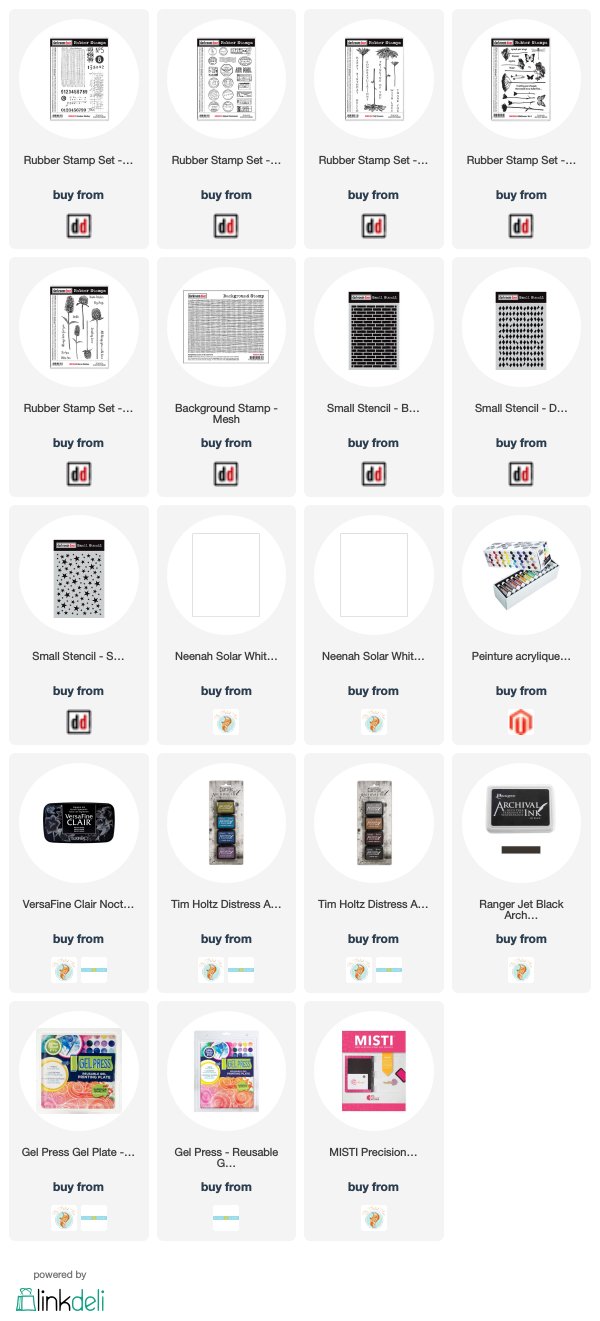 ---