Stockings are hung
Posted: January 29, 2021
Filed under: brick wall, Christmas sentiments, Darkroom Door, Dies, knitting, layered Xmas wreath die set, Penny Black, stockings, Woodgrain
| Tags: Darkroom Door stamps, Darkroom Door stencils, Penny Black creative dies, Ranger archival inks, Ranger Distress inks
6 Comments
When I was making knitted panel cards a few weeks back I thought I should create a knitted stocking card at the same time. I also decided to try and make at least one, but hopefully more than one Christmas card each month. Usually I don't feel like making Christmas cards after Christmas but I'm happy to right now so I made this little stocking and hung it by the chimney with care.
I stamped the Darkroom Door knitting pattern in versafine clair 'glamorous' ink, embossed in clear powder then painted over it with festive berries distress ink. I cut out a stocking with one of the Penny Black Christmas Stocking dies. To fill the stocking I cut foliage from watercolour paper using the PB layered wreath set then coloured the die-cuts with festive berries, pine needles and ground espresso distress inks. The stocking needed a bit more trim so I cut out a white cloud shape to and blended some brown ink around the edges.
To create a chimney I used a stencil and a stamp from Darkroom Door, the woodgrain stamp for the mantle and brick wall stencil for the bricks. I worked on hot pressed watercolour paper for both so I could blend distress inks and add watermarks. I stamped the wood with ground espresso archival ink so it wouldn't blend then painted and blended ground espresso, black soot and rusty hinge distress inks over the top. I blended the same three distress inks through the stencil then spritzed some water over it before lifting the stencil. I blended some of the bricks with a paintbrush and added some black soot splatter.
The mortar around the bricks looked too white so I blended antique linen ink over the whole panel and used some to blend above the mantel too. To finish of the card I added a gold bow and a sentiment from the DD Christmas sentiment strip stamp.
So that's one Christmas card done so far in 2021! Do you make Christmas cards all year?
(Compensated affiliate links used when possible)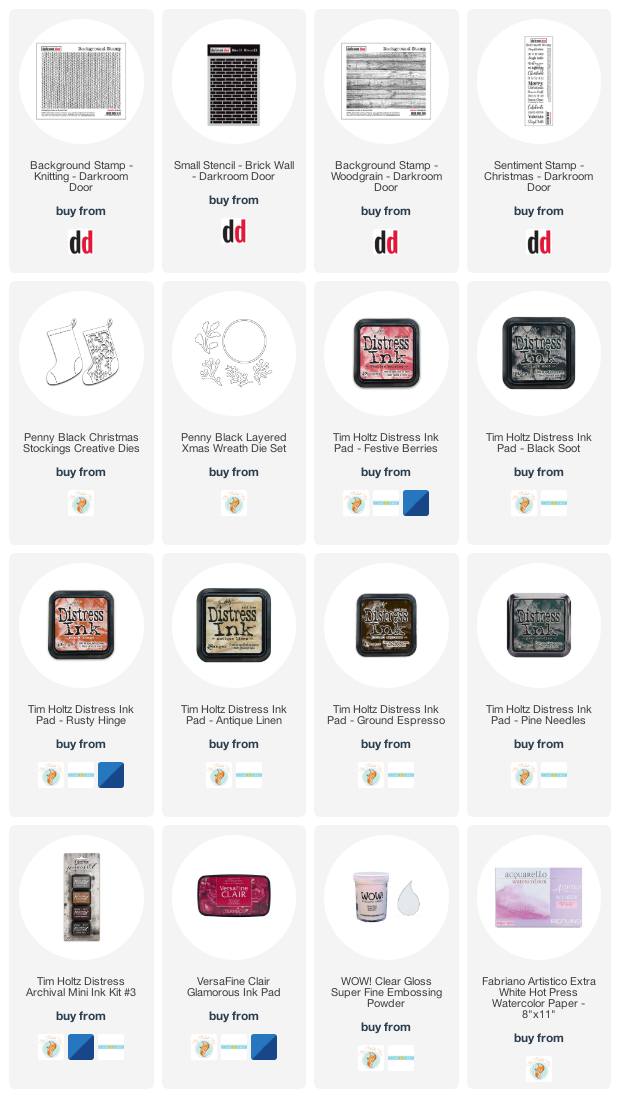 ---