Posted: January 29, 2021
Filed under: brick wall, Christmas sentiments, Darkroom Door, Dies, knitting, layered Xmas wreath die set, Penny Black, stockings, Woodgrain
| Tags: Darkroom Door stamps, Darkroom Door stencils, Penny Black creative dies, Ranger archival inks, Ranger Distress inks
6 Comments
When I was making knitted panel cards a few weeks back I thought I should create a knitted stocking card at the same time. I also decided to try and make at least one, but hopefully more than one Christmas card each month. Usually I don't feel like making Christmas cards after Christmas but I'm happy to right now so I made this little stocking and hung it by the chimney with care.
I stamped the Darkroom Door knitting pattern in versafine clair 'glamorous' ink, embossed in clear powder then painted over it with festive berries distress ink. I cut out a stocking with one of the Penny Black Christmas Stocking dies. To fill the stocking I cut foliage from watercolour paper using the PB layered wreath set then coloured the die-cuts with festive berries, pine needles and ground espresso distress inks. The stocking needed a bit more trim so I cut out a white cloud shape to and blended some brown ink around the edges.
To create a chimney I used a stencil and a stamp from Darkroom Door, the woodgrain stamp for the mantle and brick wall stencil for the bricks. I worked on hot pressed watercolour paper for both so I could blend distress inks and add watermarks. I stamped the wood with ground espresso archival ink so it wouldn't blend then painted and blended ground espresso, black soot and rusty hinge distress inks over the top. I blended the same three distress inks through the stencil then spritzed some water over it before lifting the stencil. I blended some of the bricks with a paintbrush and added some black soot splatter.
The mortar around the bricks looked too white so I blended antique linen ink over the whole panel and used some to blend above the mantel too. To finish of the card I added a gold bow and a sentiment from the DD Christmas sentiment strip stamp.
So that's one Christmas card done so far in 2021! Do you make Christmas cards all year?
(Compensated affiliate links used when possible)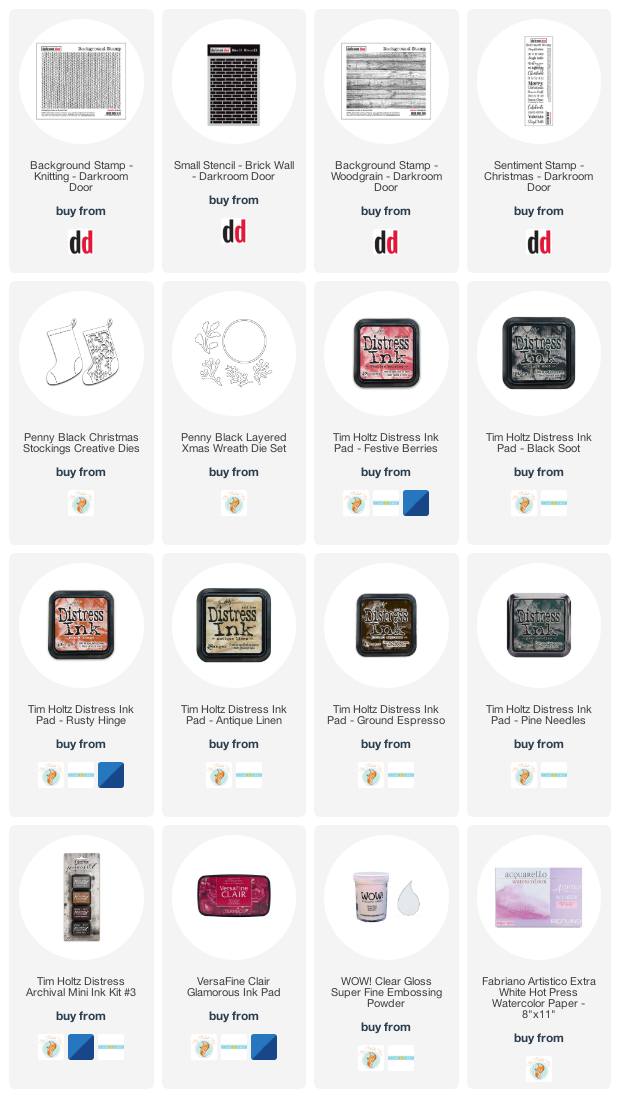 ---
Posted: November 25, 2020
Filed under: frozen vista, juniper, layered Xmas wreath die set, Penny Black, Uncategorized, Winter lantern
| Tags: brutus monroe embossing powder, Penny Black creative dies, Penny Black stamps, Ranger Distress inks
6 Comments
This lovely window stamp is from a Penny Black set, frozen vista which includes two arched window stamps. I stamped it on hot pressed watercolour paper in versamark then embossed in white powder. I used three distress inks to paint over the embossing, chipped sapphire in the sky, scattered straw at the horizon and stormy sky on the snowy ground.
To make a swag below the window I added double sided adhesive to some neenah solar white cardstock then die cut the PB juniper dies, holly from the layered Xmas set and pinecones from the winter lantern set.
Because of the subtle colours and abundance of white and offwhite I popped up the painted panel on a couple of layers of cardstock to give it a shadow frame on the same coloured card base.
(Compensated affiliate links used when possible)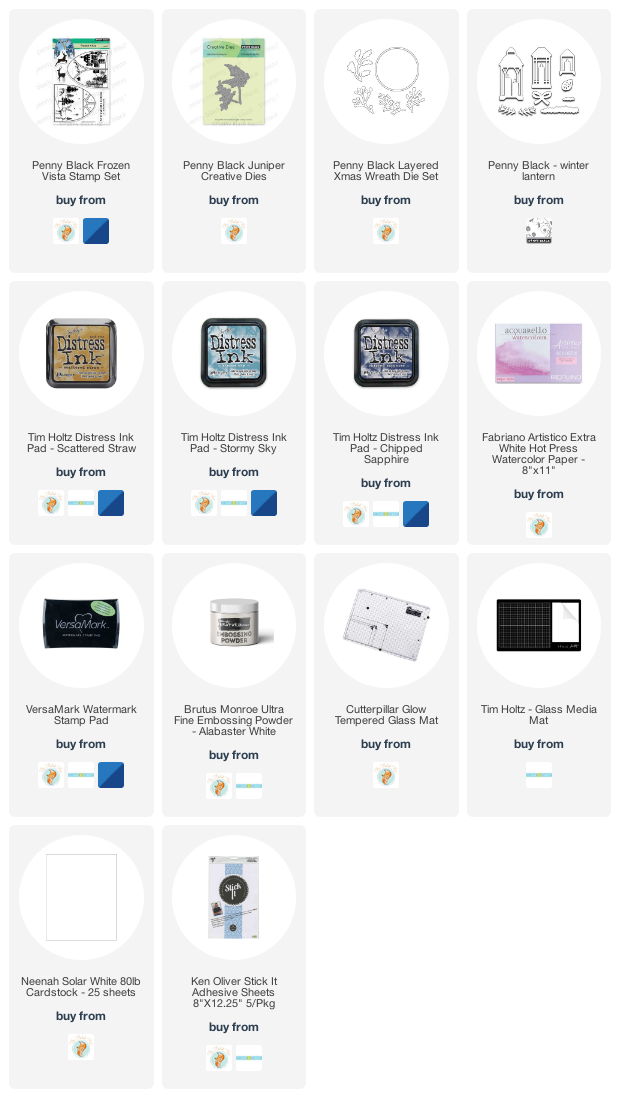 ---
Posted: November 9, 2020
Filed under: art deco window, juniper, layered Xmas wreath die set, Penny Black, Winter lantern
| Tags: Dr PH Martin, Penny Black creative dies, Penny Black stamps
6 Comments
Sometimes I get inspired by the detailed and delicate foliage dies from Penny Black. The new 'juniper' die set got me started for this design along with a navy panel of cardstock splattered with white paint.
I gathered other dies to combine into a winter window scene. I could have chosen brighter reds and greens but I am in a muted vintage style phase right now so forest green and burgandy were my picks for the juniper and berries. All the dies are listed below; I picked from a few sets and added double sided adhesive to all the cardstock before die cutting. The window die is designed to open but I chose the adhesive backing so it would be stuck down firmly to keep the snow outside and the candle from blowing out!
Supplies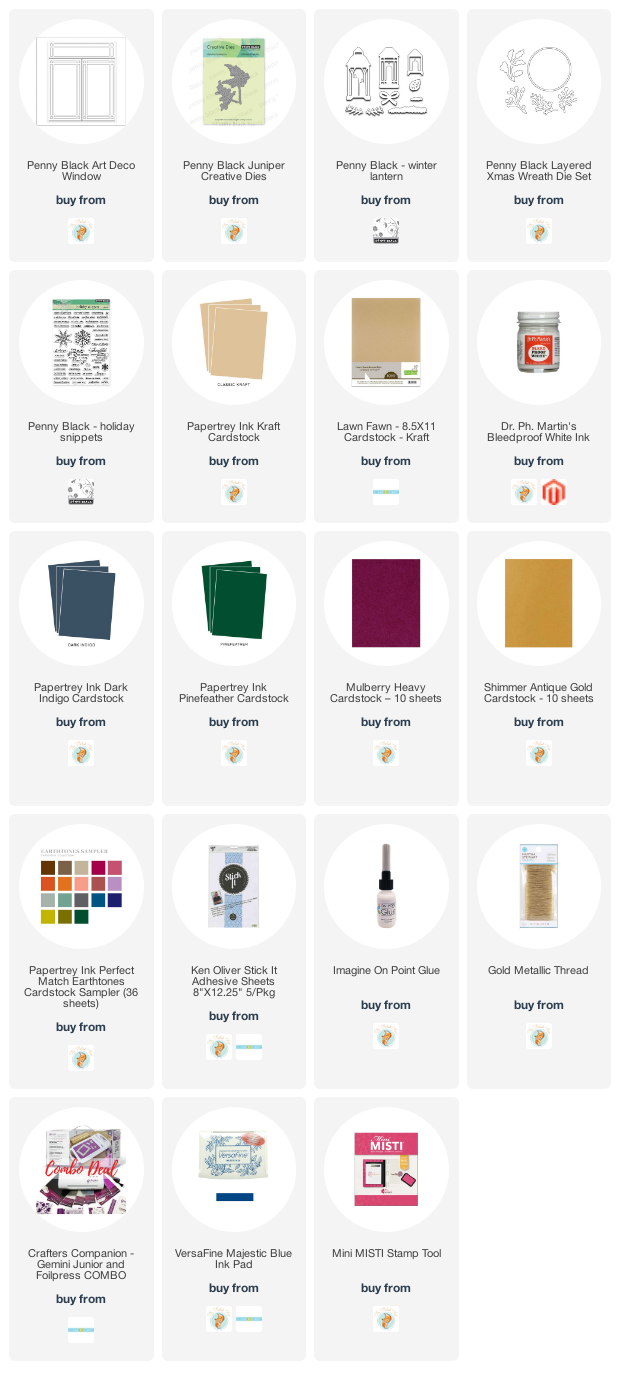 ---