Posted: April 8, 2020
Filed under: exhilaration, Penny Black, Script
| Tags: brutus monroe embossing powder, Fabriano Watercolour Paper, Papertrey ink, Penny Black creative dies, Penny Black stamps, Ranger Distress inks
12 Comments
I got together with some friends a while back for a crafting afternoon, seems like an age ago now! While there I stamped the two panels you see here. For a while they were forgotten as I was working on other projects then I fiddled around to create two quite different cards. The basic technique is the same for both panels and involves stamping and restamping without reinking in between impressions. The card above began as a vintage looking panel stamped in antique linen ink. I smooshed some antique linen distress ink on my glass mat, spritzed with water then swiped my panel through it to pick up inky stains. I dabbed some areas with paper towel which makes them dry a more yellowy colour. I partially inked the Penny Black script background stamp in antique linen and stamped on one side.
Once the background was dry I used the PB stamp, 'exhilaration' to stamp some coloured flowers. I inked the flowers with a Papertrey Americana ink cube and chipped sapphire distress ink then the stems with a gathered twigs distress marker. I wiped ink off the stamp in some areas so the image would be patchy on purpose, spritzed then stamped on the panel. I did both the left hand side and right top corner then, without cleaning the stamp spritzed it again and stamped paler images which immediately appear to be in the background. I stamped a sentiment on an 'antiqued' scrap in versafine vintage sepia ink, added a twine bow and popped it up on some foam tape.
Now that I have described my process for the first card you can probably see that I used the same technique for the blue card but only used one colour, Papertrey ink 'blueberry sky'. I didn't start by making a vintage style background, I just jumped right on in with the first stamping. I spritzed  the stamp and did another print, then another and one more very pale one and that was it! I added some splatters but nothing more to this pretty blue panel. It was very quick and probably took longer to find a matching cardstock. Once I found a co-ordinating blue I stamped part of a sentiment from the PB 'sentiment' set and embossed in alabaster powder. I finished the sentiment by stacking three die cut 'amazings' from the PB OMG die set.
I love this technique for adding depth and dimension to flat stamped panels. I have a video coming next week demonstrating a similar process so stay tuned!
Thanks for visiting here today, I hope you are safe and well where you are and thanks again if you are on the front lines taking care of health, food and safety needs. You are nothing short of amazing!
Supplies

---
Posted: February 21, 2020
Filed under: Brutus Monroe, Coliro paints, floral medley, Penny Black, square frames
| Tags: brutus monroe embossing powder, Coliro paints, Finetec artist mica watercolour paint, Penny Black creative dies, Penny Black stamps
6 Comments
The fun continues around here with pearlescent paints and black watercolour paper. I just wish the photos would show better how pretty the shimmery paints are.  The Foiled Fox sent me some yummy new paints from Coliro, I used the 'ocean' and the 'vintage' sets for this card. I also tried out the 'penny' embossing powder from Brutus Monroe. It is a copper colour which worked nicely with the paints I chose. I embossed part of the Penny Black 'floral medley' stamp in one corner of my black watercolour paper panel then flipped the panel and moved the stamp around a little before stamping more flowers on the other corner. I paired up a couple of stamps from the PB 'strength' sentiment set to emboss a sentiment in between the florals.
Coliro (or Finetec) paints are full of shimmer and look amazing on dark paper but can also be used on light or white paper for more subtle effects. I have painted them on neenah black cardstock before, the colours looked great but I like the way watercolour paper gives me more flexibility with blending from dark to light. When attempting light and dark areas on black paper I have to think about the direction of my blending. On white watercolour paper I paint strong colour then blend it with water to decrease the intensity and so end up with a lighter area. On dark paper I paint an area in bright pearlescent paint and then dilute it with water to get a darker or shadow area. Shading isn't really necessary of course, the colours look great painted as solid sections without shading.
To finish off the card I die-cut a frame from copper coloured shimmer paper. I have two frame dies from the PB 'square frames' set still linked together so I get a plain frame when I run the two decorative dies through the machine together.
I am teaching a 'Watercolour on Black' workshop in Ottawa at the end of March where we will be playing with these lovely shimmer paints and creating stamped and painted panels that really shine. Click over to my upcoming classes page for more details.
Supplies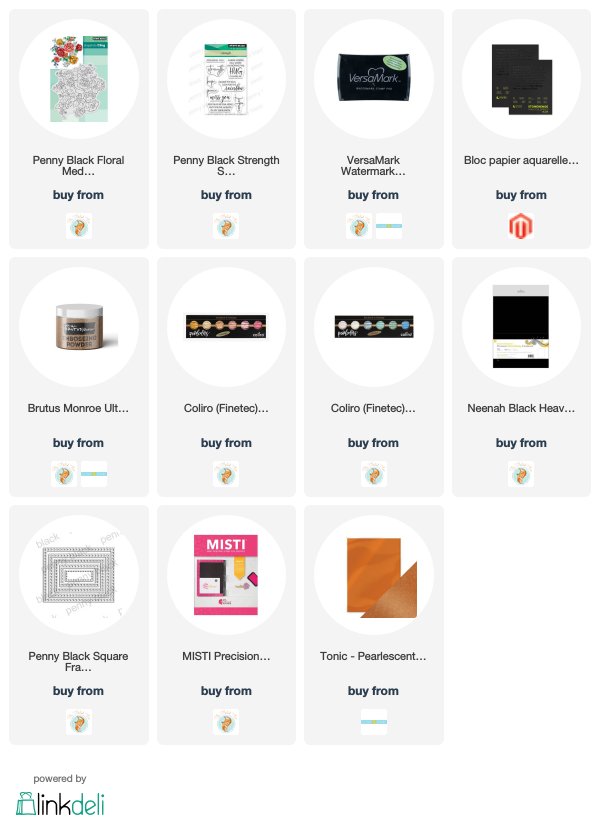 ---
Posted: December 17, 2019
Filed under: poinsettia poem, xmas poinsettia cut out
| Tags: brutus monroe embossing powder, Fabriano Watercolour Paper, Papertrey ink, Penny Black creative dies, Penny Black stamps
4 Comments
I have a less traditional colour scheme for you today featuring pink and purple on this pretty poinsettia stamp from Penny Black. I wasn't set on being non-traditional when I started but it headed that way as I progressed. I started by smooshing tumbled glass and blueprint sketch distress stains on my glass mat, adding water then swiping a piece of hot pressed watercolour paper through it to create a soft background. Once it dried I used my stamp positioner to stamp and emboss the 'poinsettia poem' stamp in silver embossing powder.
I smooshed papertrey ink cubes onto my glass mat to use as watercolours and painted the flowers in scarlet jewel and royal velvet, the leaves in pine feather and the berries in winter wisteria. I used a gold gel pen to colour the centres. The card is not quite so bold as the photo suggests but even so I wanted some light and bright features alongside the painted panel so I framed it in silver and added some die cut holly to the white card base.
In keeping with my resolve I stamped inside the card and on the envelope with winter wisteria ink and add the sentiment in the same.
Supplies


---