Posted: December 14, 2022
Filed under: Brushed Christmas vol 1&2, Brutus Monroe, Darkroom Door, ransom alphabet
| Tags: brutus monroe embossing powder, Darkroom Door stamps, WOW embossing powders
6 Comments
Darkroom Door recently released the 'ransom alphabet'; it looks like letters cut from random newspapers or magazines. I decided not to cut my stamp into separate letters yet, so stamped it as one large stamp containing both alphabet, a few symbols and numbers 1-10. I embossed one sheet in gold powder and another in silver. I also stamped again on some small strips of cardstock to get the extra letters I needed to complete the greetings.
Both cards and alphabets are neenah solar white cardstock. I stamped a tree and star from the Darkroom Door 'Brushed Christmas vol 1' set then blended three greens over the card front using blending brushes. I spritzed water over the panel then blotted it with a paper towel to get a twinkly effect. A pearlized spray would have been even better but my workroom is upside down and inside out at present so locating the shimmer spray was asking too much!
I used the same process to create the 'O Holy Night' card but used a blue and a purple ink for the blended background. I wondered if the ransom alphabet was perhaps a bit too funsy for such a theme but then I remembered Mark 10:45, 'the Son of Man came not to be served but to serve, and to give his life as a ransom for many."
I'm looking forward to putting this set to use in my art journal. I think it might be necessary to cut the rubber stamp into separate letters eventually but for now it is still one large stamp.
Darkroom Door has so much inspiration on their blog. They are currently featuring all the products from their new release one product at a time. So many styles, colour schemes and projects.
(Compensated affiliate links from Foiled Fox, Scrap n Stamp & Ecstasy Crafts)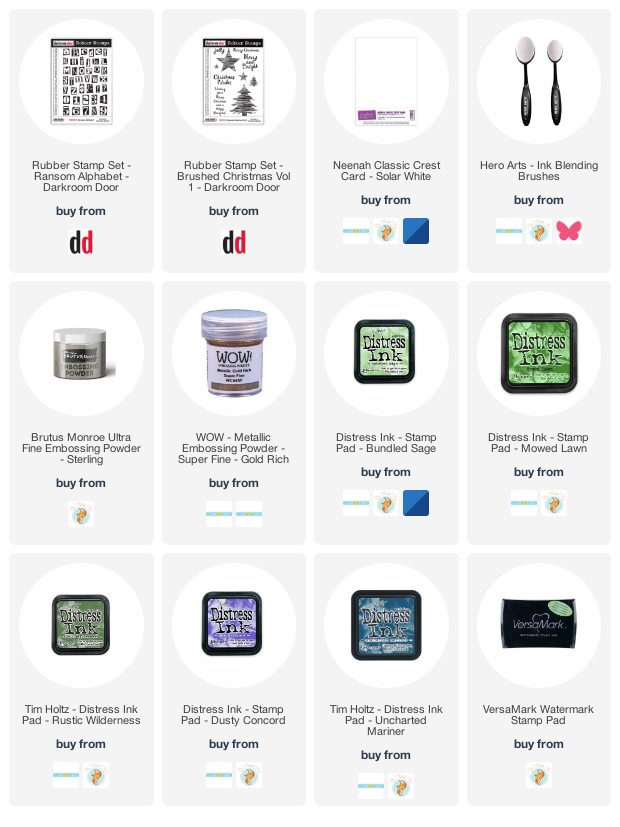 ---
Posted: November 21, 2017
Filed under:
Brushed Christmas vol 1&2
| Tags: Darkroom Door stamps, Tsukineko Memento inks
4 Comments
I had some fun with small stamps and a stamp positioner to create this simple card. Darkroom Door has two 'Brushed Christmas' sets containing stamps with the brushed look you see in these images. There are big trees and little trees, bit and little stars and baubles as well. It was easy enough to stamp one image, slide my cardstock along and stamp the next and so on to reach across the panel. I centred the trees by starting with the middle tree but I wasn't quite so particular with the stars or baubles.
The ribbon across the panel is velvet and the laser cut letters are left over from a mixed media class I did a while back. I think it's cute that the 'o' on the velvet looks like a buckle on Santa's belt (totally unplanned ofcourse)
Supplies


Papers: neenah natural white, burgandy cardstock
Also: velvet ribbon, laser cut letters, memento rhubarb stalk marker
---