Posted: July 5, 2021
Filed under: Brutus Monroe, floral focus, Heather lowercase die set, Inktense pencils, Pink Fresh studio
| Tags: brutus monroe embossing powder, Inktense, Pink Fresh studio
7 Comments
Last week I shared a card featuring the Pinkfresh Studio background stamp, 'floral focus' watercoloured with Karin Markers. Today I have another card with the same stamp but pencil coloured this time using Derwent inktense pencils. At some point I should do pencil colouring on white or cream cardstock again but I am still in love with the look of pencil on kraft. Inktense pencils are watersoluble but you can also use them as traditional pencils with no water added, that's what I did here.
I embossed the background stamp in white powder, another technique that looks great on kraft cardstock then used the inktense pencils to fill the flowers and leaves. The flowers are coloured with red violet, fuchsia and antique white. The leaves and stems I did with felt green and apple green and the small flowers are coloured with sun yellow and antique white.
To finish the card I added a strip of violet cardstock and cut letters from the same cardstock with the Pinkfresh 'Heather lowercase letter' dies. The little sentiment is from PF set 'scripted bold sentiments. You might think this is an odd pairing of sentiments; I was thinking it would suit someone starting something new, some encouragement along with a reminder to enjoy the experience.
(Compensated affiliate links used when possible)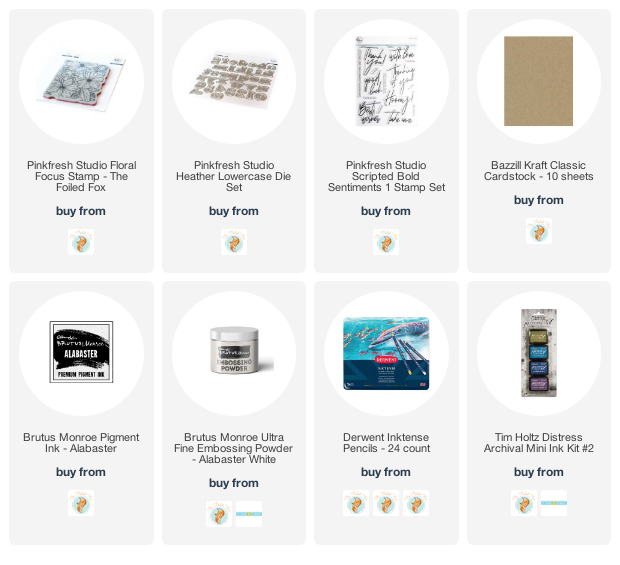 ---
Posted: June 28, 2021
Filed under: floral focus, Heather lowercase stamp set, Karin brushmarkers, Lea ornate uppercase stamp set, Pink Fresh studio
| Tags: Karin brushmarkers, Pink Fresh studio
7 Comments
Hello! I am excited to be sharing this post here and on the Foiled Fox blog today. All this floral beauty is on one stamp from Pink Fresh Studio and it's called 'floral focus'. Since it arrived on my work table I've tried it with pencil colouring, emboss resist and this Karin brushmarker watercolour technique. I love how bright and summery it looks with these colours.
Floral Focus is a large rubber background stamp and rubber stamps are my favourite to work with. I know transparent stamps are great for placement but rubber stamps seem to hold onto their ink better. I will always have both in my collection but I get a little bit excited when I ink the rubber stamps. I used a stamp positioner for this panel and inked the large pink flowers first with magenta red and henna markers. If I get ink on adjacent areas I just wipe it off before stamping. Once stamped I blended the pink ink to fill the petals and restamped the centres in brown to make them a bit bolder. Next I inked the small flowers and buds with the gold brushmarker, then blended with water. For the leaves and stems I inked with both henna and grass markers to get a muted green rather than a bright green. Finallly I did the twiggy bits with the henna marker.
The large letters are from two Pink Fresh studio alphabet sets, the 'H' is from Lea's Ornate uppercase set and the rest of the word from the Heather lowercase set. I stamped several times in versafine vintage sepia then embossed in clear powder for a glossy finish.
Thanks for dropping by today, make sure you visit the Foiled Fox blog for more information and inspiration!
(Compensated affiliate links used when possible)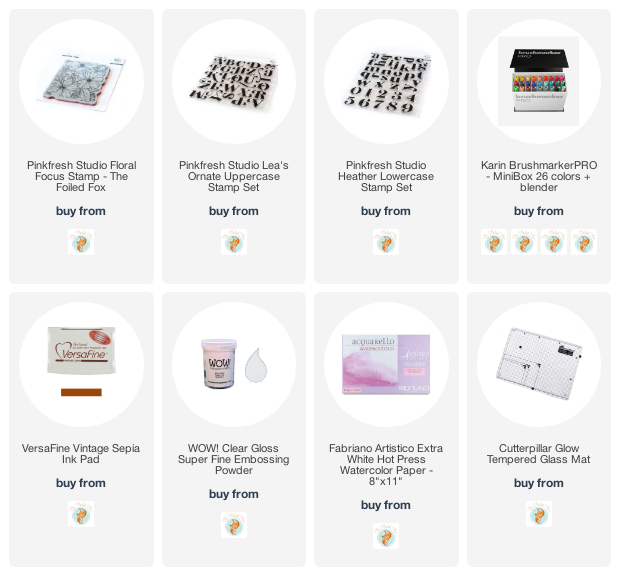 ---