Posted: August 30, 2021
Filed under: Background Stamps, contemporary, Dies, Penny Black, rosa
| Tags: Papertrey ink, Penny Black creative dies, Penny Black stamps, Ranger Distress inks
3 Comments
It was fun to pull out a floral and a background stamp for a new card design. I was planning to stamp the PB 'rosa' stamp a few times across the panel but ended up putting it snugly on the right hand side leaving room for the grid patterned 'contemporary' stamp on the other side.
Before any stamping I smooshed some salty ocean, scattered straw and mowed lawn inks on my glass mat, spritzed water then swiped watercolour paper through the mix of colour. I let the colours dry for a while then dropped water on top and then absorbed it with a paper towel leaving pale water marks all over the panel.
I stamped the flowers in a mix of canyon clay and raspberry fizz inks (Papertrey ink) and the leaves and stems in rustic wilderness and bundled sage. I added copper pearlescent paint to the centres of the flowers as well as splattering some on the panel. I also added some black to the centres to define the flowers a wee bit more.
I added the PB 'contemporary' stamp to complete the panel along with the 'THANKS' die-cut from copper cardstock. You can see the fall colours are easing their way in but the summer colours are not leaving just yet!
(Compensated affiliate links used when possible)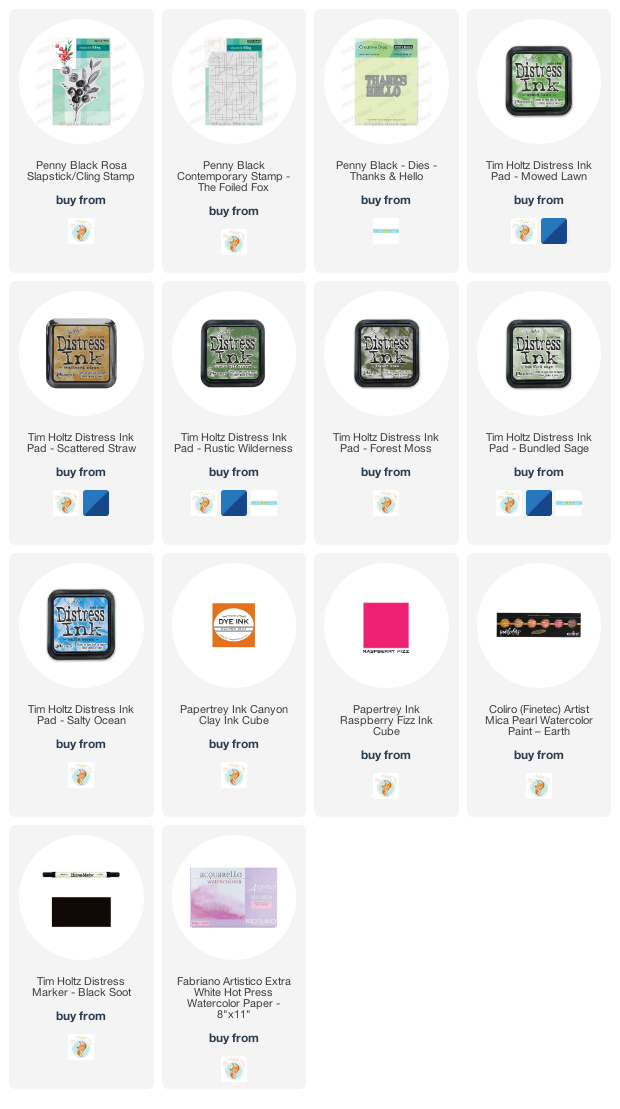 ---
Posted: June 14, 2021
Filed under: Brutus Monroe, contemporary, gel press, perfumed
| Tags: brutus monroe embossing powder, gel press, gel printing, Penny Black creative dies, Penny Black stamps, WOW embossing powders
8 Comments
I have had my gel plate out recently and I am addicted. It is what happens when I get it out. Gel printing can be frustrating because some of the prints are a whole lot of nothing much while others are full of pattern, texture and colour. I never know whether the next print will be the former or the latter so I keep on printing. I have a stack of prints sitting around and I decided it was time to cut a few up to make cards. I added some stamping and die-cuts.
This first card is my favourite but I must be honest with you, it isn't a gel print. It is the scrap paper I cleaned the brayer on! I love how pretty the colours and blends are but I'm a bit miffed that my clean up page was prettier than many of my prints!
To turn it into a card I stamped and embossed the PB 'contemporary' stamp in white and added the hello, cut with the PB 'thanks & hello'
Same deal with this background but embossed with gold and adorned with the PB 'jumbo joy' die.
I'm glad to add another card to my very small Christmas card stack. My resolution to add to it every month seems to be a bit off and on.
This background is a recent print and includes a fun thread printing technique I saw on Birgit Koopsen's instagram. She recently completed a challenge gel printing every day in May. She generously shared all the techniques she tried.
I added flowers from the PB 'perfumed' set and a sentiment in white embossing powder.
I guess the title of this post was a bit inaccurate as only one of these cards features a gel print background! Watching beauty emerge when gel printing is so much fun. To glance over at my brayer clean up sheet and realise I have to save it because it looks like a pastel check table cloth is a bonus. To see the pale ghosts of stencils turn up on third or fourth prints also amazes me.
I did not participate in Birgit's recent challenge as I was busy busy launching the new online Floral Faves class but now the gel plate is out I am challenging myself to post something gel-print related every day this week. See you tomorrow.
(Compensated affiliate links used when possible)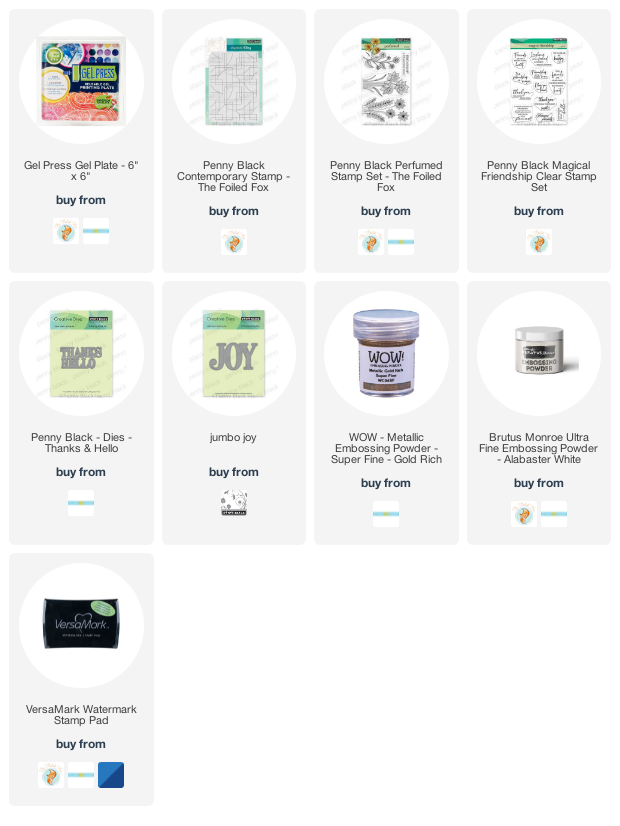 ---