Posted: May 3, 2021
Filed under: Brutus Monroe, florescence, Penny Black
| Tags: brutus monroe embossing powder, Fabriano Watercolour Paper, Penny Black stamps, Ranger Distress inks
8 Comments
This is the second appearance of the beautiful hibiscus stamp from Penny Black (it's called Florescence and it's a stunner) and I've been working with it behind the scenes as I complete my next online class. To create this tropical look I smooshed worn lipstick and wild honey inks on my glass mat and spritzed water over them until they ran together then took a piece of hot pressed watercolor paper and swiped it through the diluted inks. To get good coverage and blends I tilted and spritzed more water on the panel then left it to dry.
With the panel in a stamp positioner I inked the large hibiscus and buds with worn lipstick ink stamped then inked the rest of the stamp with antique linen so I could see the whole image for some no-line watercolour. I painted one petal at a time with worn lipstick ink adding more towards the center of the flower. For the buds I used a mix of worn lipstick and wild honey.
For the leaves I stamped and painted with rustic wilderness distress and sometimes added worn lipstick to the blend so I'd have variation in the leaf colours.
That little sentiment seemed to lend itself to the tropical, surf shop vibe so I stamped once in worn lipstick, then moved the panel ever so slightly down so I could stamp again in white to create a drop shadow look. I definitely dried it and used an anti static tool before sprinkling the white embossing powder over the words otherwise it could have all ended up white.
I'm so excited to have another online class in the works; the projects are all filmed so it's editing time, supply list creating time and intro filming time. I'll have more details, dates and sneak peaks for you soon!
(Compensated affiliate links used when possible)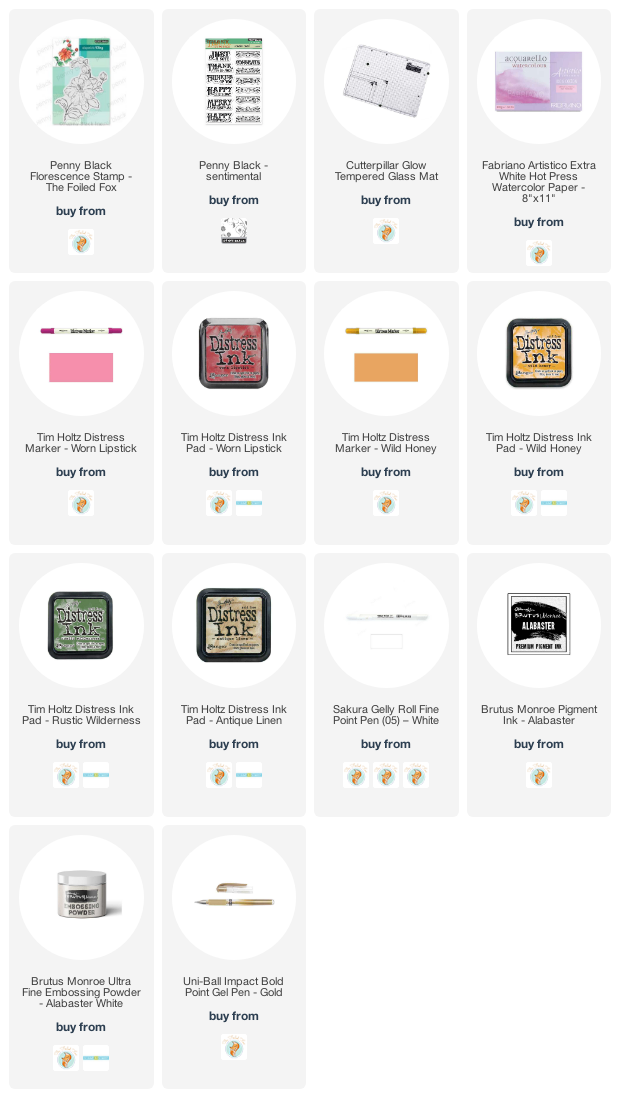 ---
Posted: April 16, 2021
Filed under: florescence, Karin brushmarkers, Penny Black
| Tags: Fabriano Watercolour Paper, Karin brushmarkers, Papertrey ink, Penny Black stamps, Tsukineko Versafine inks
11 Comments
I hope you have already seen some of the gorgeous new stamps from the Penny Black 'Delight' release. I am thoroughly enjoying the large floral stamps and will be sharing projects here on the blog over the coming weeks. This beautiful hibiscus stamp is called 'florescence' and it is a joy to work with.
To create this large 4½"x 6¼" card I used Karin brush markers to both stamp and paint the image. With the hot pressed watercolour panel in a stamp positioner I stamped first in Papertrey soft stone ink so I could see the outline image then inked the flower and buds with the magenta and magenta red markers. When I am inking a stamp with a marker I always turn the marker tip on its side to protect the point. I inked the leaves and stems with both lush green and henna markers to create more of a muted green. When painting the leaves and flowers I drew ink from the stamped lines as well as adding it to the panel directly with the brush markers. I also dabbed ink away to create water marks and gradation in the petals and leaves. I stamped and painted the anther and filament (yes I looked that up) in magenta and canary markers. To finish the flower painting I strategically placed some large and small water droplets on the leaves and petals. After letting them sit for 30 seconds or so I dabbed them up with a paper towel to reveal pale dots here and there.
To fill the top of the panel I stamped and painted the buds a couple more times leaving a blank space bottom right for the large thank you sentiment from the new 'ever thanks' set. I stamped in versafine olympia green; I've heard the original versafine inks are being phased out so I will keep stamping with them while I have them but buy the versafine clair inks from now on.
Both the Foiled Fox and Penny Black are hosting giveaways right now so click on the links I created for a chance to win.
(Compensated affiliate links used when possible)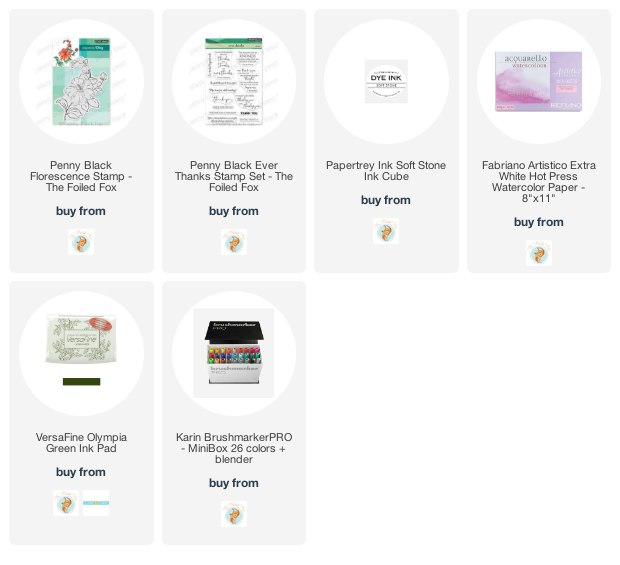 ---